A little while back I had sent Weston from Fantastic Catch a quick package with a couple Cardinals in it and he responded in kind with an awesome collection of Sox cards!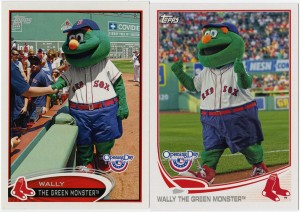 I like that there's a set with mascots in them. I actually like Opening Day because it doesn't take itself too seriously. It's a fun, easy, retail product, mostly aimed at younger collectors. I never buy enough of it to actually put a team set together, and mascots are typically harder pulls than player cards, so these two Wally cards are awesome. I've always been confused as to why they don't just launch Series 1 closer to the actual start of the season, but I suppose doing so would negate Opening Day almost entirely.
Next up, a whole pile of awesome '87 minis. I like these infinitely more than the '72 minis. I know, I'm a heretic.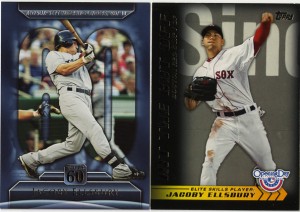 A couple nice Ellsbury inserts as well. Someone posed the question "what do you do when Player X is no longer on the team"? Do you collect them as a player? Do you ignore them now that they've changed teams? It sort of depends on both the player AND the collector. For me, my "team" collection trumps my "player" collection every time, with a few exceptions. Ellsbury is now on the Yankees, and now I'll stop "actively" looking for his cards in 2014. That doesn't mean I avoid them though. I do have a binder I call the "Before & After" cards. In there at the moment are things like Josh Reddick on the A's, Mike Napoli on the Rangers, Papelbon on the Phils, etc. I don't seek out those cards, but if I stumble into them in a box, I end up holding on to them. 2014+ Ellsbury cards will most likely join that binder.
On the flipside of that, only occasionally do I "go back" and pick up players in their Pre-Sox days. If I do, I usually try and get that one "definitive" RC and stop there. For example, I have a 2006 Mike Napoli Bowman Chrome RC, PSA Grade 10. I found it for a couple bucks on ebay. It also depends on the player, their contribution to the team, and what sort of contract they're on. This year, I doubt I'll pick up any AJ Pierzynski cards from his early years. He's on a 1 year contract and I'm just not sure about him as a player yet. As always, random cards do happen, but I don't actively seek them out.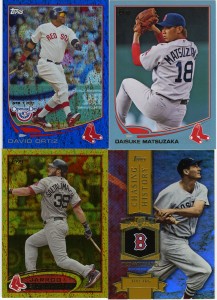 Next up, four very awesome and shiny parallels. The blue Ortiz is #'ed out of 2013. With the awesome way these look, and the "blue sparkle" cards from the "silver slate" packs, why they didn't just do blue for S1 & S2 this year, I have no idea. The blue sparkle looks so much cooler than the green (IMHO). A Walmart blue DiceK, a gold Salty and the rack-pack foil version of the Chasing History insert (which I didn't have and still needed!) for Ted Williams.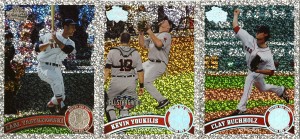 Next, three very nice 2011 sparkle parallels. I hadn't built that parallel set, but I think these three got me close enough to give finishing it a try. I like how they did these in 2011. Beats the "liquorfractors" hands down.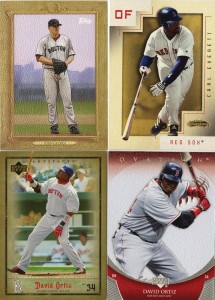 Another sampling of the awesome stuff Weston sent my way. I needed the Ovation card on the bottom right for one of my sets, and the top two were new to the collection as well.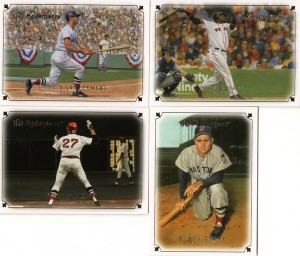 Here's something I didn't even know existed! GLOSSY versions of UD Masterpieces. What on earth? I actually had to search a bit. Seem that nobody else knew anything about them either. Even everyone's favorite nocturnal bird. From the sounds of it, they were in UD "Fan Packs" that contained different versions of various UD products, usually sold at stadiums. Awesome. I don't know how Weston got these, but they are completely epic!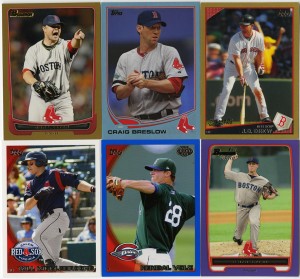 Next up, colored borders galore! We've got Lester trying to get the hotdog vendors attention, Breslow looking a bit confused, and JD Drew remarkably un-disabled. Then we've got 3 awesome rookie/minors cards, including the Topps Pro Debut card I was missing for Will "better improve in the offseason" Middlebrooks. As an aside: Middlebrooks is the perfect example of why I wait on 99.9% of rookies. A 2012 Bowman Chrome Auto RC would have run you $80 when they hit the shelves, IF you could find one. I just saw one on ebay for $5. Sophmore slumps is when you buy RCs, not hot rookie years. 😉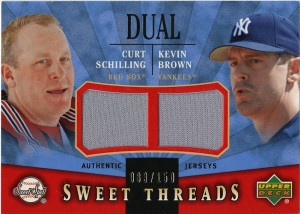 Last but not least, a nice duel relic with a little rivalry to it. Curt Schilling & Kevin Brown. Did you know that Brown was a 6x All Star? I didn't either. Awesome card and a great addition to the collection.
Thanks Weston, these were all awesome! Thanks for a great trade!