I really enjoy watching knuckleball pitchers in general. So when Steven Wright joined the Red Sox a couple years ago I was excited. I knew he was one of only a few pitchers actively throwing a knuckleball. Actually, I think at the moment it's just two, Wright and R.A. Dickey. Regardless, the card industry took it's sweet time making any Wright cards. He had a 2006 appearance in Bowman products (RC in Chrome, auto in Sterling and a base card in Bowman Heritage), but that was it. Three cards (and some parallels) in just that one year.
He was traded to the Sox in 2011, had appeared in several games, but was never on a card until last year. 2016 Heritage High Numbered was his first Red Sox card. Appearing in the All-Star game last year finally bumped him up into card checklist status and his first Sox/Topps autos appeared in Topps Tribute over the winter. Unfortunately for Steven, 2017 didn't start off well and he just underwent knee surgery. His season is done, but the silver lining for card collectors is that his card prices are at an all time low. I was able to pick up four awesome autographs for less than $10 total.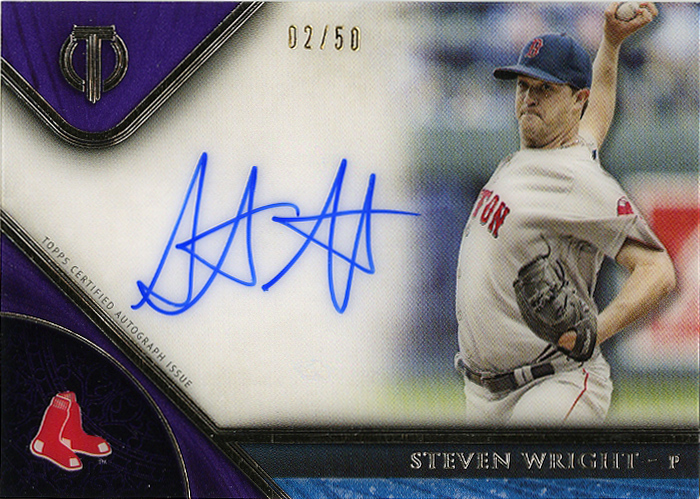 I figure, if I'm going to grab up low numbered parallels, I might as well start with the hardest to find and work my way backwards. Tribute has a stupid amount of parallels, so there's plenty of /499, /399, etc to find later. I grabbed this purple 02/50 first.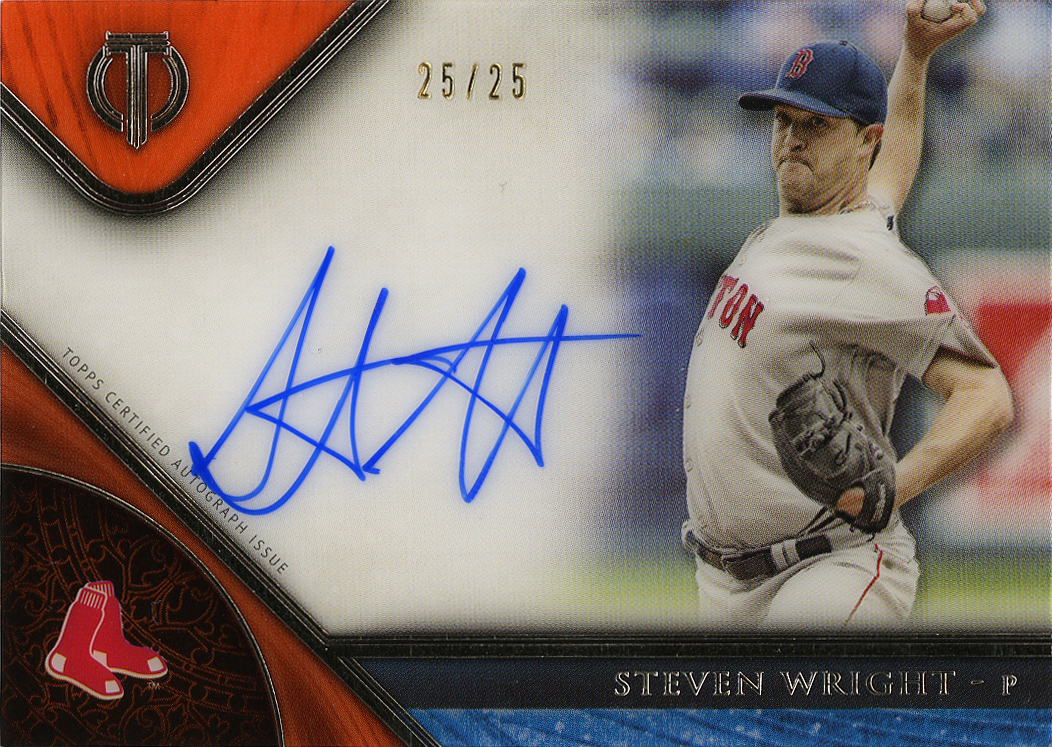 Then I followed that up with this 25/25 orange beauty. I love that Tribute (and the other cards below) are all on-card autos. I narrowly missed out on a /10 red card. I'll have to wait for another to appear in the wild.
In the meantime, I turned my attention to Gypsy Queen. I just love the design this year. The parallels are a little weird with the way they colored the borders, but this black and white one…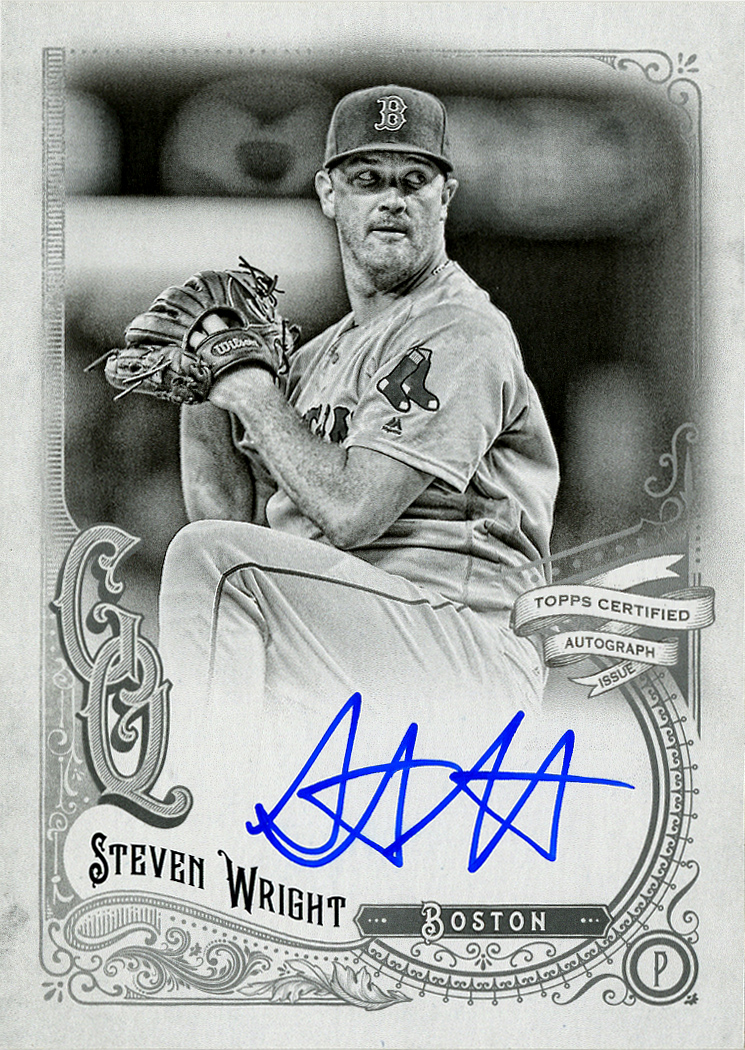 That is just sick. You have to realize the fetish I have for black and white. I'm a photographer. Black and white photos are my thing, and have been for a good 20+ years. No joke. I was developing black and white prints in darkrooms when I was a kid. I LOVE THEM. This card, this is just ridiculously awesome to me. Its numbered 37/99, but I love it considerably more than any other possible parallel in GQ.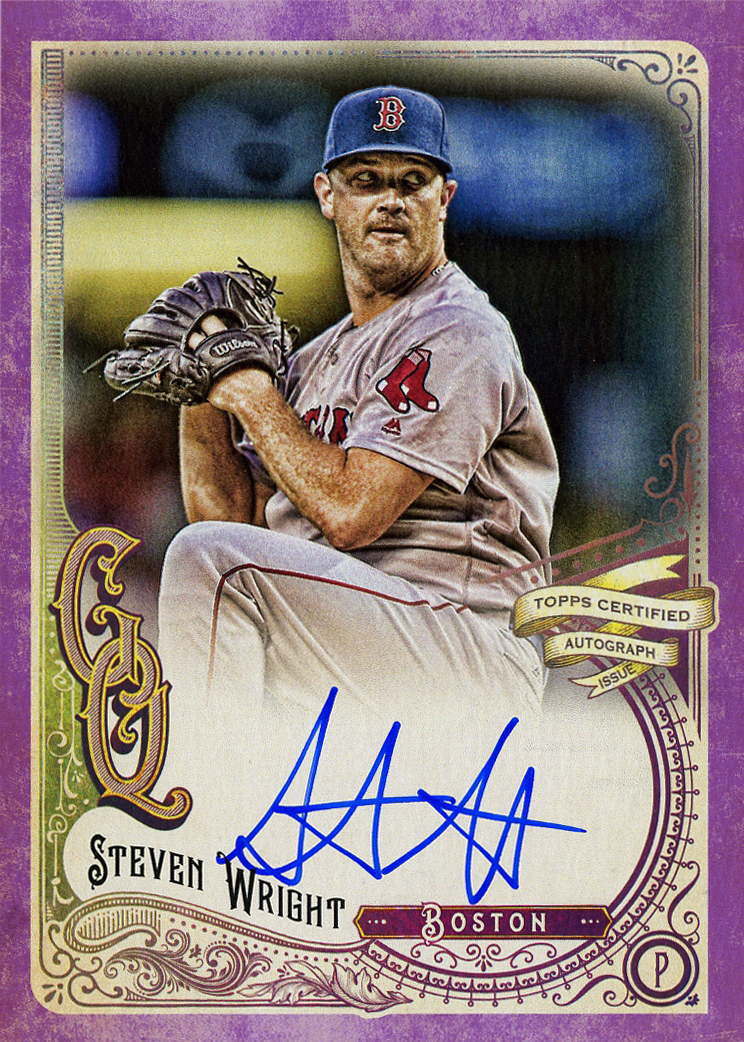 And there's the last one (for now), a purple parallel numbered 02/50. I like the purple, don't get me wrong, but there's something about the beige/tan inside of the design that doesn't work. That goes for all the parallels. They should have left the "old paper" color/texture out from behind the design itself, and kept them separate. Then they'd still have the frame, but could change the design color at will. Sort of like…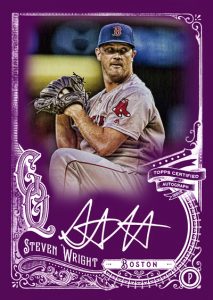 That's obviously the quick and dirty idea, but make the frame design a lighter color (silver foil/gray/white) and that would be one slick card. Sort of like the blue and silver paper parallels from last year.
Anyway, I'm super happy with the four real cards I found, and I'm actively hunting for the more common parallels now. Hopefully I can stock up while most of them are still $0.99.