I've been on a bit of a Mookie Betts kick lately. Awesome player, seemingly genuine human being, and cornerstone of the Boston outfield for years to come (especially if contract extension rumors are true). I'm stockpiling as many Mookie cards as I can. I'll never be able to afford those $500+ rookie autos, but I can gobble up as many others as I can find. These are just the recent additions to the collection.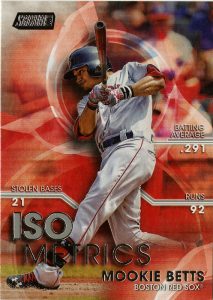 Let's start with an insert from last year's Stadium Club. This is the "ISO Metrics" insert, which were actually harder to find than the term "insert" might suggest. I opened an entire hobby box and only got one. This one came from a SportLots order.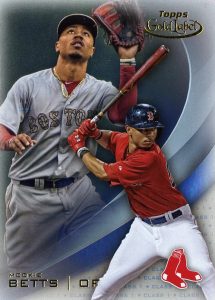 2016 Gold Label. A set I pretty much ignored. If I remember correctly it was configured into "mini-boxes" and I'm just not down with paying $80 for 4 cards, or something crazy like that. $0.99 on eBay, that'll do just fine.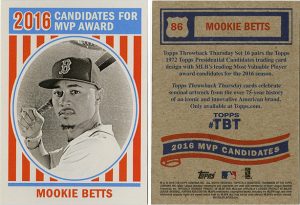 Here's an interesting one. A "Throwback Thursday" card from Topps' online store. I bought it second hand off eBay with a Bogaerts card I'll show later. I just really liked the design and concept, even if they did reuse his photo from Heritage. I scanned the back as well because it included details about the card design.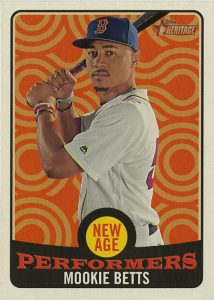 Now, where have I see that photo before. Oh, right. The "New Age Performers" insert from this years Heritage, which I hate. I don't have the base card for Mookie from Heritage because it's a freaking SP and people want $5 for it. Not happening. The insert, which ironically has the identical photo from the base card on it, was $0.99. Go figure.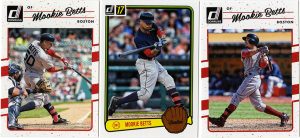 Now a trio of Donruss Mookie cards. This years set is starting to grow on me a little. The last two years the Donruss resurrection was horrible and I'm pretty sure I denounced it a few dozen times here on the blog. This year isn't terrible. Here is the base (right), throwback '83 variation (middle) and photo variation SP (left).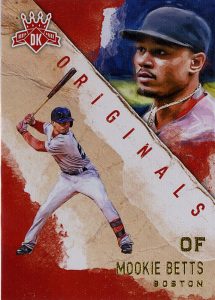 Here's the "Originals" insert from this years Diamond Kings, which I've yet to find in person in a store. I won this and the next few cards as a "lot", and they are the first DK cards I've got in-hand this year. I can't even find a team set at this point.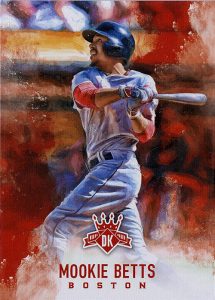 DK base card, looking as awesome as ever.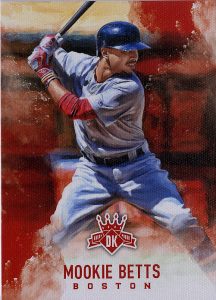 DK Photo Variation, also awesome.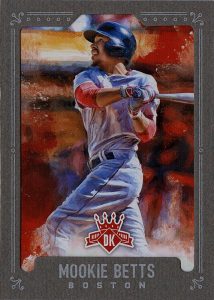 DK Gray/Paper border, not numbered, but I like the gray a lot more than the weird puke green last year.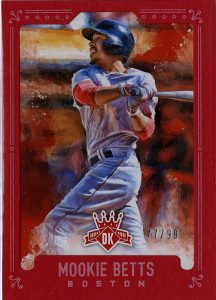 DK Red Paper border, #77/99. Now that's a nice looking variation. Really liking Diamond Kings again this year.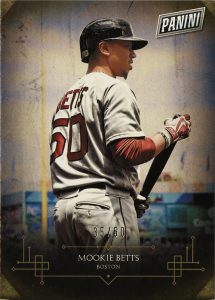 But wait, we're not done. Two more cards that I bought together. I can't remember if these were both "Black Friday" cards last year, or if one was a "Father's Day" promotion instead. I think this is a Black Friday card from Panini. #35/50.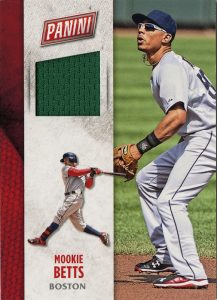 And here's the other one. Not numbered, but does have a nice piece of St.Patrick's Day spring training jersey. I always like the oddball stuff Panini comes out with for various things.
Last but not least, I wanted to tease another design related post I'm working on. I was trying to work up another Gypsy Queen how-to, but I just got some GQ cards in hand this week and haven't have time to break down the pieces. In the meantime though, I'm putting together a Diamond Kings tutorial, and I was experimenting with a Mookie card (see, it's not entirely unrelated).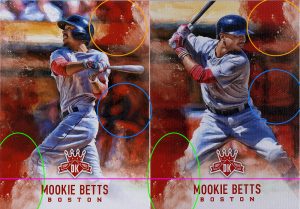 By breaking down the differences and similarities in the two card versions, we can figure out what's on every card as part of the design, and what is merely park of the background image. We can then put together kind of a layer guide and figure out what goes where…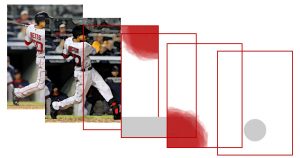 From there we can start to mock up our own creations, which I'll post up separately next time. The end result is something like this…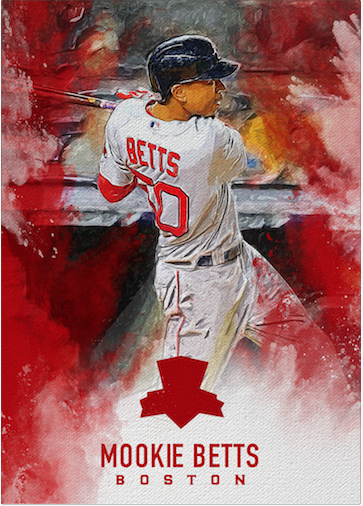 Till next time!