Two weekends ago I snuck off to the Houston Tristar card show for a couple hours. In all honestly, it was pretty disappointing. Most vendors packed up early and went home, leaving people wondering around a half empty hall Sunday afternoon, which was of course the day I had time to go. I got there about 1:30 and allegedly the show was open until 6pm, which I swore was what they had listed on the website. When I bought the ticket to go in and handed it to the guy at the door he turned and look at the other security personnel and said "well, that's probably about all we'll get, I guess pack up the turnstiles." What? If I had waited 5 more minutes I could have just walked in, and saved my $12. The security literally left the door when I came in. Ok, "maybe they're just paying them for half the day", I thought. I know this goes until 6.
An hour later I'm looking through some dime boxes and the guy starts putting the lids on the boxes I'm not looking through. "Are you leaving?" I ask. "Yeah, I've got a long drive and I'm leaving at 3". Oh, ok. I finish up, pay like $4 for a stack of cards and he throws everything on a dolly and heads for the door. I go to another vendor, start looking through his boxes. He actually makes me an offer on the entire box ($100, didn't take it) so he won't have to pack it up. By 3:30 over half the vendors, and most of the ones I was going to look through, were gone.
Aggravated, I walk over to the fudge and beef jerky vendor. Why there's a fudge and jerky vendor at a card show I'll never know, but there they are. I ask them what time the show ends. They say 4pm. At this point it's still 3:30 and I'm determined to at least find something worth the $24 (12 and 12, parking and entry) I paid just to come to this stupid thing. Here's what I found in the little time I could actually find something to look through.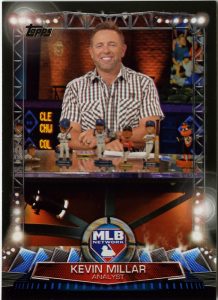 I don't know where to start, so we're just going to start here. Kevin Millar. The only slightly interesting person on the MLB network. I tried to watch some of the "StatCast" versions of game feeds last year on MLB.tv, it was painful. What we need is a Kevin Millar / Johnny Gomes tag-team talkshow. That would be crazy. Did you know he was a replacement player during the 1995 strike, and as such, he can never be a member of the Players Union? Now you know.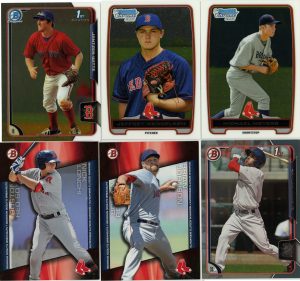 Remember, at this point, I'm only getting to look through like 3 dime boxes total, so I'm just grabbing anything vaguely Red Sox related. I'm pretty sure Asuaje was traded and Johnson is the only one still playing at any level that matters.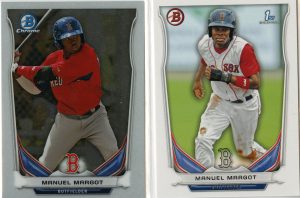 Manuel Margot, also traded. Him and Asuaje went to San Diego in the Krimbrel deal, I think.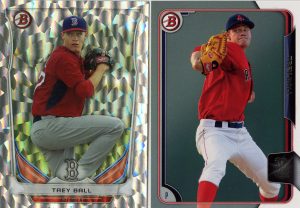 Trey Ball. I'm 98% sure I have both of these.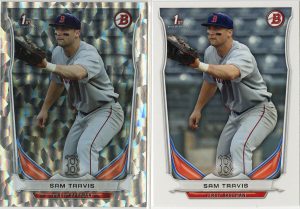 And these.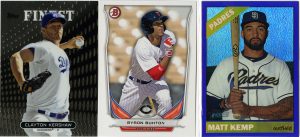 At this point I'm getting pissed. Mostly at myself for wasting $24 of the $50 I brought just to get in the door. Now I'm grabbing stuff out of spite, regardless of the team. Purple Matt Kemp, sure, why the hell not.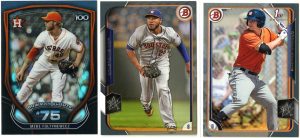 A couple Astros who's names are unpronounceable. At least the gray paper versions are numbered, /499 I think. So, we're at least improving in our "rage purchases". I believe women call this "retail therapy".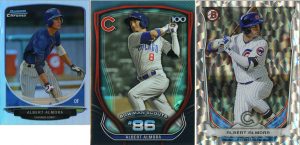 I don't collect the Cubs. Why did I buy 3 Almora cards? I have no excuses. I'm sure I was trying to hit some arbitrary round number.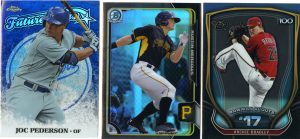 Another three random cards. At least these guys have half a chance of sticking in the bigs. The Bradley is nice, I do like those Bowman Scouts cards a little.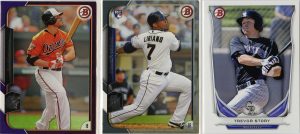 Purple Chris Davis, Lirano RC, Story prospect, not half bad for random pick ups.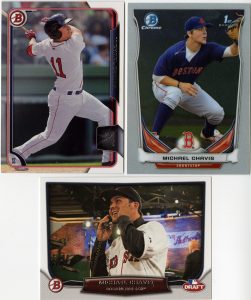 Wow, someone who hasn't actually been traded yet. Chavis is DH'ing in the minors, mostly because his chosen position (SS) is blocked pretty much all the way up. That said, he's swinging a halfway decent bat, and could contribute in a couple years if he stays healthy.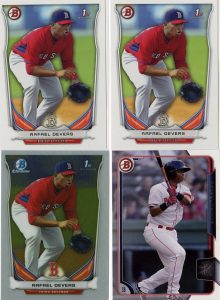 Rafael Devers, the last star left in the Sox minor league system. The only top-10 prospect Dombroski didn't trade away. He is, literally, our 3rd base insurance policy against Pablo Sandoval continuing to suck. If Pablo goes down, and I'm calling it now, Devers is up in the bigs by the All-Star break.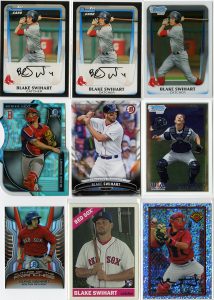 Now we're starting to roll. These were in their own little section of the box, like someone pulled them aside and never came back for them. That's fine by me. I had a copy of most of these, but those will stay in the team set binders and now I can start a player binder for Swihart. He really needs to get back behind the plate and they need to quit messing with him. He's not an outfielder. He needs reps at the backstop and time in the cage with Chili Davis.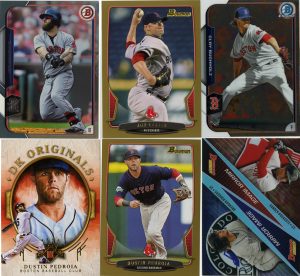 Three ex-Sox and two current ones. I didn't have the "Mirror Image" card, so that was a good pick up. I think I skipped out on most of Bowman Chrome last year.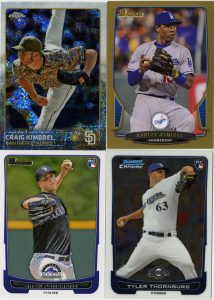 Pre-Sox Kimbrel and Hanley. Kinda weird seeing Hanley without dreds. Pom and Thornburg Bowman RCs. The pitching rotation and bullpen should be intersting this year. It's either going to implode by mid June or 4 of them are going to the all-star game. There's nothing really in between for these guys.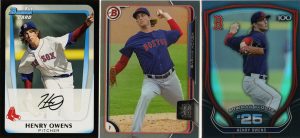 I really need to stop buying Henry Owens cards. That said, they need to stop making Henry Owens cards. Owens isn't happening, get over it Topps.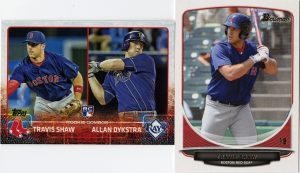 I was kind of sad to see the Mayor of Ding Dong City get traded to the Brewers, but he was just the odd-man-out, especially if Hanley stays at first. I do wish him luck with the Brewers.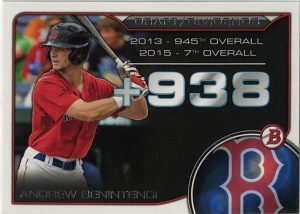 The only Benintendi card I saw at the show. I'm sure there were a few autos floating around in slabs from the shady high-end dealers who only talk among themselves and come to shows to flip 5k worth of graded 10's. Luckily those guys were gone by Sunday, and this was in the dime box.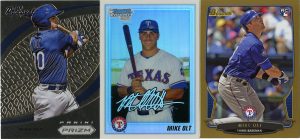 So, now the Sox have Brock Holt and Mike Olt. That's going to be fun to watch. Also…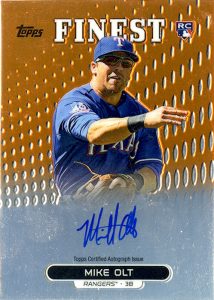 That's #/50. I'm buying low and crossing my fingers.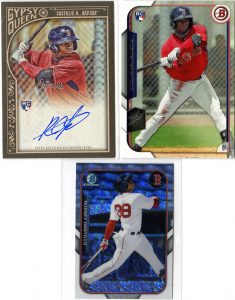 I guess we've made it to the autographed portion of this dance. Yeah, I know, Castillo isn't exactly the super star everyone wanted him to be. That's why these were stupid cheap.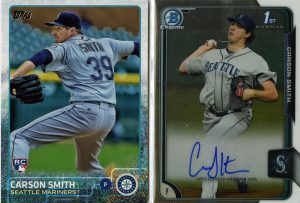 Carson Smith was hurt last year, so we never really got to see his potential in the bullpen. I figured I'd pick up an RC and an autograph while the prices were reasonable.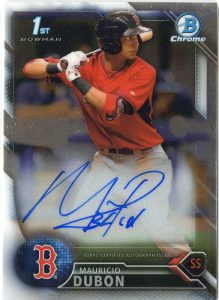 We traded Dubon and Shaw to Milwaukee for Thrornburg, so I hope it was worth it. He still needs a little time in the minors, but the Brewers got a pretty good return for one bullpen arm.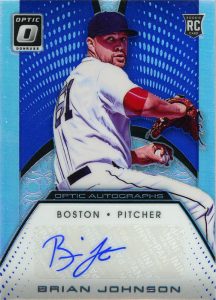 I didn't actually realize it at the time, but this Optic auto is /25 I think. I'm still on the fence about what Brian Johnson can contribute, but I've got enough autos and RCs at this point that I'm covered if he turns into a legitimate talent.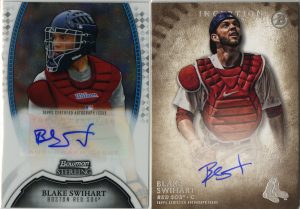 Double Swihart autos. At this point I've moved from the dime boxes to the "$1 Box" next to it. A couple years ago I would have easily dropped $10-20 on these. Well, someone would have. I waited, and I'm thinking these are the fruits of my procrastination. It doesn't normally work out that well. Two years ago I could have been buying Mookie Betts autos for $25, now they're $350. Cards are worse than the stock market some times.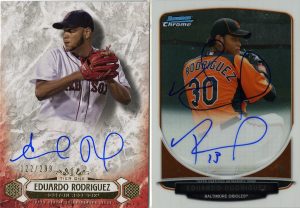 Still in the dollar box, although I'm not sure why. ERod is a guy with a legit shot at being a great pitcher, mid-rotation or higher, for years to come. Autos for a dollar? Ok. I'll take that.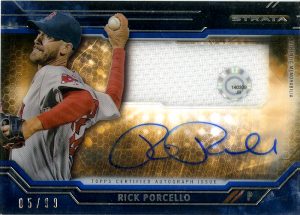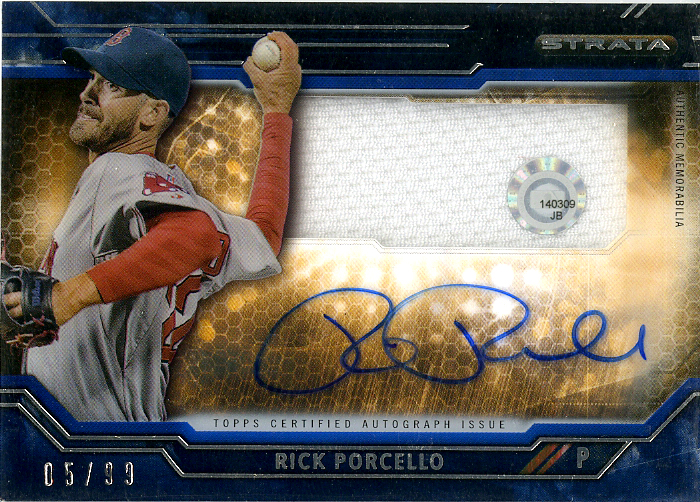 The last card I pulled out before the guy took the box away. I'm convinced this was a mistake on his part, but he was being kind of a douche, so I wasn't exactly going to point it out to him. Cy Young winning pitcher, low numbered, auto, relic. Umm, yeah, I'll take that for $1.
That was it. I spent 30 minutes in three boxes and spent less than I paid to get in the door.
I spent $15 on fudge and jerky and $14 on cards.
I can't really say I'm going to be hurrying back to the Tristar show next year. It just kinda sucks. I've gone for four years in a row now and there are the exact same 40 vendors. 10 of them sell non-card stuff (framed items, paintings, jerseys, etc) or supplies. Another 10 sell just vintage. 5 or 6 just sell football and another 5 or 6 sell just high-end stuff, and only to their buddies. That leaves me 10, give or take, sellers with baseball cards in my price range. It's just not worth the drive, the $12 to park and the $12 to get in. I'd be better off to save $24 and just put in a giant SportLots order once a year.
Actually, I think that's exactly what I might do.