Seems weird to say "goodbye to summer" in November, but in Texas it's finally dropped below 80°. Baseball is over for the year, we just set the clocks back, the weather is changing, the summer is most definitely over. I refrained from posting a lot over the summer mostly due to time issues, but that doesn't mean I didn't pick up a good amount of cardboard. That said, this isn't the entirety of what I found, just the highlights, and it's also representative of May-October, so there's quite a few. Image heavy post ahead…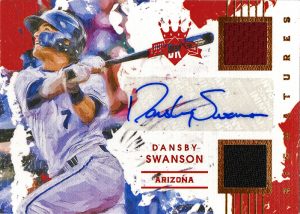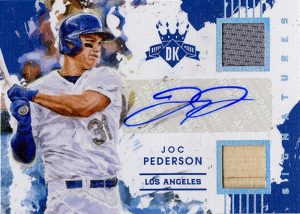 Might as well start with the most interesting cards for other people, that way I can at least claim that the entire post isn't self aggrandizing. Believe it or not, I pulled both of these from retail blasters. The Swanson I had posted before since it's "05/10" rarity seemed to warrant it, but I only mentioned the Pederson in passing. I believe the Pederson is also numbered fairly low (/25 or /50?) but I can't remember off the top of my head. Still, pretty good to pull arguably the two biggest checklist names out of retail blasters.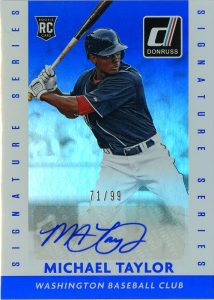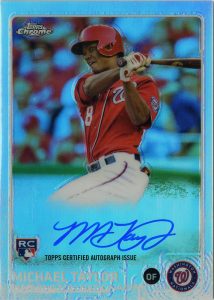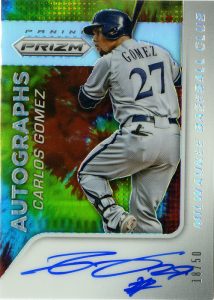 These were, literally, a penny a piece. I was adding stuff onto an eBay order with combined shipping and all of this sellers cards started at $0.01. I know next to nothing about Taylor other than that he payed in about 80 games this year and was optioned back to AAA at the end of the season, which normally happens to September call-ups. The Donruss is #/99, the Chrome /499. Carlos Gomez is a player I know a little more about. After two seasons with the Astros in which, and I'm not going to sugar coat it, he sucked, he got dumped and picked up by the Rangers and had a considerably better second half of 2016. Honestly, that wasn't even running through my head when I bought the card, I just really liked those crazy tie-dye cards and, again, it was basically free.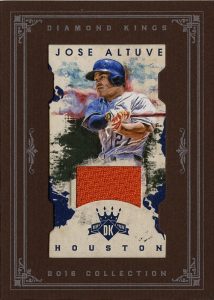 The last of the "non-Sox" to appear in this post. I love Diamond Kings, un-apologetically so, and this was too good to pass up. 2016 Diamond Kings, framed mini relic of Jose Altuve, #79/99. I love everything about this card. The art-deco frame. The mini. The big piece of orange cloth. Love it. Awesome card, and some of the few non-Sox stuff I've been adding to my collection.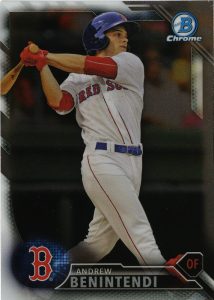 Let's pick up the pace a bit. 2016 Benintendi Bowman Chrome Prospects. Figured I might as well pick up a few of these just in case he explodes next year.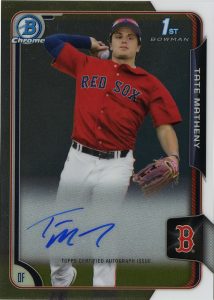 2015 Tate Matheny Bowman Chrome auto.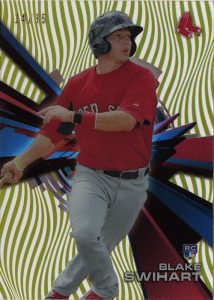 2015 Blake Swihart High-Tek "Gold Rainbow" refractor, 14/35. I really hope the Sox haven't completely screwed up Swihart. I don't understand what they were thinking in moving him to the outfield. So he wasn't quite the defensive catcher you hoped he'd turn into. He still had considerably higher offensive projections that any of the other guys behind the plate. Until Sandy Leon erupted offensively this year, to everyone's surprise, the "future" was Swihart and Vasquez taking turns.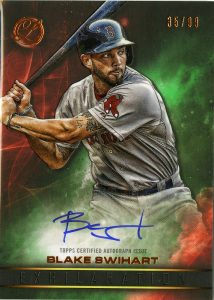 Speaking of Swihart, here's one of those "Legacies" cards that make no sense. He doesn't have a legacy, he's probably not going to leave a legacy, and what on earth (or space) is going on with that design? It's nice that it's 35/99, but that's one ugly card.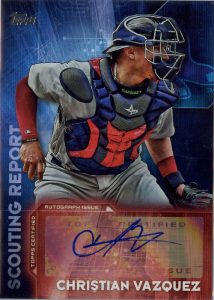 2016 Scouting Report Christian Vazquez auto. The back of the card says, in a nutshell, he's defensively elite but can't hit. He needs to spend the entire winter hanging out with Chili Davis and/or David Ortiz. I don't know if he'll ever find the bat speed to be effective, but I love seeing him snap-throw down to first and pick people off.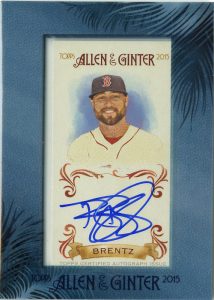 2015 Bryce Brentz Ginter Mini Auto. I'm a sucker for mini autos, the checklist from 2015 sucked, don't judge me.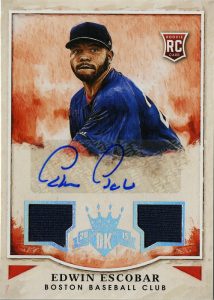 At this point you should be figuring out that my specialty is picking up cards of guys who aren't going to make it very far. What can I say, I'm cheap and that's just the pool of guys I'm shopping from. I really wish I was buying Mookie Betts autos, but here he are with a wonderful Edwin Escobar instead. I kid, I like having an eclectic collection, career players or not. Mostly I look for bargains, and enjoy the variety. I'm pretty sure I bought Eddy here before he was traded to the Diamondbacks.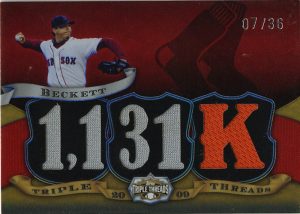 Was free when I bought…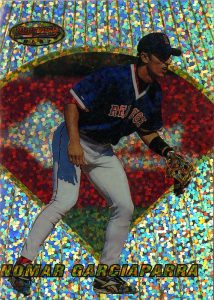 …This beauty. 1996 Bowman's Best Preview Atomic Refractor of Nomar Garciaparra. I've wanted one of these for a while. COMC has a couple graded versions fetching $100+. I spent about $5 and I think I did pretty well. Also, it's not actually that much off-center, just a crappy scan job on my part.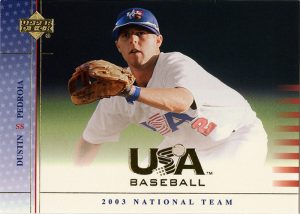 Another card I've wanted for a while. A 2003 Team USA Dustin Pedroia card. I only have the "2006 Topps '52" card to find for Peddy until I'm comfortable in saying I have a solid rookie collection for him. I'm still astonished that his rookie cards are so hard to find and so under printed. The complete opposite of…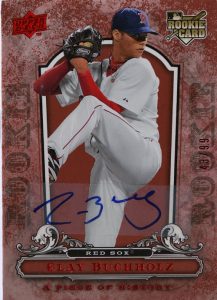 2008 Upper Deck "A Piece of History" Clay Buchholz auto, RC, red parallel, #'d 43/99. There are, by my rough estimate, 400 million Clay Buchholz rookie cards. That number may be a tad high, but honestly, there are too many. COMC lists about 120 different card from 2008. That's nuts.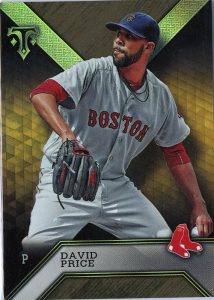 Apparently we've entered the pitchers section of the post. This beauty came from Sam, who busted a box and delivered it in person over lunch a couple weeks ago. I really hope Price gets his stuff together. He's in that transition period pitchers go through when their fastball drops in speed and they need to "figure something else out" to be effective the last couple years of their careers. The good ones add a pitch or two (a nasty curve or change-up usually), the bad ones think they still throw heat (Josh Beckett, looking at you) and get destroyed.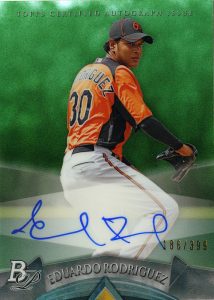 2014 Bowman Platinum Eduardo Rodriguez "Emerald" auto, 186/399. I had several ERod rookies, and two other autos, but not a rookie auto. Well, I suppose this is a "prospects auto", but I'm not going to split hairs.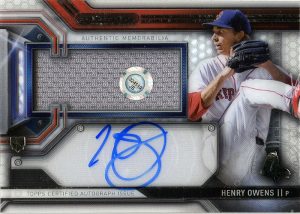 2016 Strata Henry Owens auto relic. I have my doubts about Owens, but Topps seems hell-bent on cranking out the autos this year. At $0.99, I'll roll the dice and hope he improves and contributes next year.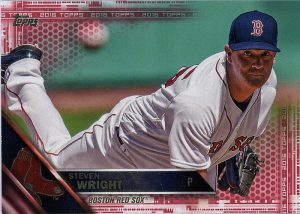 2016 Topps Update Steven Wright "Pink Parallel", #27/50. I loved watching Wright pitch this year. I really love knuckleball pitchers. I doubt I'll ever put together a full rainbow, but I'm really glad Wright is finally on some cardboard. Before this year he had THREE cards total, and two from the same set.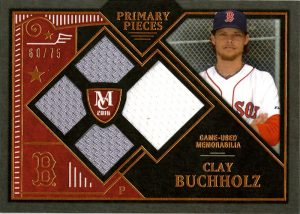 2016 Museum Collection Clay Buchholz "Primary Pieces", #60/75. I've always liked Museum Collection, I think it gets overlooked in favor of some of the other higher end products. I liked that they went almost retro with it this year.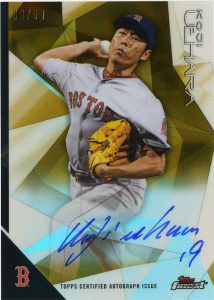 This was a huge pick up for me. Koji never signs anything, and getting a gold 06/50 from Topps Finest was even better.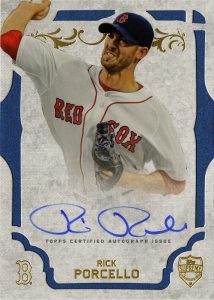 2016 Topps Supreme Rick Porcello auto. Surprisingly un-numbered, but on-card and really nice card quality. There was probably a "we're not numbering them, but they're all limited to X" thing going on with Supreme, but I haven't bothered to look it up. I bought this at the beginning of the summer, before Rick went on a nice long run of wins and when everybody was down on him. Timing is everything. I also picked up this the same week…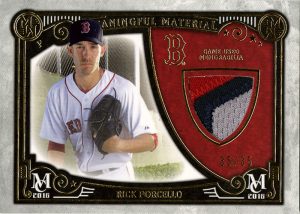 A sweet #35/35 patch relic from Museum Collection. I didn't have too many Porcello cards before these two, but I got them at just the right time. I think I only paid $3 or $4 for the pair.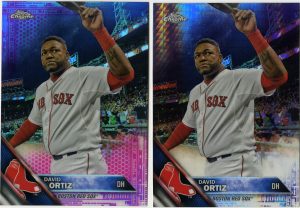 The second saddest card this year. 2016 Topps Chrome David Ortiz, refractor and pink parallel. The saddest is that Ortiz card from update where he's at the All-Star game. I can't even look at it without getting all misty. I wanted to pick up some parallels this year, and have been as I've been coming across them.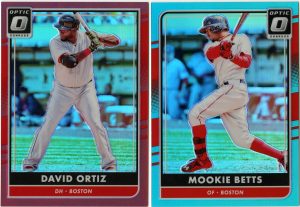 Here's another. 2016 Donruss Optics. The Ortiz red parallel is /99, and the Mookie Betts is /299 I think. Really solid effort from Panini on these this year. I wish they had brought back Prizm, but these are close enough and fill that "ooh shiny!" whole in my life.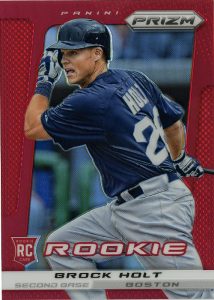 What post would be complete without a smattering of Brock Holt cards? This red parallel from 2013 Prizm was the last I needed for my rainbow. They weren't rare, I had just been waiting on prices to be more reasonable. I think the reds were slightly harder to find than the rest and the prices were north of $10 for a whilte. I think this was $3. I'll have to show off the (literal) whole rainbow at some point, but for now this one is joining his orange, yellow, green and blue brothers in the binder.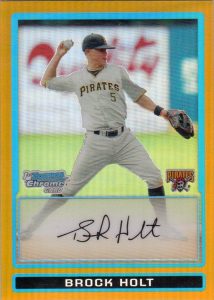 So, what does one do when you've collected most of the common variations of a card? You start looking for the crazy rare ones. Like a 2009 Bowman Chrome Draft Gold Refractor for instance. Yeah. I've got issues. Don't we all?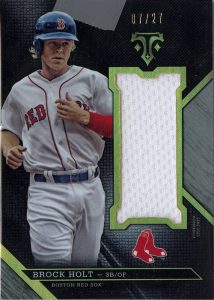 A solid 07/27 relic from 2016 Triple Threads. This is the "gray" variation. Apparently those little shapes on the side being different colors is supposed to make us go all pokemon and "catch them all". Nah. I'm good with just one nice one. I don't really care what color it is.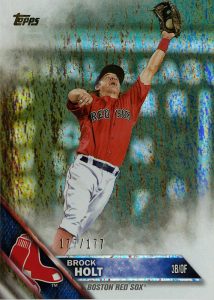 How about a factory set exclusive card? I loath the fact that these exist. There's no reason Topps should be making factory sets that encourage people to open them. Factory sets are like little time capsules that need to stay closed for at least a few years. People shouldn't be cracking these open like hobby boxes. I'm glad someone did, otherwise I wouldn't have this card, but still. 177 sets with "foil parallels", and I've got the Brock Holt.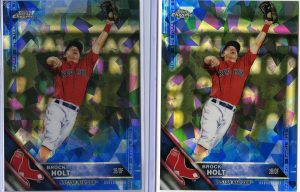 What's worse than 1 factory set exclusive? Why not two! These are from the "Chrome Sapphire" set. Only 250 of these made. I bid big on one, and $0.99 on the other. Won both, go figure. Don't mind the top-loader in the scan, I was being lazy. Really pretty cards in person, just kind of insane what they're coming up with as set "exclusives".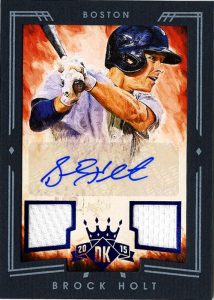 More? Oh yes. I still haven't finished my 2015 Diamond Kings parallel search. Not to let Topps have all the fun, Panini made about two dozen crazy variations for Diamond Kings. Borders, no borders, different colored borders, some with relics, some of autos, some with both. This is, in case you couldn't guess, the blue bordered auto/relic version. I think it's #/199.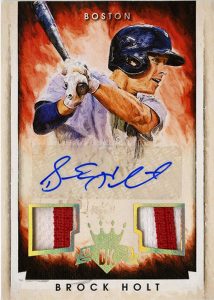 This one, without the border, is actually considerably more rate. This is the "gold" parallel, with double patches (ok, that's pretty cool). It's numbered just 5 out of 10. Love this card.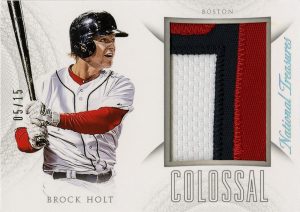 Last but not least, a giant patch from 2015 National Treasures. #05/15 and that patch is completely sick. I love National Treasures and I don't give a damn about the MLB license on these. They are gorgeous cards.
That's all. That's an entire summer's worth. Wow. How long have I been typing? That was insane. I actually apologize if you sat through that all. I was all mopey about not really picking up anything cool this summer before I sat down to write this point. I'm an idiot. Apparently I was crossing off some major stuff from the checklist and didn't realize it. If you made it this far, thanks for reading!