I know I wouldn't classify myself in the same league as most of you who trade cardboard on a regular basis. In fact, most of my trades are done with a tiny handful of people. Not that I wouldn't mind making more trades, it's just that I'm horrible at it. I don't buy enough stuff to readily have things for other people all the time and I feel vaguely inadequate sending flagship base to people. One of the few people I do trade with is AJ from The Lost Collector. Seeing as how he's a Yankees fan, and seeing as how the two most heavily included teams in products tend to be Yankees and Red Sox, I actually have various Yankees cards worth trading. He probably feels the same way about the Red Sox. AJ's trade packages are always excellent and I'm always glad to receive one. I'm filling a box full of Yankees as a return gift, but the box isn't quite full yet, I need to cram a few more in there to get the most out of my postage dollar.
Let's see what AJ sent…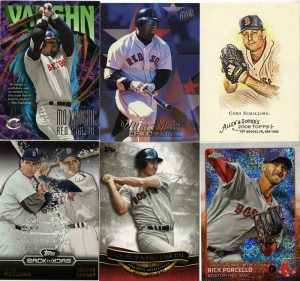 Great cards right out of the gate. You'd probably be surprised to know that I have nearly as many Mo Vaughn cards as I do Ortiz or Pedroia. The card boom of the junk wax era coincided perfectly with Vaughn's career. He's got at least two inserts and a base card in every set from the 90's. Two more good ones for the collection. Also, remember when Ginter was simple? How great was that. I'd love to see a return to that from Topps at some point. Lastly, despite scuffling in the playoffs, Porcello had an excellent season. I'm excited he's part of the rotation going forward.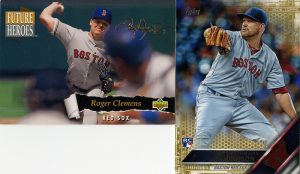 Ooh, a new one for my Clemens binder, and a golden Brian Johnson. Here's one of those confusing things about rookie cards; I don't think Johnson actually pitched in the majors this year. Not only that, but I think he had only 2 or 3 starts last year. So, he's gets a rookie card? Johnson has a rookie card in Series 2 despite clearly not playing the first part of the season, but Benintendi played in 60 games after being called up and won't have a RC until next year. It boggles the mind.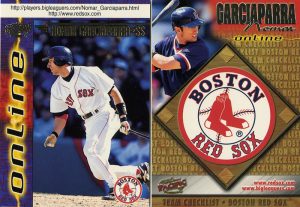 Mmmmm, Nomar cards I didn't have. Excellent! Also, today I learned that Pacific had an online presence. Go figure. I know I didn't have either of these, and they're going strait in the Nomar binder.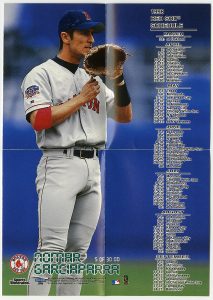 Speaking of Nomar, how kick ass is this? A giant pocket schedule. I love oddball stuff.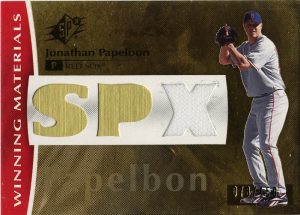 Now AJ is really kicking it into high gear, he's dropping hits. SPx was that relic entry point back into the hobby for me a couple years ago. I picked up a few Manny, Ortiz and Varitek cards from the SPx line, but I don't think I had a Papelbon. The guy was a great closer, but quite the hot head. It's not very easy to get "fired" from a team, but let's be honest, that's what the Nationals did this summer. Hopefully that's a big enough wake-up call and he can get his career back on track.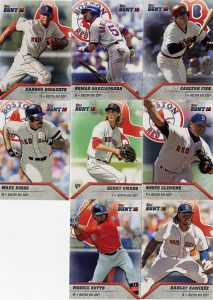 He had mentioned a couple months ago busting a box of Topps Bunt, and I can only assume these are the spoils. I had mixed feelings on Bunt. I was interested to see some of the Bunt inserts make the jump to real life cards (I really liked the "Program" inserts, as well as some of the "Fire" branded stuff), but I'm not sure how well the base card design plays. Obviously they didn't want to rehash the flagship design, so changing it makes sense. It's not bad, but I don't think it's making anyone's top 10 list. As far as having the cards themselves, I'm really happy about that. I think that's nearly a team set. I think it's only missing Pedroia and Ortiz, which I'm sure I can find. Sending me the bulk of the set was just awesome on AJs part.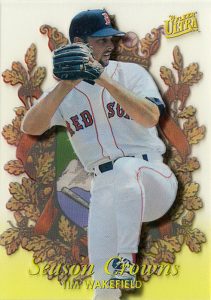 Last, but not least, my favorite thing in the trade package. One of those clear acetate Fleer Ultra cards. A '96 Ultra Tim Wakefield "Season Crowns". Love it. Love everything about it. One of my favorite players, from a great product, that I didn't have. Homerun with this one AJ!
Thanks for all the great cards AJ, and I'm still filling a nice sized box for a return trade!