I was fortunate to get my hands on a free box of 2016 Stadium Club thanks to the awesome folks over at the MLBPA and their twitter contests. I hadn't busted any hobby boxes this year, that sort of thing just isn't in my budget, so when I was notified that I won I was pretty excited. Stadium Club has always been about the amazing photography and, as a photographer, I'm deeply envious of every photographer who gets to do this sort of thing as a day job. It's, literally, my dream job. I couldn't imagine anything more awesome than combining two of my favorite things on the planet.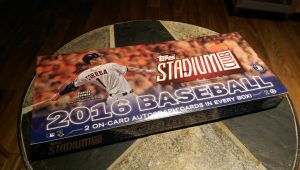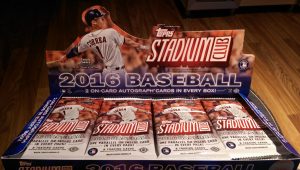 I like it when the box doubles as a display. I always thought that was a fun way to display packs. The box has Correa on it too, so I might have to find a way to re-purpose it into something else.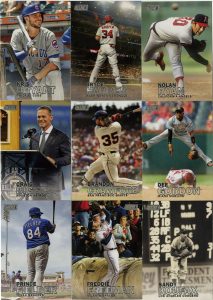 By rough box estimates, you get about 125-128 base cards from the 300 card set, per box. Here's a few random ones I pulled off the top, just to get a sense of type of photography they've put together this year. I love the odd angles, I love the retro photos and the mix of black and white for the legendary players. I would seriously consider buying a set of all black and white photo cards if such a thing existed. The Craig Biggio card is one of my favorites this year. I just thought it was classy to show the HoF induction.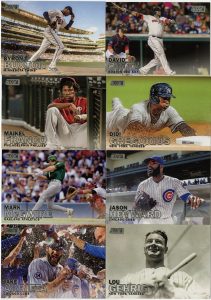 Another random sampling, this time of horizontal cards. From a pure photographic perspective, I've always liked horizontal cards. I just think they make for stronger images. I'm not down with the "shoot it vertically" cell-phone generation.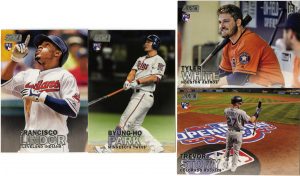 One of the other things Stadium Club has going for it is the shear amount of rookie cards. If you're looking for a "nice" version of a players rookie card, Stadium Club is a solid option.
Even more rookies. There were actually about 3-4 more I left off the scanner. I hadn't realized as I was busting the packs just how many rookies there were.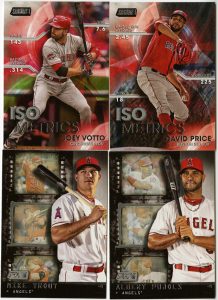 Ah, the inserts. According to the box, and the nice folks on the interwebs, each box is supposed to contain at least one ISO Metrics card. As far as I can tell there aren't any hard numbers on the "Contact Sheet" inserts though. So, I'd say I beat the box odds, but ever so slightly. The Price card is a nice addition to the PC as it wasn't something included when I bought myself the team set a couple weeks back.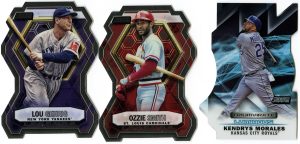 I also beat the box odds on the Legends die-cuts as well. These are nice and everything, but they kind of run counter to what Stadium Club is all about. I would have easily taken a couple more base cards over any of these. Not that there's anything wrong with baseball legends in a product, but I could see something like a sepia toned "legend" that wasn't chromed and die-cut fitting a bit more with the product stylistically.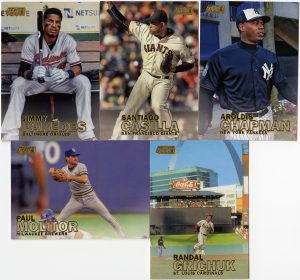 There are a few parallel variations in SC as well. Gold being the most common. I can't really see the point on this one. They're not numbered and changing the foil color doesn't really do much for me. Foil stamping is nothing and the color of the foil is pretty arbitrary. That said, I think the Randal Grichuk card is easily one of the best photos in the set… I just have no earthly idea who Randal is.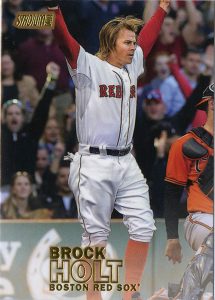 I also pulled a gold Brock Holt parallel, which is a nice PC addition I wouldn't have to track down. See, I make fun of the parallels, then I would have bought them anyway. Oh the hypocrisy.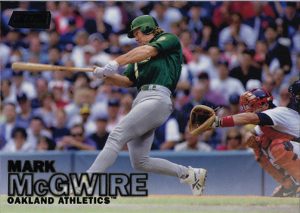 I also pulled a black foil version of the Mark McGwire card. So. Yeah. That happened.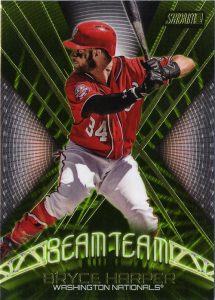 Next, it actually called out the Beam Team inserts on the box as something you're guaranteed to hit. I certainly don't mind pulling a Bryce Harper, but I wouldn't be heart broken to trade it for the Ortiz if I ever came across it. It is a very nice card though. One insert I don't really mind.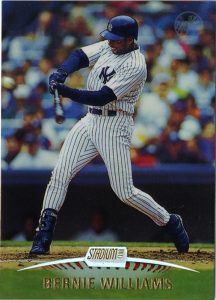 I also pulled this. I was pretty confused for a few minutes. I set it aside, finished opening the other packs and came back to it to make sure I wasn't seeing things. Apparently there are buybacks in Stadium Club. Who knew? Cardboard Connections has no idea…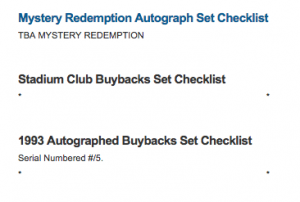 The weird thing is that it's not stamped, at all, with anything that would indicate this came out of a pack in the year 2016. Nothing. It's not a reprint. It's not stamped. It's, as far as I can tell, a 1999 Bernie Williams Stadium Club card. Notice I said 1999. Not 1993, which were what the advertised buyback allegedly were. What the heck? What on earth is this doing in these packs? The crazy part is that its not really even worth having been bought back. It's a common card…

Whatever. Gift horse and all that jazz. Let's move on.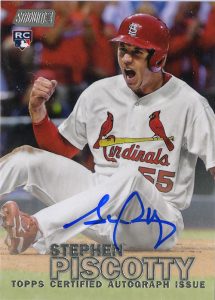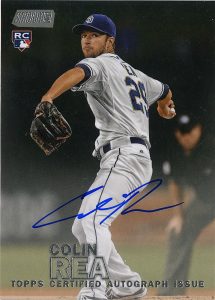 My final two cards were the guaranteed autos from the box. Piscotty isn't too bad, even if he's wearing a Cardinals uniform. He got off to a hot start but has apparently slowed down a bit. Still, he's an interesting player to keep on the radar and a pretty good pull for an on-card RC auto. Colin Rea on the other hand, last time I checked, was actually returned to the Padres as "damaged goods" just after he was dealt in the days leading up to the trade deadline. I don't know where that has him currently, probably rehabbing an arm somewhere. Still, two RC autos aren't bad.
No major names or super lucky card mojo, but it was a pretty solid box. I'm not sure I would have been happy with the box at full retail price, but considering it was completely free, I'm elated. Free cards are always good, and Stadium Club is an excellent set purely from a basecard perspective. I'd love to finish all 300, but I don't know if that'll be happening any time soon. Excellent photography and excellent potential, another solid SC release, but just a mediocre box I'm afraid.