I had purchased one of those oddball 5×7 cards in the past, a 1/10 Mookie Betts to be specific, but I guess I didn't realize Topps was just going to run with the idea for pretty much every set and/or variation. They're selling them online, usually in sets, and dealers are buying them and breaking the set into singles. Usually I avoid oddball stuff, but when a saved search comes up with something like "Mookie Betts, 10/10, 0 bids, $0.99, 10 minutes remaining" it's kind of hard to ignore.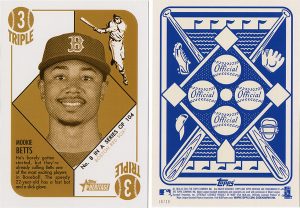 There it is, 10/10 (lower left corner of the back – blue side), in all it's "I'm never going to find a box for this" glory. Luckily the seller shipped it already in a 5×7 top-loader and inside a rigid photo mailer. Also luckily, he combined shipping…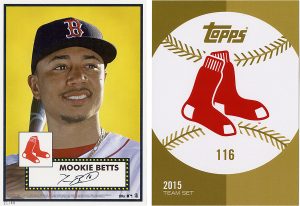 This one is from a "team set", again an online exclusive. Numbered 21/49. I can actually appreciated that they didn't go nuts printing this stuff. Let's be honest, this isn't a "baseball card" in the traditional sense, this is a "collectable".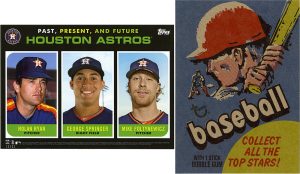 I couldn't help myself. I'm not even sure what set it's from, I'm assuming it's an "insert" from Heritage. It's featuring Nolan Ryan, George Springer and Mike Foltynewicz. This one is #/99. All three of these were $0.99 with combined $3 shipping. Not a bad score. I figure with Nolan Ryan (and his museum where he signs things) being about a 10 minute drive, this might be a fun "card" to get signed. I wonder if I can get all three at some point. We'll see.
Like I said, I usually don't go crazy with things like this, but they seemed like solid pickups and the price was definitely right.