Back on Valentine's Day, my wife surprised me with a "let's go to the card show!" day trip. We're not big Valentine's people, I don't need a special day to tell my wife I love her, and the mark up on flowers is insane, so we usually keep it low key. Going with me to the card show is probably the best gift she could have given me. Not only that, she actually stood there, for hours, thumbing through dime boxes, looking for Sox cards with me. She was finding more random refractors than I was. It was really nice to have a second set of eyes (and hands) to cruise through the boxes. She's awesome that way.
So, this is the first round of scans. I grouped them by player, just for my own scanning organizing. Round two is all the fun stuff (autos, rare finds, etc), but this is a good majority of "the rest".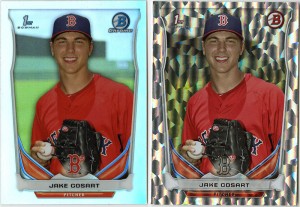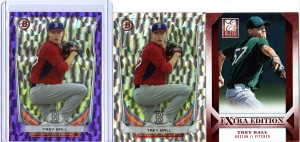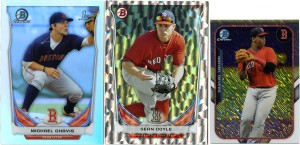 Starting off with a few prospects. Jake Cosart, Trey Ball, Chavis, Coyle, Devers. The Purple Trey Ball and the Devers mini are probably the highlights from this group. Both have potential and both cards were good finds. These are also good examples of my collection philosophy regarding random parallels. I don't go crazy trying to find them on ebay or elsewhere when I know I can pick them up at the next show in the dime boxes. No, I'm not going to really "do anything" with a Jake Cosart "ice" parallel, but it's one more random Sox card I didn't have, and I didn't break the bank. Win-win in my book.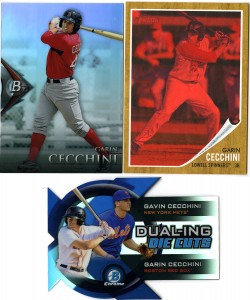 Yes, I realize the Brewers aquired Cecchini from the Sox, but I don't mind filling in the holes in collections even when the player has left. The Heritage card is obviously one of those weird color "errors", the Bowman Platinum is a chrome refractor version, and the Dualing Die Cuts was one of the one's I was missing from last years Bowman Chrome set. I actually found the other card I was missing from that set as well…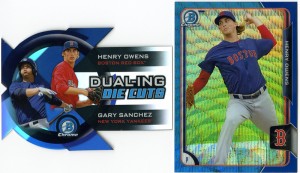 …the Henry Owens die cut. Not Bowman Chrome is complete. The blue wave refractros have been one of the better parallels they've ever done. It really pops when you look at it in direct light. The colors are awesome. Both good cards to have for a potential piece to this years bullpen.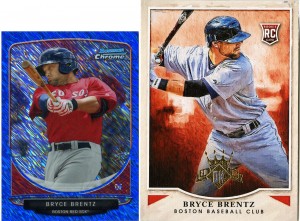 Next, a couple Bryce Brentz cards. The blue wave mini is new, the Diamond King is just because I have serious issues with "artistic retro" and just compulsively buy them whenever I see them. Fun fact, his eyes are totally closed on that mini.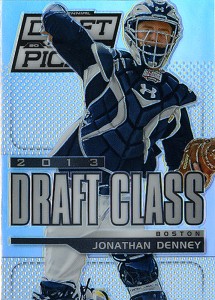 2013 Panini Prizm "Draft Picks" Jon Denney. Everyone is talking about the guy, figured I'd pick up a nice early prospect card. I don't like the "speculation" aspect of prospect cards. Everyone goes completely nuts over players in Single-A and something like 85% of them never make it to the majors. I don't mind prospect cards, but I'm not crazy enough to pay more than a $0.25 for them. What if they don't make it? What if that Kris Bryant card you paid $300 for is worthless in a couple years because the guy gets hit by a bus and never becomes the super star you thought he would be? (Not saying I want Bryant to play in traffic, just making a point).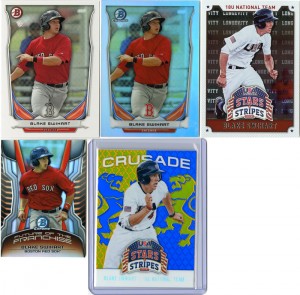 Case in point: Blake Swihart. Great prospect, on the major league roster this year as the starting catcher. Last year he hurt his foot and had a slow start. He had to be called up early because Vasquez had to have TJ surgery. His card prices dipped because of the sluggish bat in early 2015, and everyone thought he wasn't ready. What if he never becomes the all-star catcher everyone thought he'd be? At one point the Phillies were wanting to trade Cole Hamels for Swihart, strait up. His card fever cooled down and now I can get autos and rare cards for reasonable prices. First/Second year in the majors the THE TIME to buy cards. They're only a couple years removed from "Bowman 1st" cards, you can still find them, the prices are more reasonable, and you haven't really "missed" anything. IF the player becomes a super star you've got early cards at reasonable prices. If they don't, you didn't spend big on the "prospect" gamble.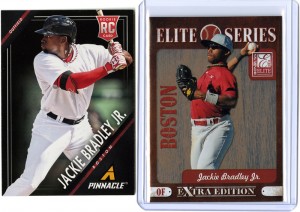 A couple quick JBJ cards. I can never keep the Donruss Elite stuff strait. Is it a product? Is it an insert? If it's an insert what product is it actually in? I can't tell anymore. So I just buy them like this. In case you're wondering why half the cards are in top-loaders and half of them are not, it's because they're all from different vendors at the show. Some have raw cards, some sleeve everything, some top-loader everything. Some have cards in top-loaders so old and scratched I have to just throw them away.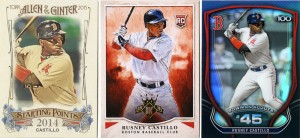 I really hope Castillo works out. It would be nice to have another great bat in the outfield. I love the, umm, "variety" of photos companies have been using for his cards. I could never find those Top 100 inserts when the product came out. They were tough pulls. Now they're sitting in every dime box I come to.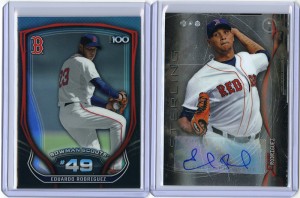 Another guy I'm really hoping turns that corner and really grows into his abilities. He has awesome stuff, but for about half the year he was completely tipping his pitches last year. Weird little mechanics things like that get fixed over time, which is why I have high hopes for his sophomore campaign. Also, my first auto for Rodriquez!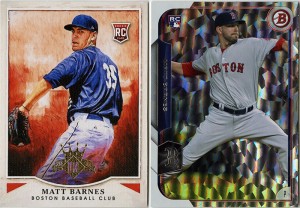 Two random Matt Barnes. I know I had the DK already, and I'm pretty sure I had the ice parallel, but I don't mind duplicates. Just more to trade to other Sox collectors later.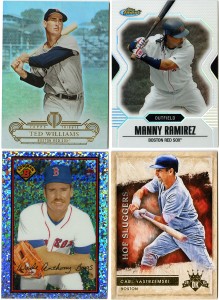 A few all time greats. Ted, Manny, Boggs, Yaz. All solid pick ups for the player collections.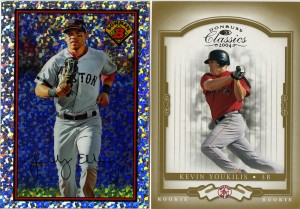 Two more guys from the "previous Red Sox" pile. Ellsbury is intriguing in that he had such awesome potential and he just kept getting hurt. I feel like Boston won the better side of that "pay him/he's broken" gamble. I honestly hope he has a great bounce back season. He played hard, helped us win a ring, and no hard feelings towards his for leaving. That goes for Youk as well. I loved watching Youkilis play. That guy was intense. That Donruss Classics card is actually numbered on the back, /100 I believe.
Pedro. There are so many Pedro cards I'll never find. He was the subject of every set, every insert set, every gimick they could think of. The Beckett registry puts the number of Pedro cards at nearly 10,000, not including the stuff too rare to be counted. I think I'm up to about 150-200 in my player binder, lol.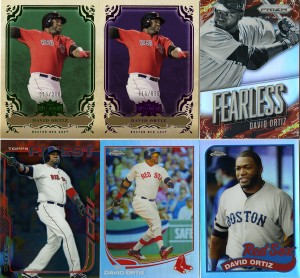 Last but not least, some Big Papi parallels. The only words that come to mind are "I've really enjoyed watching you destroy playoffs". It's hard to describe really. He's my generations Yaz, or Ted. He's the greatest Red Sox player I've personally seen play. That's a weird thing to think about.
The only thing to add to that, is that while I can appreciate what he's done specifically for Boston, I know there are those who don't like him. I can recognize that. I also really hope that they don't make the "retirement tour" a distraction. I didn't like the idea for Jeter, or Rivera or Helton, not because I didn't like those players, but because I just don't think it's necessary. Honestly, why would a fan in, let's say, Oakland, ever care about giving him applause or a present of some kind? It's ridiculous for other teams to honor players from other teams. It sets a bad precedent. At home, at Fenway, obviously that last game will be full of emotion and presentations, etc., but on the road, in May, it's just not needed. And all that from a completely unapologetic Ortiz fan. I hope he has a great last season, I just don't need to see the gift baskets on ESPN.