One of my Christmas gifts from my awesome wife was a box of 2015 Panini Stars and Stripes.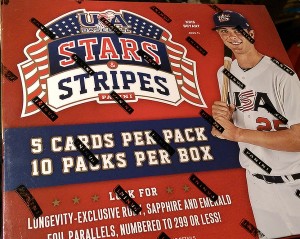 I've been a fan of Team USA related stuff for a long time and now that Panini has the license, they've been doing some cool things with the brand. The box isn't very big at 10 packs, 5 cards per pack (50 cards total), but they squeeze in at least 4 hits and a number of parallels. Yes, the players aren't terribly famous yet, but this is like super-early prospecting, at least in my opinion. Half these guys won't even get drafted, but there's a good chance that there's some early/first cards of eventual MLB players in here. So, let's see what a box of this stuff has to offer.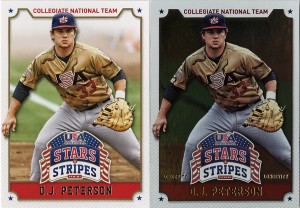 The base cards, or, at least I'm assuming that they're considered base cards. If they're not, then a "base" set is actually pretty hard to put together. The front of the box says to look for "Longevity" parallels that are numbered, but nothing about "Longevity" parallels in general. They literally fell about 2 per pack. So, out of 50 cards, I have about 20-25 of them. I don't think that really counts as "parallel". I guess it's similar to how Bowman has base cards and "chrome" cards in the base set. I don't understand it when Bowman does it, and I'm not really understanding it here. Its the same card, but on foil board, with the word "Longevity" on the bottom, which when it's used out of context, doesn't really make a ton of sense.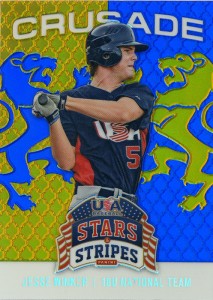 Here's an actual insert that is actually recognizable as being something other than a base card. Crusade cards are nifty. I like the concept, I like the artwork. Pretty striking cards.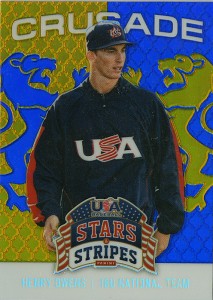 And here's the other Crusade card from my box. Luckily, it's one of my guys, Henry Owens.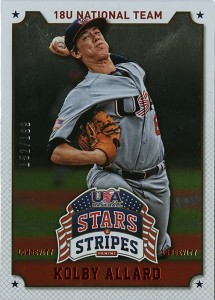 Next up, a "Longevity" parallel that's actually a parallel, and numbered. This one is a red foil, numbered /199. A lot of these guys on the 18U team aren't even playing in college or the minors yet. I can't find a ton of info on Kolby Allard, other than that he was on the 18U roster.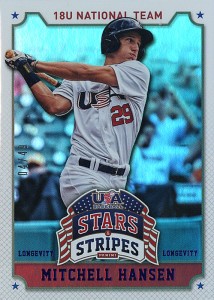 Even rarer than the red, here's a blue foil parallel, numbered 4/49. I actually found info on Mitchell Hansen, he was drafted by the Dodgers in the 2nd round last summer.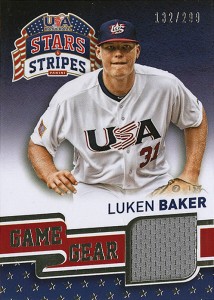 Now for the hits. 4 per box. I got 3 relics and a auto-relic. First up a Mr. Luken Baker, numbered /299.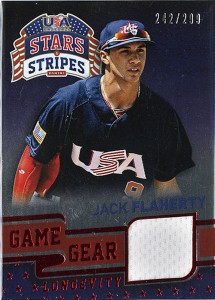 These next two are, again, "Longevity" parallels, even though the numbering is exactly the same. They are printed on the foil card stock though, so there's that. Here's a Jack Flaherty relic, numbered 242/299.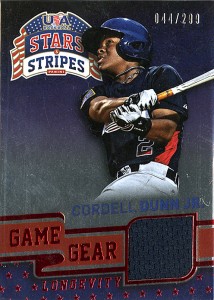 And here's the second "Longevity" relic, this one for Cordell Dunn Jr, and numbered 044/299.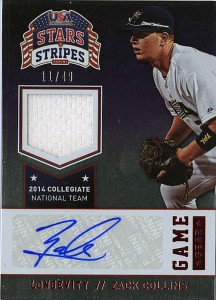 Finally, the "big hit" of the box. An auto-relic of Zack Collins, also a red foil Longevity parallel, numbered 11/49. Zack is playing for the University of Miami, and has been on just about every All-Star team a high-school and college player can be on (Perfect Game, Rawlings, etc). I would say that, out of all the hits I got, Zack probably has the best chance at making the majors. Perfect game referred to him as "absolutely mashing" this past year, and "one of the best power hitters in the country". Who knows, maybe I struck gold in this box and I just won't know it for a couple years. Good luck Zack!