So, does having three Triple Threads give me nine total threads?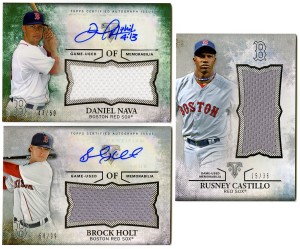 There's something about 2015 Triple Threads that just wasn't really working for me. The background sort of looks like Inception, or Museum Collection. The colored parallels are just different colored clouds. At least National Treasures has the decency to change the color of the foil. Then there's the fact that every swatch is gray/white. Topps has too many products. At some point they need to cut back. Plain gray swatches in a product that costs $180 a box and contains only 14 cards is pretty unacceptable. How many products does Topps have at that level that they're saving all the patches for? Let's count: Dynasty, Five Star, Museum Collection, Strata, Supreme, Tier One, Tribute and Triple Threads? EIGHT?!?! Eight ultra premium brands. No wonder a patch is hard to come by.
I digress. The lot of these three was next to nothing. I think I paid $5, shipped, for all three. I wanted it primarily for the Holt, especially since Nava is no longer with the team, and Castillo seems to be hit or miss so far (no pun intended). Good cards for the collection, but not exactly display case worthy.
I've always liked the verse that Nava puts on all his autographs. Philippians 4:13 – "I can do all things through him who strengthens me."