Last Saturday our Card Bloggers Fantasy League drafted. I thought it would be a fun little side project to try and put together a "team set" for my fantasy team this year, the Texas Penal League All-Stars, with cards I had sitting around. I'm short by one, but that's mostly because I pulled these from stacks I have sitting around my office, and I didn't dive into any boxes just yet.
So, let's see how the ol' fantasy team stacks up this year…
Catcher: Buster Posey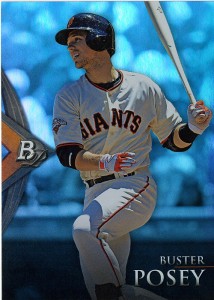 Card – 2014 Bowman Platinum – Blue Sapphire Parallel
I decided that my draft strategy this year would focus on getting production out of normally un-productive spots. I drafted high on Catcher, Third and Short. By doing so, I landed the best offensive (and quite good defensively) catcher, Buster Posey. The drop off in projected points after Posey is staggering.
1B – Joey Votto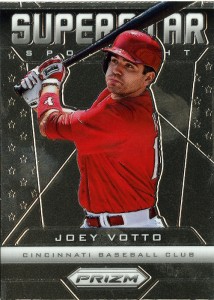 Card – 2014 Panini Prizm Superstar insert
My second goal was to get good outfield and pitching players, which meant drafting normally deep positions (like 1B) later on. Votto's projections are considerably down from his previous years, so this was a risky pick. He's been a points machine in years past and I hope he gets back to form.
2B – Dustin Pedroia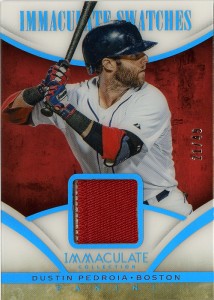 Card – 2014 Panini Immaculate Patch Relic
This wasn't actually a "homer" pick, this was a calculated risk. I knew I couldn't get a high pick like Cano, and Pedroia was a solid 4th/5th best. Judging by his two homers on opening day, I think his thumb is feeling considerably better. If he returns to form, he's going to have a monster year, and I totally lucked out.
3B – Josh Donaldson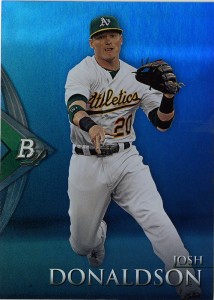 Card – 2014 Bowman Platinum – Blue Sapphire Parallel
Donaldson is arguable one of the best current third base options. His moving to Toronto is a little cause for concern (just for being in the AL East), but I don't think his production will suffer all that much.
SS – Jose Reyes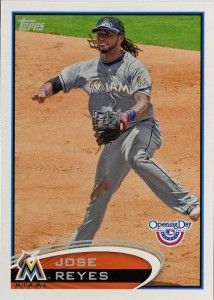 Card – 2012 Topps Opening Day
Short stop is such a shallow position and if you don't pick high and get Tulowitzki it's pretty much a wasted spot. I didn't get Tulo, but Reyes is a great option (number 2 in projected points). I also picked up…
2B/SS – Ben Zobrist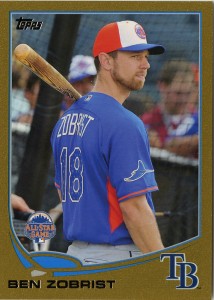 Card – 2013 Topps Update Gold Parallel
Zobrist is a solid option at both 2nd or short, and he qualifies at both. He's also projected 4th (points wise) in both categories. These two picks get me the #2 and #4 options in the shallowest category in the game.
1B/3B – Ryan Zimmerman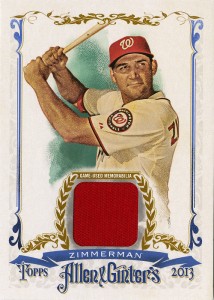 Card – 2013 Allen & Ginter Relic
Zimmerman isn't a terrible pick, but he's the result of picking higher on the other positions. He's about 15 deep on the 1B list, and about 10th on the 3B list. With Josh Donaldson being the #1 pick at 3rd, I'm hoping I don't need too much out of Zimmerman. Ironically, he's one of my personal (non-Sox) card collections (long story).
OF (not position specific) – Bautista, Kemp, Betts, Moss, Springer
Jose Bautista
Card – 2012 Topps Tribute "Debut Digits" – Blue Parallel 35/50
Joey Bats. Top 5 overall pick. He was my first round choice. I just went with "Best Available" and I'm fairly happy with the choice. If Toronto has a good year, he should put up some ridiculous numbers. He's my number one out of 5 outfielders. The others are…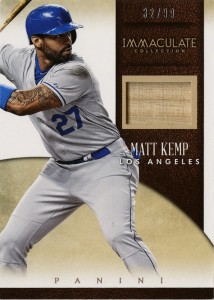 Matt Kemp
Card – 2014 Panini Immaculate – Bat Relic 39/99
Kemp is a beast… when he's healthy. Hopefully he can stay healthy this year.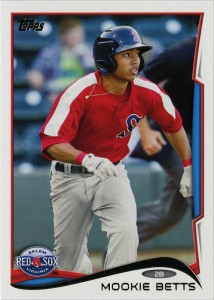 Mookie Betts
Card – 2014 Topps Pro Debut
This was my "homer" pick. I'm on Team Mookie. I'm predicting All-Star numbers this year.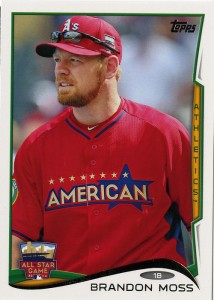 Brandon Moss
Card – 2014 Topps Update
Brandon Moss. Well… someone's got to fill out the roster. Might as well be a former All-Star.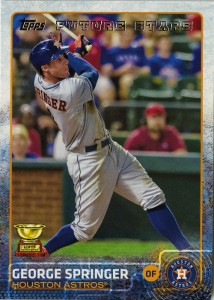 George Springer
Card – 2015 Topps
Springer is legit. His numbers will all depend on how Houston does this year. I'm crossing my fingers that they break .500 this year. Houston could seriously use some good sports news.
DH – David Ortiz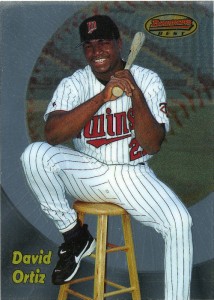 Card – 1998 Bowman's Best Chrome
Duh. Who else is going to DH? The best DH in the game. I don't think that's even debatable anymore.
UTIL – Evan Gattis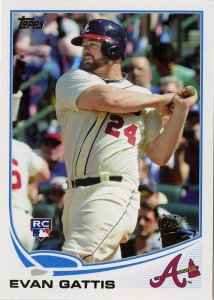 Card – 2013 Topps RC
Qualifies as a catcher (only) for the moment, but Houston plans on playing him in the outfield, so it shouldn't be long until he qualifies there as well. He's also the #3 projected catcher. So, I managed to lock up #1 and #3 at the OTHER incredibly weak position. We'll see if this strategy pays off. Who knows, maybe someone will get desperate mid-year and offer a trade.
Bench (position players) – Jorge Soler and Brock Holt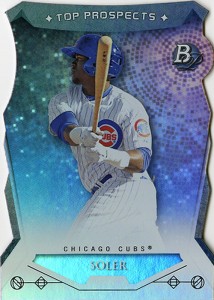 Jorge Soler
Card – 2014 Bowman Platinum "Top Prospects" diecut
Soler is a solid candidate for Rookie of the Year this year, I picked him up hoping his projections pan out.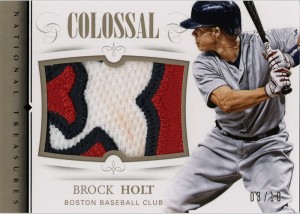 Brock Holt
Card – 2014 Panini National Treasures – Colossal Patch 03/10
You know I had to do it. Brock can play just about anywhere. Currently usable as 3B or OF, but isn't far off from getting qualified for 2B and SS as well. True super-utility player. His playing time will be way down if everyone on the Sox stays health… but how often has that happened. By mid-year he'll be getting plenty of appearances.
Starting Pitcher (SP) – Kershaw, Kluber, Samardzjia, Dickey, Sanchez, Cain (DL), Richards (DL), Huges, Buchholz, Wainwright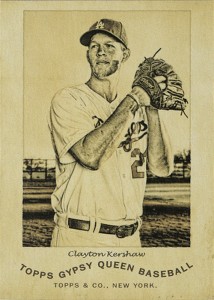 Clayton Kershaw
Card – 2014 Gypsy Queen throwback insert
Kershaw is unquestionably one of the best pitchers in baseball. My #2 pick in the draft. Pitchers didn't start going until the 4th or 5th round for most people, but I picked high on two SPs to give my team an anchor, and then low on the rest.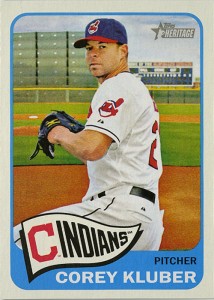 Corey Kluber
Card – 2014 Topps Heritage
Speaking of that 2nd pitcher, Kluber was the best pitcher in the AL last year. Now I have, literally, the two reigning Cy Young winners as the cornerstones of my pitching staff. I sacrificed on a couple positions to jump up and get these two. Hopefully that will pan out for me.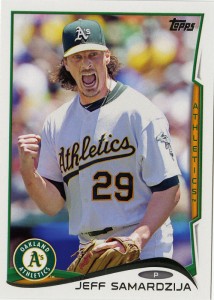 Jeff Samardzija
Card – 2014 Topps
So, with Kershaw and Cluber secured, I returned to filling out my position players, revisiting the pitching category again later on in the draft. Even drafting guys in the later rounds, I don't feel like my pitching staff is terrible. Samardzija is a solid pick for a mid rotation guy, as are the rest of these.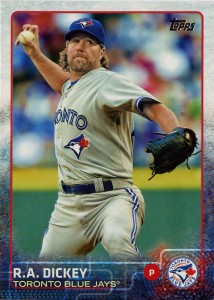 R.A. Dickey
Card – 2015 Topps
I've got a soft-spot for nuckleball pitchers. Dickey's year will largely depend on the team's success around him. With Toronto picking up several pieces (like Donaldson) in the off-season, I can't see them finishing at the bottom of the AL East this year. If they have a strong season, and give Dickey lots of run support, he should have a good year.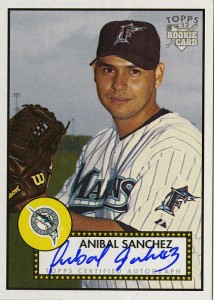 Anibal Sanchez
Card – 2006 Topps Heritage RC Auto
At this point, panic at not prioritizing pitching has set in and I forget my game plan heading into the draft. The result is me picking up pitchers who I recognize by name, and who are towards the top of the projected points pile (for those who are left). Sanchez isn't bad, he's pitching for Detroit now, who should have zero problem giving him plenty of run support to work with. As I'm typing this he's shutting out the Twins with 6Ks. Not bad for middle rotation, late drafting.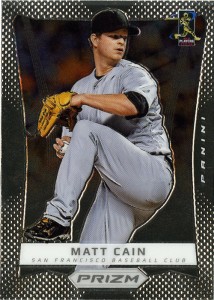 Matt Cain
Card – 2013 Panini Prizm
Starting the year on the DL is never good. Allegedly its only a strain. I'm watching the available players and the add/drop list carefully in case he needs to be replaced. When healthy he's another solid mid-rotation guy. At this point in the draft I'm thinking "what teams will make the playoffs" since, by proxy, those teams should have pitchers who get them more wins. Giants, post-season, probably.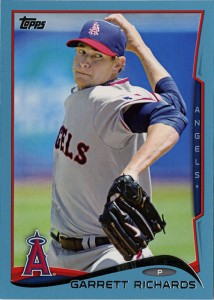 Garrett Richards
Card – 2014 Topps – Blue (WM) Parallel
Richards is starting his season on the DL, so he was immediately replaced on my roster and moved the the DL list. That said, I'm expecting him to actually have a good year, at least projection wise, so he'll probably replace Matt Cain or Jeff Samardzija once healthy. We'll just see how it plays out.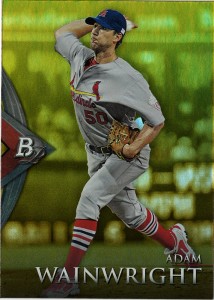 Adam Wainwright
Card – 2014 Bowman Platinum – Gold Parallel
Speaking of teams probably making the playoffs, Adam Wainwright seemed like a solid option at the time. The Cardinals are stacked with young arms, Wainwright included.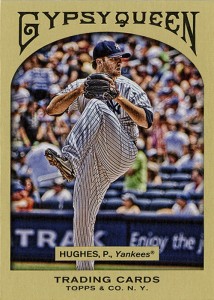 Phil Hughes
Card – 2011 Gypsy Queen
The most wonderful card set (IMHO) of the last 20 years. Phil Hughes, meh, seems like an ok guy. I remember him mostly from the Yankees, hence the card, but he's apparently pitching in Minnesota now.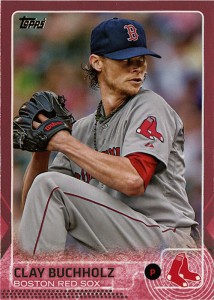 Clay Buchholz
Card – 2015 Topps Pink Parallel /50
I'm a big Buchholz supporter, but I can set that aside and say with utmost honesty that when Clay is good, he's really really good, but when he's bad, he's really really bad. It's a night and day difference. I've read all the interviews over spring training, he appears healthy, he's talking about off-season training and a strengthening program, and his performance on Opening Day was all I needed to pick him up post-draft in replacement for an injured Hyun Jin Ryu.
Closer/Relief Pitchers – Dellin Betances and Koji Uehara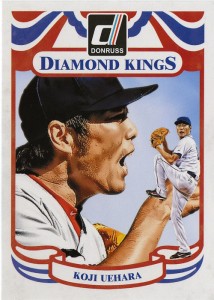 Koji Uehara
Card – 2014 Donruss Diamond Kings
Koji is also starting the year on the DL, so I picked up Betances to replace him. Ironically there will be a Sox/Yankees rivalry within my team for the closer job once he's healthy. I also don't actually have a card for Betances, so you get this awesome Koji card instead. Playing wise, I'm not sure what's wrong with Koji. He was nearly legendary in 2013. I fear that age might be catching up with him.
There we go, that's my fantasy team this year, on cardboard. I think I have a solid crew. Hopefully they should keep up with the other All-Star teams in our tiny 6 player league. Fingers crossed.