I've been neglecting to post this for quite some time, mostly due to laziness and a general sense that no one really cares. My friend, the one who had previously found a complete sets of 1980's products for me at some local Texas auction house, came up big again. This time however, he bought out someone's flea market collection. He had sent me photos, mid-adventure, of a particular set ('91 Studio) and asked if I was interested. I've always enjoyed that set, and at the price they were asking ($3) I couldn't really say "no". When I met up with him a few weeks later he opened the trunk of his car to reveal an entire utopia of junk-era wax. He had procured the entire collection the seller had available, allegedly for pennies. I didn't even know what to say. It was his biggest haul to date and I was extremely grateful…
I collected everything, placed them in my own car and headed home, happy to sort through box after box of cards that time had forgotten. It's one thing to just buy bulk cards, but it's entirely another to buy someone's "collection". You can pretty instantly tell what they were into, what players they collected, who they thought the hot rookies were. It's also pretty telling of the era that most of these collections I've come across have a pretty substantial amount of players like Bo Jackson, Barry Bond and Jose Canseco. They were clearly the studs of their time, like them or not, and that's where card companies put their focus.
Although only a fraction of this will make it's way into my own permanent collection, it's still quite fun to go through. It should also be said, if any of you are actually looking for 80's-90's cards of your team, please feel free to ask about what I have. The majority of these cards, if nothing more than commons, will probably be donated.
So, let's see what we've got. In total there are 3 long boxes (600+ count), 3 retail boxes, 4 binders, one large 4 column box and one medium shoe box (actual shoe box, not "shoe box" the industry term for standard boxes).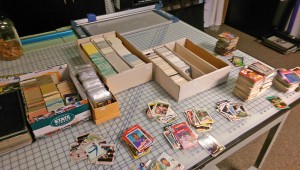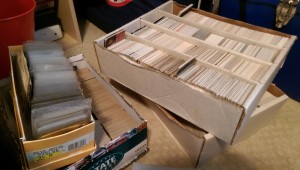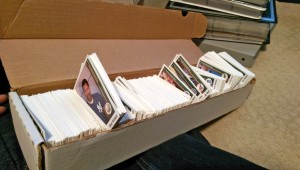 You can see a couple of the binders in the top right corner of that last photo, and one on the left side of the first photo. In total, it was easily in the ten-thousands. The 4 column box alone a 3200 count "monster box". There was a little bit of everything in there. 70's, 80's, 90's, baseball (mostly, thankfully), football, basketball. The basketball stuff seemed to be the most recent. There was quite a lot a Topps Chrome Basketball from the mid-90's. There was also a good sized collection of higher-end football (SP Authentic).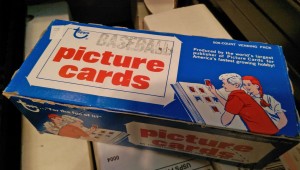 There were also some oddball items. These two in particular. The "Vending" Box of baseball is actually stuffed full of nearly mint 1978 Topps. I haven't gone through it yet. I'm hoping there's an Eddie Murray and a Nolan Ryan, those would be the two money cards from that year. I'm also hoping for mint Jim Rice and Dwight Evans cards as well, those would go right into my PC. The '89 factory boxes are opened, one still had a seal on it but was opened from the bottom instead (sneaky flea market people!). As far as I know, and COMC lists them as separate releases, "Debut" and "Traded" were two different sets. These would have (or are supposed to have), the first debut cards for Sammy Sosa, Griffey Jr., Albert Bell, David Justice, etc. Since they've been opened I don't exactly have high hopes.
Back to the tonage…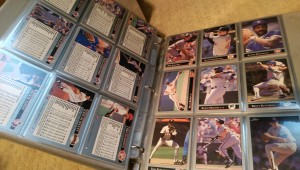 The binders are interesting mainly because someone has already done the hard work. Three of the four binders were complete sets. This one is a set of 1992 Leaf. Not exactly the most exciting thing ever, but still interesting to look through.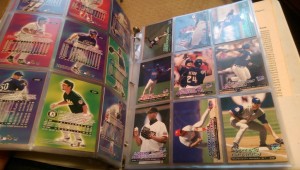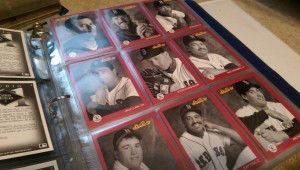 The next two were filled with '99 Fleer Ultra and '91 Studio. The Studio set is, in all honesty, one of my favorite sets of all time. It's the perfect blend of my two favorite things: photography and baseball. The entire set is filled with black and white studio photography. Yeah, the purple border is a little much, but it's still an awesome set.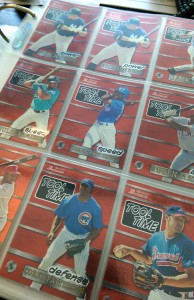 The last binder, and the largest of the four, was filled with a little bit of everything. Any card that this person deemed valuable is in it, with hardly any organization. A few players have pages, or half pages, but for the most part it's completely random. There's everything in here. All brands, years, sports. It starts with SP Authentic Football, runs into 90's basketball, then 1970's-80's baseball.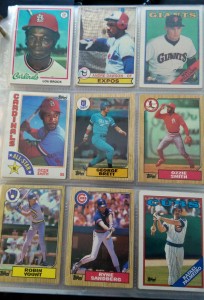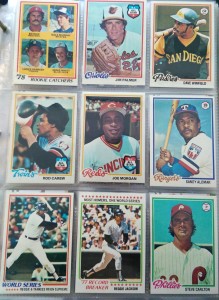 Thankfully, a few players stand out (Wade Boggs, Nomar, Mike Greenwell) as additions to my personal collection.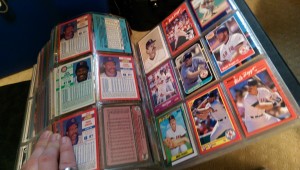 The bad news is that while the first half of the pages are early versions of UltraPro Platinum, the last half of the pages are likely no-brand cheapo pages. They've all stuck together and it's going to be a major rescue operation to save them. I'll save those for another day and another post. Most of the cards are completely fine, but the pages have started to disintegrate and turn back into oil. Check this out…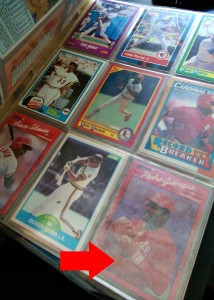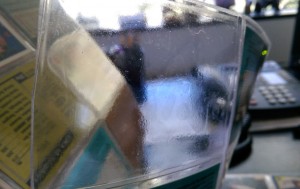 Lastly, the loose stuff in the boxes. I mentioned earlier that it pretty much runs the gamut, but I did manage to pull out a few interesting cards. Let's start with the non-baseball…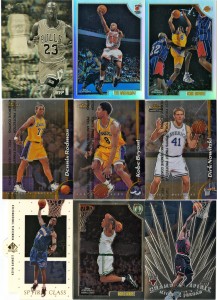 Basketball first. As little as I follow basketball, some names still stood out: Tim Hardaway and Kobe Bryant refractors. Dennis Rodman and Kobe Bryant (with hair!) Topps Finest. A Dirk Nowitzki and a Paul Pierce rookie card. A couple Jordan inserts and a KG SP Authentic diecut. Not too bad. At least whoever was buying these was buying nicer brands.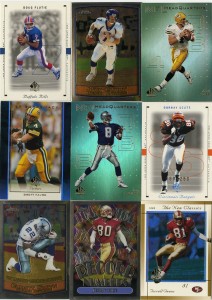 It's pretty much the same story with the football cards. Nicer brands, recognizable players. Doug Flutie, John Elway, Brett Favre, Troy Aikman, Jerry Rice, T.O., Emmitt Smith. A number of these seem like parallels or inserts but I haven't put in the time to really look them up.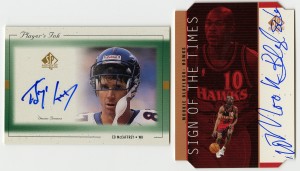 Hits? Believe it or not. Scattered amongst the commons. Ed McCaffrey, WR for the Broncos and Mookie Blaylock for the Hawks. Go figure!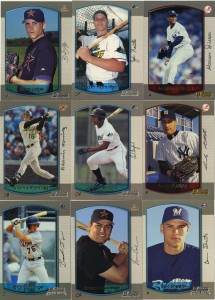 Lots and lots of interesting baseball in these boxes. There's too much to show, so I just picked out a couple favorites and/or stuff I thought was interesting. Here's a sampling from a massive pile of Bowman 2000. That Josh Hamilton on the top row is probably the most important card in the set, but the rest aren't shabby either. Early Mariano Rivera, Brad Lidge, Andy Pettite, Carl Crawford, Ben Sheets, etc. I don't think it's a complete set, I saw numbers into the 400's, and there isn't 400 cards here, but it's at least a sizable chunk (300 +/-).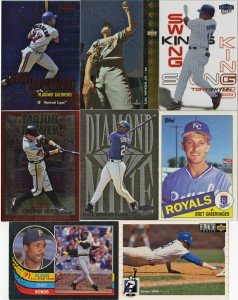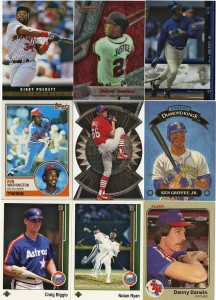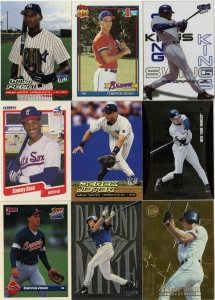 All sorts of craziness. Rookies (Chipper Jones, Sosa, etc), a bunch of inserts, etc. I really like those "Swing Kings" inserts that are printed on acetate. Neat stuff.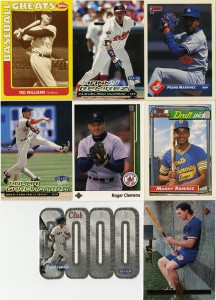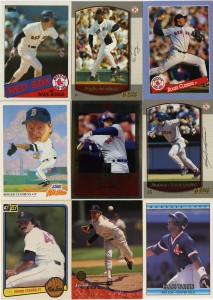 Here's a small cross section of the things I'm adding to my personal collection. I haven't really started on any 90's sets, so for now all these will probably go into Player Collections or into my to-be-filed pile.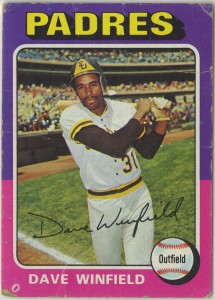 There were a few vintage cards scattered amongst everything as well. Most aren't in that great of shape, probably nothing I'd ever bother to get graded, but there were a few interesting cards, including this '75 Dave Winfield.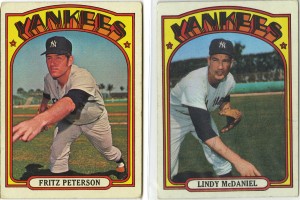 1972 Yankees Fritz Peterson and Lindy McDaniel. I didn't notice it until just this second, but the Lindy McDaniel is actually autographed. It's really faint, but you can see it in the scan.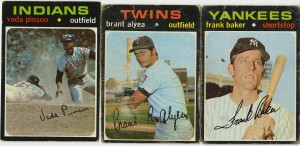 1971 Topps Vada Pinson for the Indians, Brant Alyea for the Twins and Frank Baker for the Yankees.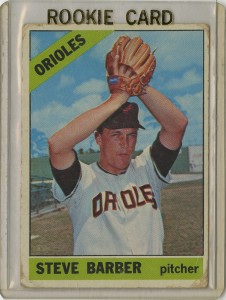 1966 Topps Steve Barber for the Orioles. This one actually looks fairly decent considering it's age.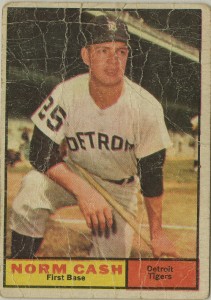 Lastly, the oldest card I found, a 1961 Norm Cash from the Tigers. This poor card has seen some things. Full of creases and well handled cardboard love.
There it is folks. That's just my first dive into this collection. There's plenty more but unless I hit some crazy paydirt, I probably won't bother talking about it. It's been a lot of fun going through someone's collection. There's plenty here that could use a good home, and don't worry, they'll find one. There's also plenty that should probably end up in a landfill. Sadly, I just don't know how many copies of a 1989 George Brett card I really need.
Thanks for reading! Bonus imaginary internet points if you stuck with it this long.