The insanity that is the Brock Holt collection continues on. There's just four additions, but they are considerable ones. Let's start out with a little trip back in time, to the Minor Leagues.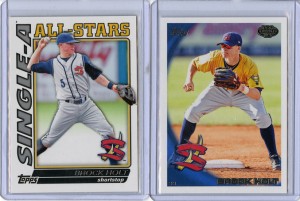 These two (base card and insert All-Star card) are from 2010 Pro Debut. There are only a few Holt cards from the minors are they are surprisingly hard to find. There are a couple parallels from 2009 Donruss EE still to find and a "2009 State College Spikes" card, but these are the two major cards to check off my list.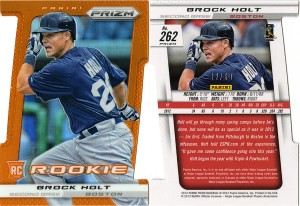 Next up, something I had only seen on ebay twice (and missed it both times), an Orange Diecut parallel from Panini Prism. This beauty is 12/60 and a big missing piece from my Panini page. That's not all. It gets better…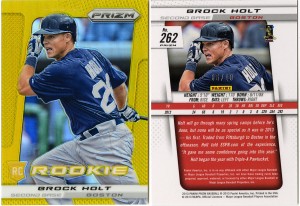 Boom. Six out of ten. A rare Gold Parallel from the same set. This was the first and only I had ever seen, and I couldn't throw money at it fast enough. It actually didn't end up being that much in the end, and I was greatful my bid stuck. That is the 9th card for Mr. Holt that I had that's numbered to 10 or less. I think it's safe to say I have a fairly extensive collection at this point. I know I own 3/10 of the worlds copies from Tier 1, and 2/5 of the world's supply of Bowman cracked ice. Does that make me a super collector?