I was going to put "Giant" trade, but I figured the Dodgers fans wouldn't appreciate that. Bad title puns aside, Greg and I have traded a couple times in the past but had both slowly been building piles of cards for each other for what seems like forever. I had such a stack of Dodgers I couldn't fit it into a flat-rate box. It was time to pull the trigger and swap some cardboard.
I was going to scan everything Greg sent, but it would have taken ages, so I pulled out some of my favorites from the entire package.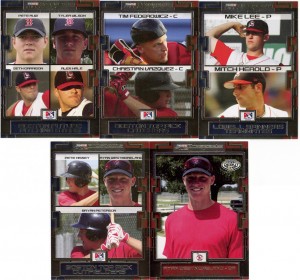 For starters, a nice quintet of Tristar prospects. A couple of these guys have/will make it and a couple others might be "iffy" but are doing well enough in the minors to reserve judgement for later. The real gems in there are the Tim Federowicz/Christian Vazquez and Pete Hissey/Ryan Westmoreland cards. I had my doubts about Vazquez before he was called up and he's quieted nearly all of them. The fact that he can make snap-throws from the plate and pick-off guys at First/Third is just icing on the "our catcher for the next 5+ years" cake.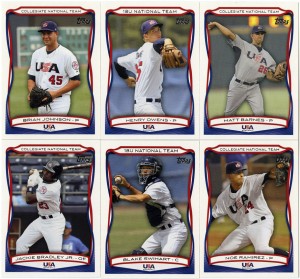 Next, even more prospects, Team USA style. When I started buying the Team USA card sets, my first one was 2011. I had completely missed 2010, it just wasn't available anymore, so these are something I've actually been looking for. Reason being, Johnson, Barnes, JBJ and Ramirez all played on the same 2010 Collegiate National Team and, while a couple of them were drafted by other teams (Johnson by the Dodgers for example), they've all been reunited by the Red Sox front office. With the exception of Noe Ramirez, I think ALL these guys just got September call ups. That's actually pretty awesome. Awesome Team USA that year, and even better Sox prospects for the very near future.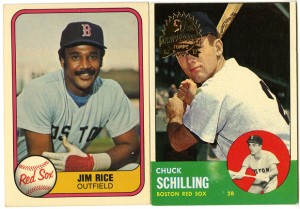 Mmm, vintage. I only own 1 or 2 actually cards from 1963, and even despite the stamp on his face, this Chuck Schilling is actually in the best shape of them all. Seriously Topps, you couldn't have stamped it over his shoulder? Also, a 1981 Jim Rice. I grew up watching guys from Rice, Fisk, Mike Greenwell, Dwight Evans and Dennis Eckersley. Those guys are who I can identify most with my early baseball fandom. It's a shame those cards I used to have have long since disappeared. My collection is making a comback though. After starting completely over from scratch, I have a considerable chunk of the 1980's now complete. I have complete (factory boxes) '80, '84 and '89 sets, and team sets for all the rest except for 83. I don't know where to go next. The 70's start getting expensive and the 90's are a complete mess.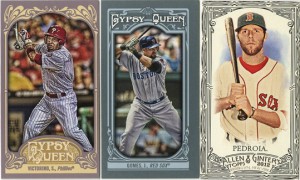 Minis! Nothing says awesome like a tiny piece of cardboard. The Gomes fills a need in the GQ checklist as well. The black border Pedroia and the "crazy eyed" Victorino are awesome as well.
Slightly off-topic, but I think I've started an "oddball" collection of minis. My daughter was intrigued the other night as I was sorting and she was looking through my stack of "other" minis from (mostly) Ginter. There were puppies, whales, ghosts, spiders, and she loved them. I got out a tiny 1/2″ binder and a couple pages for her and showed her how to put them in. It was a bonding moment and we had a blast. After that I rounded up all my Ginter, Goodwin Champions, GQ and Topps inserts minis that were completely unrelated to anything I was collecting and let her put them in however she saw fit. There were baseball players next to rodeo champions, a page of "creepy" things like haunted mansions and spiders. It was awesome. Definitely something I'm going to keep doing.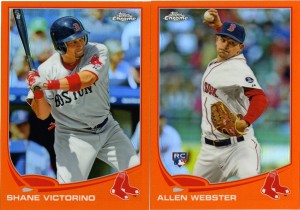 So orange it hurts. Like pure citrus, all ripe and shiny. The Victorino is awesome and the Allen Webster gets me thinking that I'm pretty close to a rainbow on that one. I know I have at least a purple, blue, gold and black. I probably only need a couple more.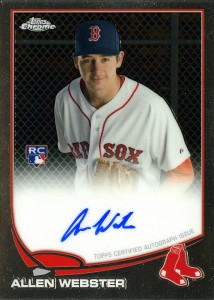 Speaking of Allen Webster, a splendid auto from 2013 Chrome. Now, if only we could get this kid a little confidence. He throws a great game one day and then gets shelled the next time out because he starts tossing meat balls right down the middle when people get on base. Another year or two at AAA/bench/bullpen and he'll be fine, he just needs a little seasoning.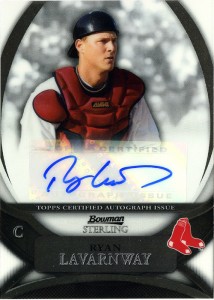 I personally really liked Lavarnway, but I think his days are probably numbered in a Sox uniform. Hopefully he gets traded to a team who can use him because the Sox seem to actually have a log jam at catcher. Vazsquez is legit and Blake Swihart is right behind him. Lavarnway got some appearances last year but broken his arm at the beginning of 2014 and he's been effectively replaced. He's a seriously decent hitter and any team would be lucky to have him catching at the major league level, he just needs a bit of a comeback from a few injuries. The card, one of my few Lavarnway autos, is an awesome addition to the collection.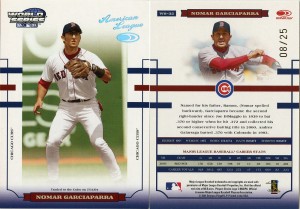 Last, but never least, the cherry on top of this epic trade. 2004 Donruss "World Series" Nomar Garciaparra. Not only is it a new addition to my insane Nomar collection, check out that number on the back. 08/25. Yup, rainbow parallel. Love it. Absolutely awesome card. It's rarer than I can price and I'll I've seen in the past is "gold" and "silver" versions /50 and /100 respectively. Now I'm not sure whether I want to put in the binder, or put it in a mag-case on the display shelf.
Awesome stuff Greg! Thanks again for an epic trade. Now that you've reset my Dodger stack to zero, I'll have to start a new one. 🙂