I have a good friend who loves to visit auctions, estate sales, and the like. I've told him in the past to keep any eye out for any cards. He's picked me up the occasional pile of '87 Topps, but a couple weeks ago he stumbled across someone else's collection. There were several boxes, a complete set of 1992 Donruss, and a few binders. He sent the whole thing my way and I've just started to dig into it.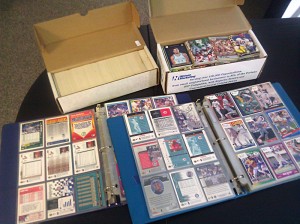 The box on the left was the '92 Donruss. I'll save that for a rainy day, mostly because it's about as interesting as watching puddles form. The box on the right was a crazy mismash of Baseball, Football, Hockey, Basketball and Soccer.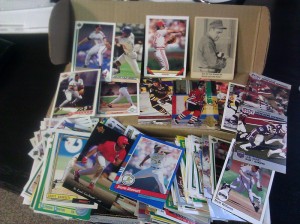 Thankfully there's considerably more Baseball than anything else, though there are a few interesting Hockey cards, and those black and white cards (upper right) are actually 1965 Fleer Gomer Pyle cards, go figure.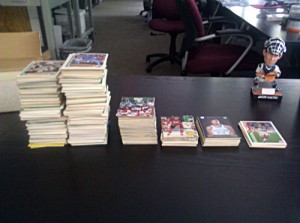 I took a little time and sorted them out, just to make life easier.
The "good stuff" was most certainly in the binders. They even took the time to look up and label some of their favorites with prices (on the pages, not the cards, thankfully).
The collector, whoever it was, had a pretty good collection of 90's stars going. All the big names are in here. I went through all pulled out some of my favorites, just as a sampling. In total, each player probably had 5 of 6 pages worth.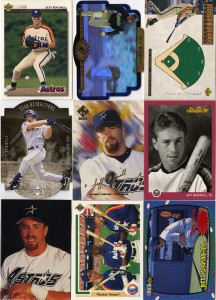 Jeff Bagwell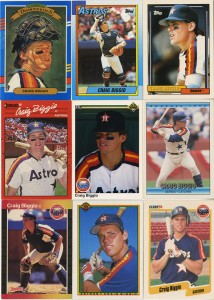 Craig Biggio
Derek Jeter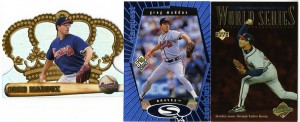 Greg Maddox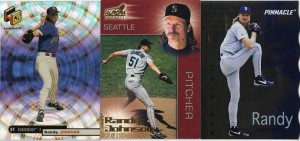 Randy Johnson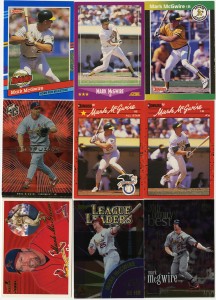 Mark McGwire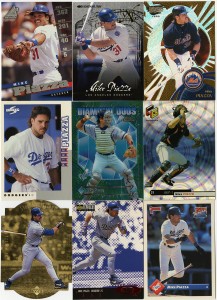 Mike Piazza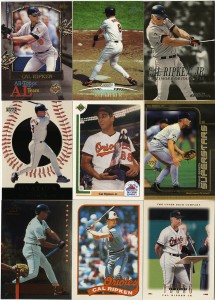 Cal Ripken Jr.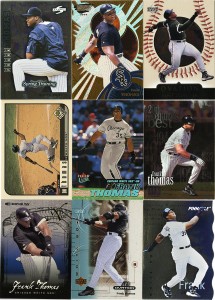 Frank Thomas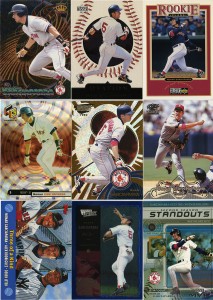 They also had a pretty sizeable Nomar Collection as well. There was even one or two I didn't have (which makes this whole thing a win-win for me).
By far though, the player they must have liked the most was Ken Griffey Jr.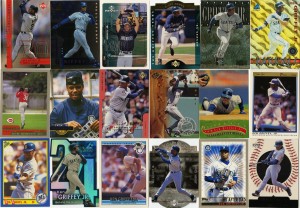 They had page after page of Griffey. They even had some oddball stuff like this…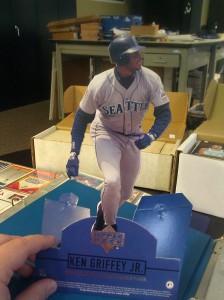 A store display from some unknown Upper Deck product. It's unfolded, but I'm assuming those tabs in the back form a base and it stands on it's own. It's also about 12″ tall, so that's kinda neat. It probably went on a counter or something.
There were also a couple things towards the end of the binders that really didn't quite fit, but they must have been their "hits" collection. All of these are numbered in some way. I can only assuming these were found in various packs, they don't look like they were assembled on purpose.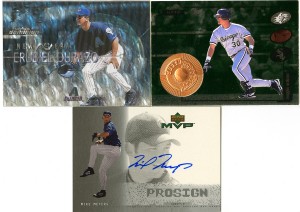 SkyBox Dominion "New Era" Rubiel Durazo insane-fractor (it's really trippy), Magglio Ordonez SPx Bronze thingy (/1000) and an Upper Deck MVP Mike Meyers auto.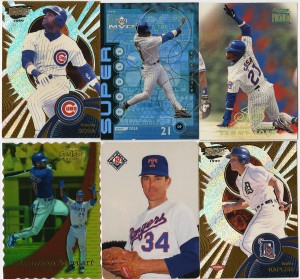 Top row: Pacific Revolution Sammy Sosa, UD MVP Sosa "Supper Tools" parallel, SkyBox Premium Sammy Sosa (printed on canvas I think). They didn't have a Sosa collection in the binder, just these 3 at the back.
Bottom row, Topps Gold Label Shannon Steward Gold Deckle Edged something (actually /50), Mother's Cookies Nolan Ryan "Farewell Set", and a Gabe Kapler rookie from Pacific. There were several other less rare parallels, mostly "bronze" and "silver" stuff from SPx and SkyBox. At least they were buying fairly nice stuff. Most of those parallels are /5000 or higher.
It was kinda weird going through someone else's collection, but the entire thing ran my friend $5, so they definitely didn't seem attached to them anymore, which is sad. I hope some day my collection will end up some place nicer than a yard sale bargain table.