Way back, probably over a month at this point, Dennis from Too Many Verlanders/Manninghams sent me an incredibly considerate PWE and I have been a complete scumbag in never mentioning it. Life has a funny way of getting away from you like that. I owe him a considerable amount of Tigers cards, which have been accumulating on my desk at home for some time now. The note that was included in the envelope read something to the effect of: "I found this Nomar at a show and knew I had to send it to you". That kind of forethought and kindness is what keeps this whole community the highlight of my collecting experience.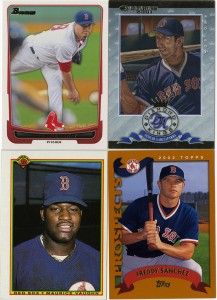 A Lester, a Nomar, a Mo Vaughn and a Freddy Sanchez rookie. That's quite the combo. Did you know Freddy Sanchez was a 3 time All-Star with the Pirates after Boston traded him for Jeff Suppan? Well, you do now.
As for that Nomar card, a beautiful 2001 Donruss Diamond Kings. Love those things. Not only that…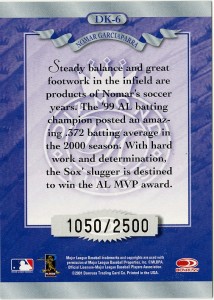 Aww yeah. Being out of 2500 for a late early 2000's card is practically like being /100 these days. It's awesome. Its also a unique addition to my Nomar collection, which is always appreciated.
Thanks Dennis!!!