I don't really have a theme for any of these, they were just random pickups I've forgotten to scan until now. Mostly those "oh, look, it's at $0.99 and ends in 10 minutes" sorts of things.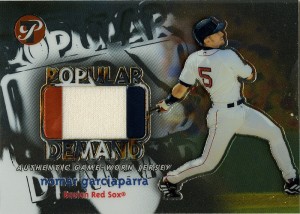 2002 Topps Pristine Nomar relic. Honestly, the crappy cell phone photo on ebay had me thinking that the red and blue might be some sort of patch. It wasn't. The red and blue are actually part of the card design. My bad. Not that I'm complaining about an awesome Nomar relic, it's still pretty neat even if it's just a plain white swatch.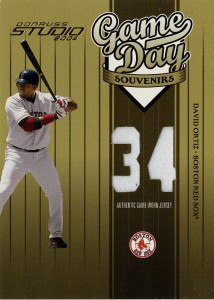 2004 Donruss Studio Ortiz relic. It's kind of a plain design, but a player collection doesn't care, right?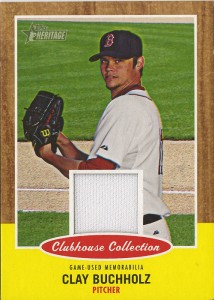 2011 Heritage Buchholz relic. Honestly, and I know I'm the voice of dissent, I don't like "wooden borders". I know, I know, it's supposed to look like 1962, but to me, it just looks like 1987.
2013 Topps Tribute Victorino relic. This was to go along with my (only) Victorino auto from the same set. The scan just doesn't do it justice. The scanner makes it look mint-green and pretty colorless. It's anything but. Take a look at what it looks like in-hand…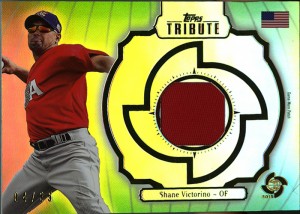 So much cooler. Oh, and it's #4 out of only 35. Not bad.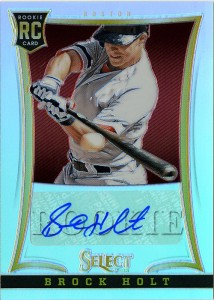 I mentioned this a month or so ago, but I didn't have it in hand yet. I had the base version, but this is the gold /99. Awesome addition to the PC.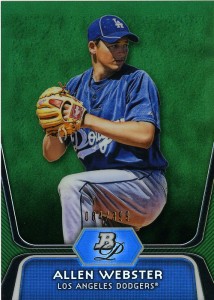 2012 Bowman Platinum Allen Webster green refractor 064/399. I actually had one of these and a purple as well before trading them. Then, as it always happens, Webster gets traded to the Red Sox, now I'm trying to find them again.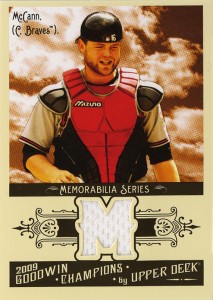 I know McCann is now on the Yankees, but this was cheap and from the same seller as the Webster and the Buchholz. McCann isn't exactly a player collection for me, but I can appreciate the talent regardless. Maybe it'll find a good home in someone's collection. Also, someone correct me if I'm wrong, but I think the "dark clouds" on this set means it was shorter printed.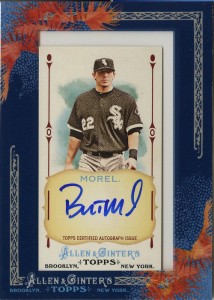 2011 A&G Brent Morel mini auto? A) I like mini autos, B) it was like $0.30 or something crazy. Trade bait for later.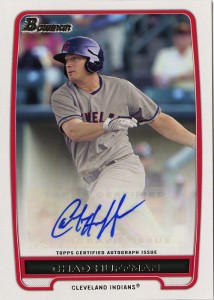 Same goes for this one. Honestly, I've got to start google'ing people before I buy these, even if it was only just a penny. Apparently, he hasn't played in the bigs since 2010. In 2011 he was options to Cleveland, but was gone by the end of spring training, which all begs the question "why is he in 2013 Bowman???". I have no idea. He's currently playing in Japan as far as wikipedia knows. Sticker dump by Topps? Nah, they'd never do that!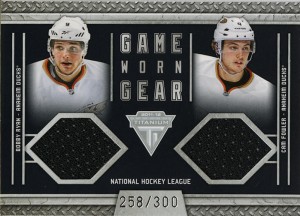 Lastly, a little hockey double relic. Bobby Ryan and Cam Fowler for the Ducks. 258/300. There's only one place this will end up, and I'm willing to bet it's covered in Argyle.
That's all for the randomness this week. Have a good weekend everybody!