Right up front I should mention that not only did I purchase a master team set this year, I also purchased a mini set AND a complete 1-300 set. So, yeah, I cheated quite a bit. The prices were just too good. The master team set (including SPs and inserts) was $6.99, the mini set was $3.99 and the complete base set was just $19. For the same price as a blaster and a rack pack, I'm done. Honestly, I couldn't pass that up.
That being said, I still couldn't stay away from the card isle this month. I made 2 random Target trips with the family and bought 3 blasters. $60 worth and I didn't get 1/3 of the entire set or any of my team. That pretty much puts the nail in the retail coffin as far as I'm concerned. Opening packs IS fun, but not "wasting $60 worth" fun. I'll still do it every once in a while, but I promised myself I would not go crazy with retail this year and this just re-enforces it.
It wasn't a complete loss however. I did pull a couple neat cards, ones you guys might be interested in. I did really well with numbered minis and even pulled a relic and a blue border. Let's see what I found…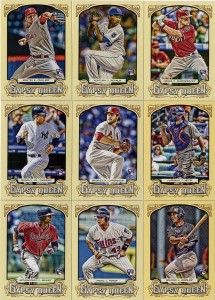 First up are the base cards. While I'm sure you've all seen them already, I just wanted to scan the cross-section of rookies I came across. GQ and Ginter are my two favorite types of cards (do to the material) to try and get signed in person. I think I might TTM these and hope for the best. Anyone have any luck in getting TTM returns from these guys?
Next, my short prints. Thankfully they made the right call and SPs are 301-350 this year. I honestly could deal with the mixed set again, it was atrocious. These are the 6 (1:4 packs) short prints I pulled. The odds of me building the entire short print set are nearly non-existent, so if anyone needs one of these, just let me know.
Next, MINIS…
The Lester is obviously staying with me, and the Altuve I've already sent to Sam. Still, that's not a bad selection. 3 Red (#/99), 2 black (#/199), and the most desired short print in the entire set. I'd say that's a pretty solid collection of minis. It's odd that I got more red than black since the odds are considerably less, but I'm not complaining.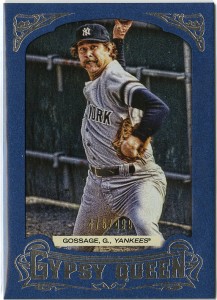 Next up, my single blue border from the blasters. Goose Gossage, 475/499. This and the Mo SP mini came from the same pack. Yankees hot pack! I'm pretty sure I can find this one a good home.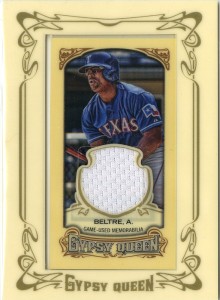 Last but not least, Adrian "Don't Touch my Head" Beltre mini framed relic. Certainly not the worst pull ever. I'm thinking this years framed relics are looking a little too much "Gintery" for my tastes. There's a set for that sort of thing, and it comes out in August. I never understood why they got framed anyway. The button relics aren't framed. The mini-books from last year aren't framed. The coin cards aren't framed. Why do this to the minis? Oh well, to each their own. I like them, I just like to nit pick too. Either way, Mr. Beltre is certain up for trade should anyone want him and his "no-touchy" head issues.