I got a great trade package in the mail the other day from my Tiger trade buddy Dennis over at Too Many Verlanders/Grandersons/Manninghams/BlogTitles. 😉
I had sent him a message about the Olympics set disappearing from store shelves and we initially were going to trade dupes. I ended up only having a couple he needed, but we swapped cardboard anyway and Dennis hooked me up with a sweet return package.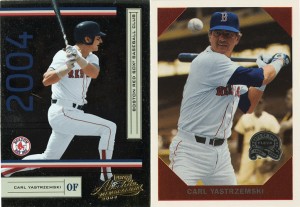 I can't think of a better way to start out a package than with a couple sweet Yaz cards. I like the feel of the Fleer "Greats of the Game" set and may have to chase a couple more of those down.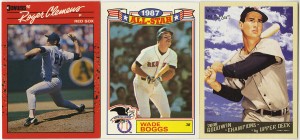 Then we go a little old school. Original Clemons and Boggs. That Boggs, that's one of those "I know I had that card"… and my Mom probably threw it out. It's nice to have a fresh copy, especially since I rebuilt my 1987 set and was missing a few.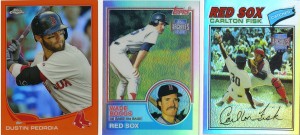 Mmmm, refractors. Pedroia chrome orange, and two nice Archives refractors to boot. I wish Archives would do more stuff like this, and a Pedroia refractor is always a welcome addition.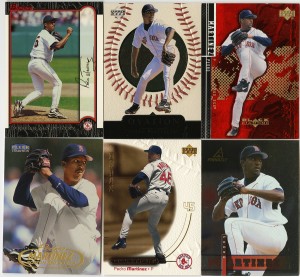 A six-pack of Pedro. Admittedly, my Pedro collection is severely lacking in comparison to some of my other player collections, so anything and everything is always a welcome sight. All six of these are new to my Pedro binder.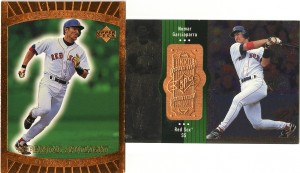 Two incredibly nice (and new!) Nomar cards. 1999 UD "Superstar Spotlight" and a really nice bronze SPx that's numbered /9000, but has this really neat metal embossed thing in the middle of it. Love'em!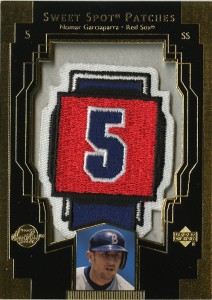 Last but not least is a completely awesome Nomar "Sweet Spot Patch". Manupatch for my favorite player. Oh heck yes. Dennis knocked it out of park on that one. I love just about everything about this one.
Awesome cards, thanks for the great trade Dennis!!!