I have a saved search for the phrase "Red Sox Refractor" and randomly I'll check it for good deals. Mostly it's stuff I already have, or stuff that's /5 and way to expensive. The other day however there was a couple of lots of Bowman Chrome and I picked a few up with combined shipping. Chase the rainbow… or catch the wave?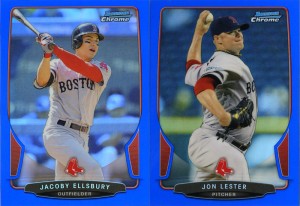 Blue borders from the base set, numbered out of 250. I actually got two Lesters in the same lot, plus the Ellsbury.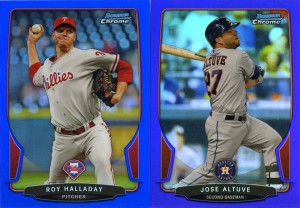 Two more, this time for Roy Halladay and Houston's own Jose Altuve, again, both /250.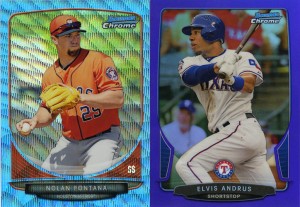 Nolan Fontana, highly rated Astros prospect, and a purple border Elvis Andrus. The purple are out of 199 and the "Blue Wave" refractors aren't numbered, but they were only available as a wrapper redemption, so I can't imagine there's a ton of these out there.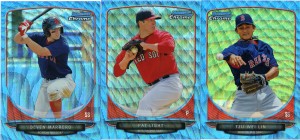 And the Sox Blue Waves. Deven Marrero, Pat Light and Tzu-Wei Lin. These things look awesome in hand. Very trippy, and awesome additions to the collection.