Early last week I received a return package from my Yankee collector trading buddy AJ, aka The Lost Collector. He sent me a thank-you and a couple cards for a package I had sent him. Work was crazy and I've just now gotten around to scanning them.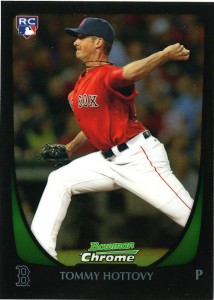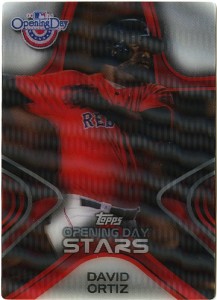 2011 Bowman Chrome Tommy Hottovy refractor and a 2014 Opening Day 3D "Stars" insert of Ortiz. Hottovy is with the Cubs now, as Theo Epstein apparently enjoys re-signing former Red Sox talent. Regardless, I didn't have half the Chrome set from that year, so this is a welcome addition. The Stars insert is just plain awesome. Obviously it doesn't scan well, given the nature of the card, but you guys can just use your imagination. We've all seen those 3D type things before. These turned out considerably better than the retro ones from Archives a couple years ago.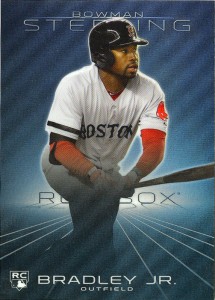 2013 Bowman Sterling, Bradley Jr black refractor, /199. It doesn't "look" like a black refractor because it scanned rather darkly and I pumped up the levels a bit. It's always great to have some of the higher end rookies of the players you're going to collect.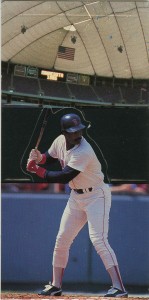 This is kinda neat. It's a 1986 Donruss pop-up/cut-out of Jim Rice. The weird part is that they used two different photos. The first photo is of Rice himself at a home game (white uniform, "Red Sox" instead of "Boston" on the jersey), and the second, the upper portion is taken inside the Metrodome in Minnesota. You can read "Minnesota 1985" on the score board. Saying that's weird is putting it lightly. I have no idea why they would put those two photos together. Rice never played for the Twins. Why combine a home game uniform with an away game background? Maybe the original didn't have enough head room. Even so, why not use a photo of Fenway? Weird. Regardless, I haven't decided whether to put it in my 1986 binder, or stand it up on my desk, since it's awesome.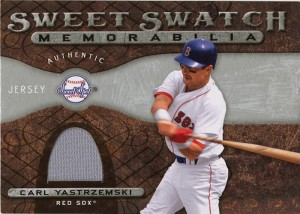 Last but not least, a sweet swatch, no pun intended. Carl Yastrzemski Sweet Spot jersey relic. Anytime you include a HoF player relic in a thank you package, you're doing it right. My Yaz collection is strikingly limited and this is more than a welcome surprise.
Thank you A.J.! These are awesome!