I decided right before the holidays that my PTO hours at work were sufficiently stuffed and that I could simply "take two weeks off" without even making a dent in it. Our PTO rolls over from year to year and I haven't taken a significant vacation in quite a while. So, I did. I didn't do ANYTHING. It was awesome. I got in some serious Daddy-Daughter time with my little one, watched some movies, cooked up a lot of BBQ, and generally just "stepped away" from the computer. Now we're back and before things get wound up for Q1 projects, I figured I'd scan in some of the cards I picked up over the holidays. Having both a birthday and Christmas, I was able to put away a little bit of card money to save for the Houston card show in a couple weeks. The rest I blew on some random pick ups from ebay and a hobby box of Gypsy Queen.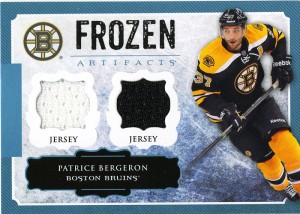 A little hockey to start things off. I love to dabble in hockey, not because it'll be a big collection for me, but because I just enjoy the change of pace and everyone still has NHL licenses, so you can get hockey cards from all the different companies. Variety is the spice of life. Anyway, this is a nice duel relic from 2013-14 UD Artifacts for one of my favorite Bruins players, Patrice Bergeron.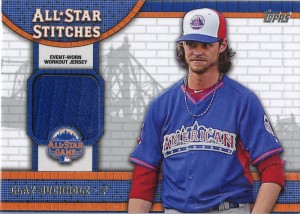 Next, one of the worst possible photos of Clay Buchholz. It's actually the same photo on his all-star cards in Update, which doesn't make it any better. The orange and blue, the terrible hats from the game, the way Clay looks like he's an extra on The Walking Dead, geez. One of the ugliest cards I've picked up in a long time. Still, gotta have it for the collection, right?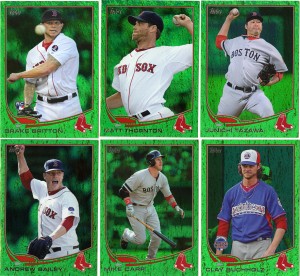 Speaking of that bad photo, how about including it in a six pack of emerald parallels. I picked these up from a single seller for $0.10 a piece and $2 shipping. I haven't organized a binder page for them yet, but I think I actually have quite a few this year. I'll have to organize myself a little better. I did pretty well picking up parallels at the last card show, so I'm hoping yo do the same this time, but dupes won't help me any. Either way, the dime boxes won't know what hit them.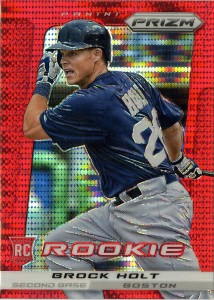 Brock Holt, atomic red and stuff. I haven't even started chasing this rainbow yet. I at least wanted one, just since it's an RC. Licensed or not, it's still a rookie, and a rookie card is kinda the cornerstone of a good player collection.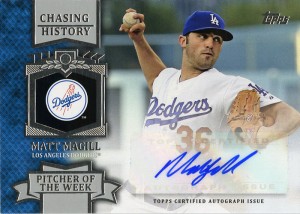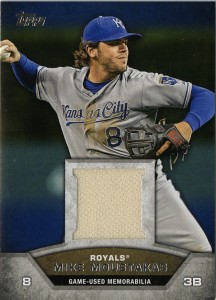 How about some random tradebait? Matt Magill auto and a Mike Moustakas mini relic. But wait, there's more!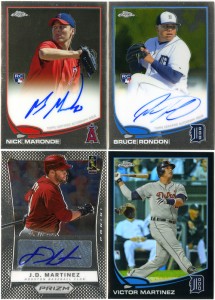 How's that for completely random?! Believe it or not, all six of those were bundled with a Napoli card that I'll show in a second. Nick Maronde and Bruce Rondon chrome autos. JD Martinez Prizm auto, and a VMart black border, /100. Not a bad sampling of stuff. All of which are available for trade if anyone is interested.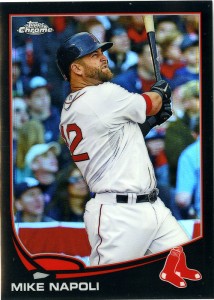 Now for the cards I actually wanted. Again, same seller for this and the next couple. I already had the /25 Red Border, but I couldn't resist this nice looking black versions. Something about the black border just makes all the colors pop. Being numbered out of 100 doesn't suck either.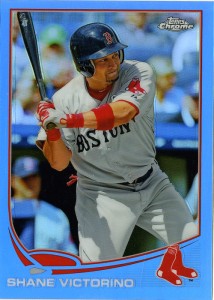 Continuing the theme or colored borders, a nice Victorino blue border. I'm still on a quest for both a Victorino and a Napoli auto from 2013. Napoli at least has one in a Sox uniform in Tier 1, Victorino doesn't have anything other than a Team USA auto from the WBC cards in Topps Tribute.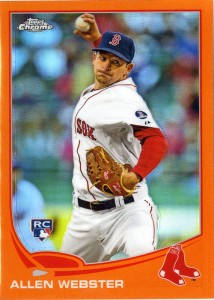 That brings us to the Allen Webster portion of our program. I have a gut feeling that Webster will turn out just fine as a major leaguer, so, I jumped in on some of the RCs I came across. Topps Chrome Orange border, obviously.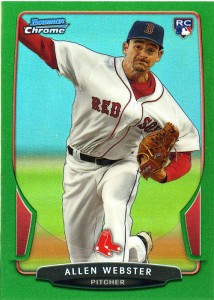 Green border Bowman Chrome.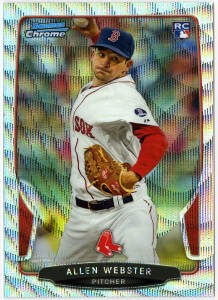 Bowman Chrome Draft, "wave" parallel, and numbered 01/25!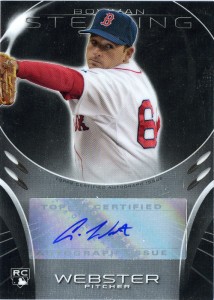 Lastly, a Bowman Sterling auto. I actually have a Bowman Chrome blue border (/199) as well, but I forgot to grab it for scanning.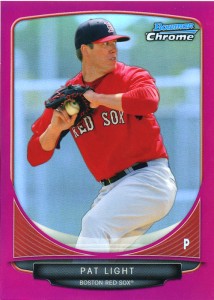 Moving on, another prospect and another Bowman Chrome, but this time it's Pat Light. It's a pink border, numbered out of 35, and man is it ugly. I'm not sure if it's for breast cancer awareness, or if they actually chose this color because they liked it. I don't see any pink ribbons anywhere, so I'm going to go with "just plain ugly".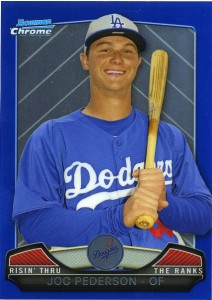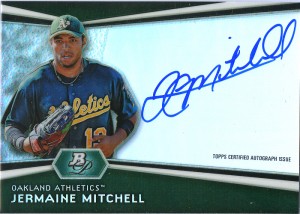 Two more little bits of tradebait. The Joc Pederson came along with the Pat Light. It's a blue parallel mini, /250. I figured one of you crazy Dodgers collectors might like it, lol. The Jermaine Mitchell auto actually came out of a discount blaster of 2012 Bowman Platinum that I got as a stocking stuffer. I still say that 2012 Platinum, at retail, was one of the most loaded things I've ever seen. I must have bought 10 blasters across the past couple years, and I have 6 autos and 3 more redemptions to show for it. Those are some pretty solid odds.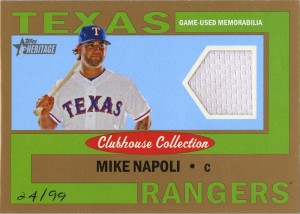 Last one for today, and I don't know why I saved this for last, it just kind of worked out that way. 2013 Topps Heritage Mike Napoli "Clubhouse Collections", gold relic parallel, hand numbered 24/99. I don't really get the hand numbering thing. Unless Mike is doing it, what's the point? If it's not player hand writing, then it just looks like you forgot to fire up the foil embossing machine that day, and stuck some poor intern with the job of hand numbering 99 cards. I like the concept, it just seems oddly executed.
Anyway, that's all the "random stuff" I happened to pick up last month. Stay tuned for posts about my hobby box of Gypsy Queen, including a huge hit I teased on Twitter, and a near complete set of 2014 Olympics cards with two pretty significant hits as well.