Honestly, I have no idea why I do these things. I was at Walmart the other day for random stuff and of course I stopped in the card isle. There was nothing worth buying. That didn't stop me however. $40 later I'm kicking myself for buying useless junk. I bought one of those "Mega" boxes, even though I got skunked on my last one, because random internet strangers keep saying they find good stuff in them. I bought a rack pack of Prizm because I'm a sucker for shiny cards I don't need. Lastly I bought 2 or 3 discount rack packs ($2.99) of older stuff like 2010 Bowman, 2008 Upper Deck, etc. It's all crap. I just wanted to open something. We've all been there. I'm not proud of it.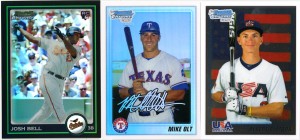 Bowman RCs and refractors for Josh Bell, Mike Olt and Albert Almora. Could be worse I suppose. Olt is actually pretty good and Almora was a first round pick that might actually make it one day.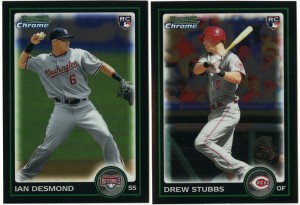 Ian Desmond and Drew Stubbs Chrome RC's. I just… I just don't know.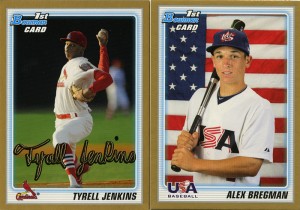 Tyrell Jenkins is actually the player that I have TWO unfilled redemptions waiting on. Come to think of it, I emailed Topps about swapping them for anything else, and they never responded. Good job Topps.

*sigh*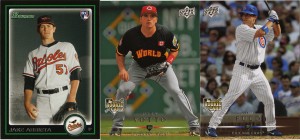 I didn't fare much better with the non-chrome. Jake Arrieta RC, Joey Votto RC, Sam Fuld RC. Those are literally the only highlights out of two jumbo packs. On the bright side…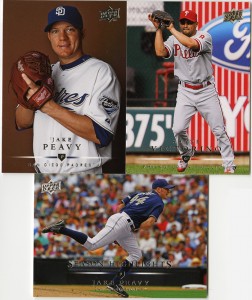 …there were a couple "pre-Sox" cards I can hold on to.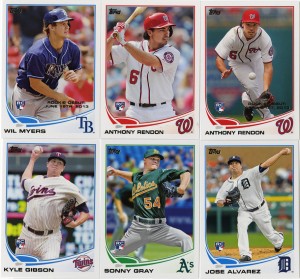 The megabox was equally disappointing. The Wil Myers and Jose Alvarez RCs are a nice. Rendon isn't bad either, but these were the highlights of that box too. I did get a couple Puigs as well, now I have doubles for when I eventually send a couple to Greg. 😉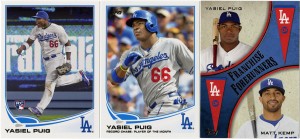 "Hi, I'm ridiculously over-printed at this point! I have cards in every set! Watch my RC prices plummet!" (he says with sarcasm and a hint of truth)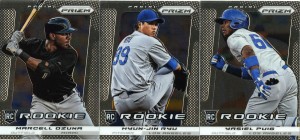 These are from the rack pack. Another double set of Dodgers RCs. I'm pretty convinced they're next to each other on the sheet or something. I've pulled the Ryu/Puig combo is 5+ packs now.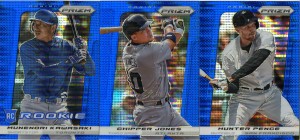 Chipper and Pence are pretty solid, and as always, I like the atomic refractors. Too bad I know no one that collects Braves and/or Giants these days. Also, some guy from Toronto.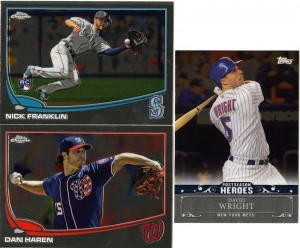 What's left? Oh yeah, the complete and total gimmick that is "Chrome Update". What utter crap. You know what this feels like? Like they had extra chrome material sitting around and needed to do something with it before it started curling on them. There's nothing special in this sub/mutant/parallel set unless you're chasing MORE Puig cards. I haven't personally seen a single refractor or colored border and they seem in short supply overall.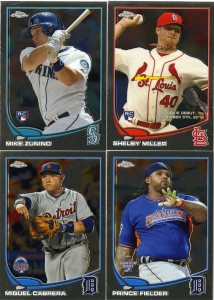 The Miller RC is about the only thing interesting out of the entire box. The two Tigers are going to go to Pat (sorry to ruin the surprise, lol) and the rest will just get sorted into team slots that I can't even give away. Oh well.
Let my stupid spending be a lesson. You are 455% better off waiting, saving your "stupid retail purchases" money, and just buying a box of something you actually want. I told myself at the beginning of 2013 that I was going to stop buying retail, and for the most part I've been really good. This spree is the perfect reminder why I made that decision in the first place.