I saved up pretty much all of October's cards for this one massive post. I was sort of preoccupied with this whole World Series thing and wasn't even really paying attention to bids I had out there. I think I landed a couple nice cards, especially for not really actively going after anything.
Let's see, where to start? How about some Panini…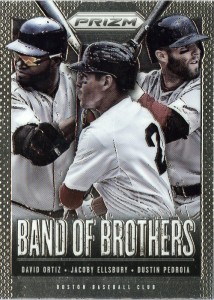 After last month's post about picking up the team set, I had two cards left to get, both inserts. This is the first. A "Band of Brothers" card featuring Ortiz, Ellsbury and Pedroia. I'm still looking for the "Fearless" Dustin Pedroia insert if anyone has it.
I also decided to dabble in the "pulsar" refractors from Prizm…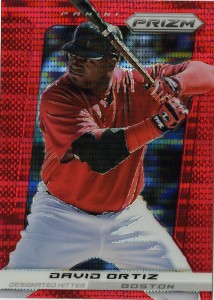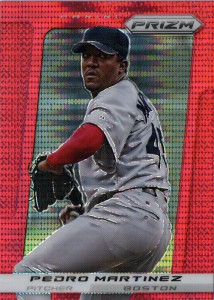 Two nice "Red Pulsars" of Ortiz and Pedro. These really look pretty slick in person. They're probably my favorite "gimmicky insert" of the year.
Since there was a Nomar card in the set, I also chased the rainbow a little bit…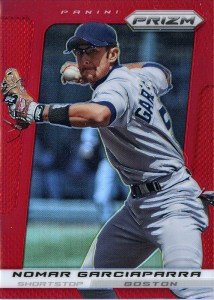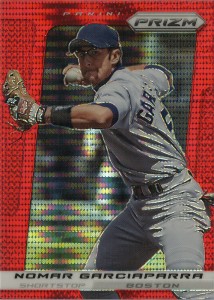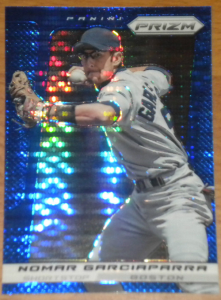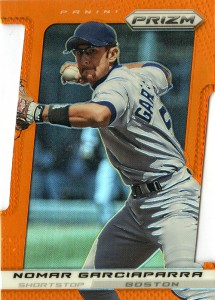 That's a red refractor, red pulsar, blue pulsar, and a orange diecut numbered just 33/60. Of course I left the blue pulsar at home, so you only get a crappy cellphone pic of that one. I still need a plain blue, a green (which says retail, but I don't know where), and (if I can find one) a gold /10.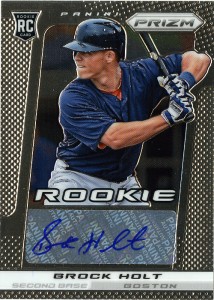 Last up from the Panini side of the house, I finally got one of the few (short printed, believe it or not) Brock Holt autos. Not that the RC on an unlicensed product really means all that much, but it's a rookie as well.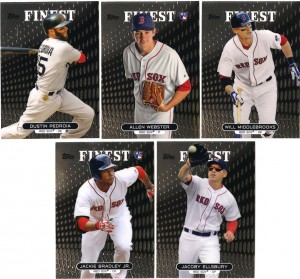 Next up, a team set from Finest. Finest is incredibly weird to me. It's not super high-end, but it's certainly not cheap. It also has a usually small, and weird, checklist. I wanted to get a couple, mostly for the Jackie Bradley and Allen Webster RC's, and the team set was cheap enough so I snagged it. I can't really understand the niche that Finest falls into. Mid-range collectors with impulsive tendencies (myself included)? They're just, well… they're just ugly. The relics/autos aren't really anything to write home about either. This is why I'm not a box buster.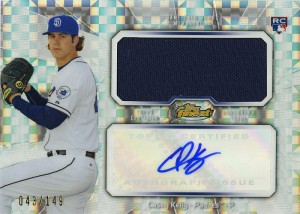 Speaking of things I shouldn't buy. One of the aforementioned auto/relics. Why did I buy a Casey Kelly A/R? Well, two reasons. First, it was $0.99 from the same seller with combined shipping. Second, Kelly was a prospect for the Sox before being dealt to the Padres along with Anthony Rizzo in the Adrian Gonzales deal. He then proceeded to blow out his elbow, have Tommy John surgery, and is expected back next season. The thing is, he was doing really well in the minors for the Sox before being dealt. He was a top prospect, first round pick, player of the year, Futures Game All-Star, the whole deal. So, after rehabbing his elbow, there's a 50/50 chance he'll be a super-star. If he pans out, I got a great card for a buck. If not, oh well.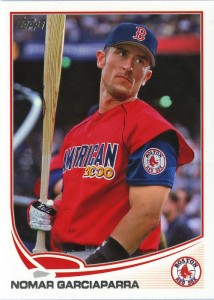 Next up, and switching gears a little, one of the many Topps Update Short Prints. Normally, I don't do "photo variations" (excluding Gypsy Queen, that's a different beast), but well, you know why I had to find this one. $3, can't beat it. I was hoping to land a couple of those "Boston Strong" red foil cards, but after winning the WS, those shot up to nearly $50 a card. $3 was much more doable.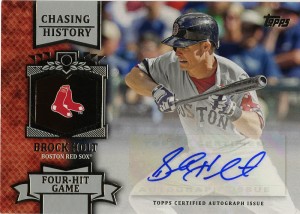 I got this from the same seller for another $2. I think this finished off my 2013 Brock Holt auto checklist. I'm pretty sure I have one of every product he had an auto in.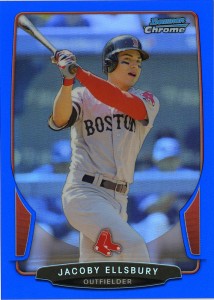 2013 Bowman Chrome Jacoby Ellsbury blue refractor, #100/250. I wanted something for Ellsbury from what is probably he last season in Boston. A nice simple refractor seems to fit the bill. I also preferred Bowman Chrome this year over Topps Chrome by leaps and bounds.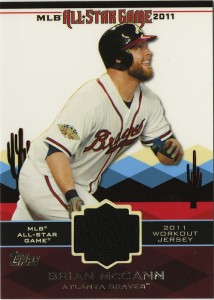 Brian McCann? Yeah. Cheap, combined shipping with something else. Why not? He's a great catcher, and I respect/collect catchers in general, and there's a slim chance he'll end up on the Sox next year. I missed the "let's buy cheap Shane Victorino cards" boat last off season, so I might as well grab this up just in case.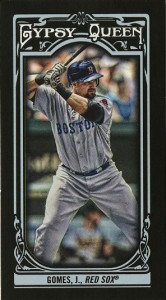 Ah, Gypsy Queen, you harsh mistress. In the never ending quest for GQ minis, I happened across this black version, #123/199 for Mr. Gomes. I like Gomes. He's nearly Manny level of crazy, and he's slightly easier to understand when he talks. I just enjoy watching the guy play.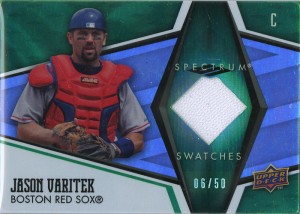 The next 3 cards I picked up from a random seller in NH who was apparently trying to clean house a little. He had a huge collection of random jersey cards and each one was starting at a penny. I picked up three and I would have cleaned him out of the rest but I actually have a pretty similar collection and they would have been all dupes. Anyway, I grabbed three that I was pretty sure I didn't already have, including this very nice Jason Varitek relic from UD Spectrum. #'ed 6/50.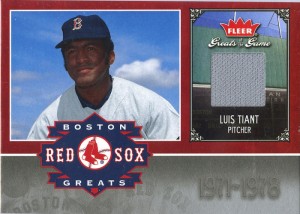 Next, a 2006 Fleer Luis Tiant. I can never pass up a Tiant relic. His autos are plentiful, the relics not so much.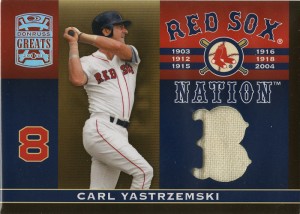 A beautiful 2005 Donruss Carl Yastrzemski relic, complete with a seam and some stitching. It's not numbered, but when I looked it up it was a T4 (rarity) and there's only a couple hundred of them (COMC says 800). It books for about $50, and I scored it for $0.15. I think I made out like a bandit on this one.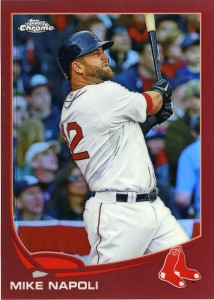 Lastly, although I'm always knocking on Chrome this year, I do enjoy a good rare refractor as much as the next guy. Especially when it's a red one, and it's out of 25. I do like the deep red they made these, and it's pretty nice looking in hand. I wanted to get something awesome featuring Napoli in a Sox uniform since all his early cards this year (Museum Collection, Tribute, Heritage, GQ, etc) still had him as a Ranger, and he wasn't on the Triple Threads checklist. It won't be until next year until they make any relic/autos of him in Boston, and he might not be on the team any more at that point. I hope the Sox lock him up in a nice 2yr/40m deal and this is just the beginning of my Napoli collection.
So, that was most of October and the first week or so of November. You may be asking yourself "Matt, where are all your Triple Threads"? Well, I thought I'd play a little game with Triple Threads and see how much I could "build a box" for. I'm up to 4 cards and $12, but you'll see those soon. Till next time, thanks for reading!