Over the weekend I had a couple errands to run and ended up at Target. Normally my local Target is fairly pathetic with it's card section, but I lucked out and it had been restocked with the last few weeks worth of releases. Topps Chrome, Bowman Chrome and Panini Prizm.
I purposely avoided picking up any Topps Chrome since I'm really disappointed in that entire product and the checklist is just terrible. I already had a team set inbound from ebay, but my own personal brand of hypocrisy does have a limit. I just refuse to chase the chrome rainbow this year. Burned too much money on a useless, disappointing product last year, not going to do it twice in a row.
Bowman Chrome however, I'm completely the opposite on. The checklist is better, the design (with the white borders) is better, at least to me, and I just enjoy it more. So, I ended up picking up one Bowman Chrome blaster and two of those jumbo rack packs of Panini Prizm. Here are the goodies.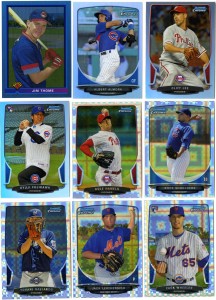 First up, the random refractors from Bowman Chrome. Not a bad cross sections. Albert Almora isn't bad. Lee and Hamels are certainly classics. Not sure about the two RCs for Fujikawa and Wheeler. The Jim Thome reprint is just unnecessary, and that's nothing against Jim. I just want them to stop including these reprints. I've got about 7 stupid Josh Hamilton reprints from regular Bowman a few months ago that I already don't know what to do with. People that care about those probably have the original. The rest of us couldn't care less. Maximum non-caring achieved.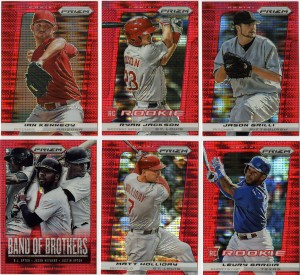 Next up, the "Red Pulsar" parallels from 2013 Panini Prizm. These are completely awesome. If anyone is taking notes on how an insert/parallel should look, these should be right up front as an example. They are so bright, colorful and refractory, it's crazy. The players I pulled weren't that fantastic, but the Band of Brothers insert (as a parallel) is fairly hard to come by.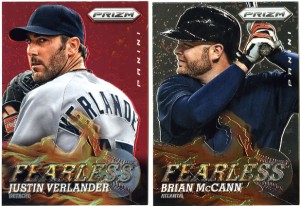 I also pulled two of the "Fearless" inserts, and speaking of hard to find parallels, the red Verlander is actually a SP. No numbering though. The giant flame graphics are a little cheesy, but not the worst inserts I've seen by far.
I also kind of hit the jackpot as far as rookies are concerned.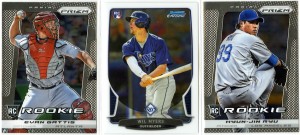 Evan Gattis, check. Wil Myers, check. Hyun-Jin Ryu, check. Hmm, I'm missing somebody. There's also that other guy, what's his name, I can't seem to remember…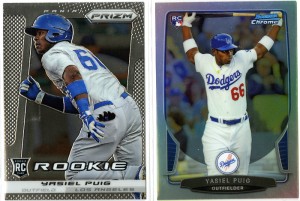 Oh yeah. That Puig guy. The Bowman Chrome is even a refractor. Those five RCs pretty much made my Target trip worth while.
I might have to do this combo again this weekend. The Red Pulsars are one of my favorite cards so far this year. I've got to track down a couple of the Sox cards in that parallel.