That's a lie. There's way more than a couple. We're trying to teach our daughter the differences between "a few", "a couple" and "both", which admittedly, are hard concepts for a 2 year old to grasp, but it's just funny to see her count out 7 Skittles and then ask if she can have "both" of them. So, here's just "a couple" cards, all 35 of them.
35? Yeah, remember when I said August had been crazy. It was, so much so that the vast majority of my card purchases were done via cell phone app in the 30 seconds of peace I have while visiting the can. I actually hadn't stopped to count them up. It was "a few" more than I realized. I should also point out that the only card on this entire post that cost more than $3 was the 10/10 that I'll show off at the end (oooh, spoiler). That was $20. I delight in the fact that I can get add-on cards for $0.01 or $0.25 and no extra shipping. So much so, that's where the majority of my tradebait comes from. If I had an LCS, I'm sure I'd be one of those guys that sits down at a dime box and pulls out dozens of cards on a weekly basis. To me, that's more fun than buying a blaster of disappointment. So, what did I get last month?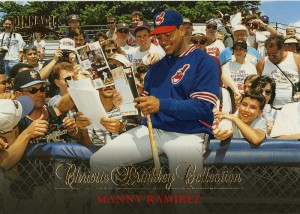 Let's start off with the weird and random PC cards. You don't get much weirder than a 1993 Pinnacle "Christie Brinkley Collection" Manny Ramirez card. 1992 was Manny's "RC" year, but in '93 he's still just a "hot prospect", which is why seeing him sitting on a fence signing stuff for a mob of people is so random. On top of that, the "Brinkley Collection", really? There's even a picture of ManRam with Christie on the back. This card is beyond weird.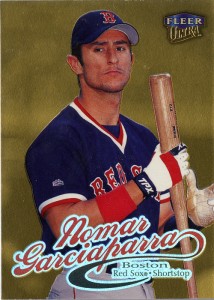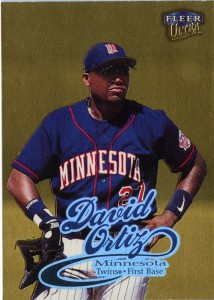 How about some 1999 Fleer Ultra? Ortiz, still with the Twins, and Nomar. I like that Fleer Ultra just went for it with the gold. "Yeah, it's gold, suck it Topps!"… and then went under a couple years later.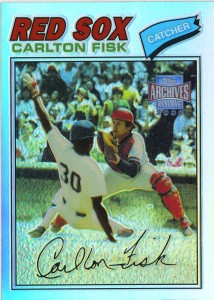 2002 Archives refractor. Neat. I'm glad I didn't pay for it. The seller actually included it for free for buying one of the relics we'll see further down. I like nice sellers.
Again, same seller. It's like he knew I had picked up 2 of the 4 RCs Buchholz has from Co-Signers. Now I have a 3rd. One more to find! He got a glowing 5-star review.
Last of the "regular" cards. A Ruby parallel from Bowman Platinum. Surprisingly, in my 4 blasters of BP I didn't actually pull a Ruby parallels. I have gold and blue galore, but I had to go out and find some of the Sox Ruby ones. Maybe it's just because the red background works so well with the team colors that I just really liked this one.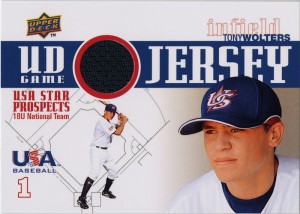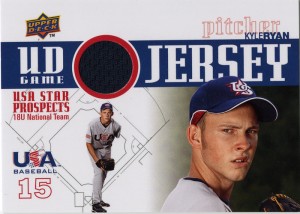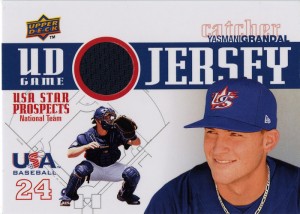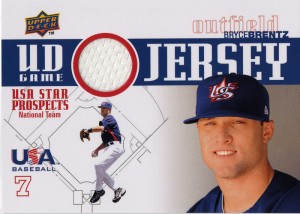 4 Upper Deck USA Baseball relics. The only one I wanted was the Brentz, which as it turns out, I already had. I didn't mind, it was a lot of all 4, and it was only a dollar. Wolters was a SS/2B for the Indians system but he's been converted to a catcher, which he excelled at, and is already listed as a top 20 prospect at the position. Kyle Ryan was drafted by the Tigers and is currently playing high A (A+) ball in Michigan. Grandal of course, of Bio Genesis fame, is playing for the Padres. Finally, Brentz is playing for Pawtucket Red Sox, who are playing for the Governor's Cup Championship, starting tonight.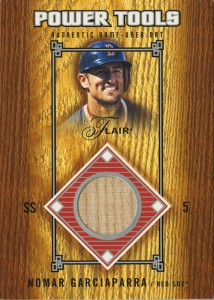 Fleer Flair, Nomar "Power Tools" relic. I decided I just really like the idea of a bat relic. Gray swatches are fine, but bat relics seem to add to the feeling of history and tradition, even if it's only psychological. I mean, for all I know, that's a piece of plywood in there. It's not like bats are rare either. They're kinda the entire crux of the game. Somehow a bat just seems slightly more special than pants, which you know the players probably never wear more than once or twice. Also, that begs the question, why don't we see more dirt/grass stained swatches? I'm digressing. Too many other cards to show for this much rambling. Apologies all around.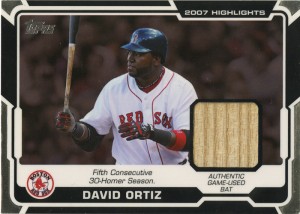 Hey, look, another bat. You knew that's where I was going with this right? Yeah. I'm thinking I'm going to actively seek out bat relics, at least in the cards were I might have a choice to do so. Also, I've come to the realization that I have a stunning lack of Ortiz relics. It's sad. The biggest ambassador for the team and he's a weak point in my collection. That needs to be remedied.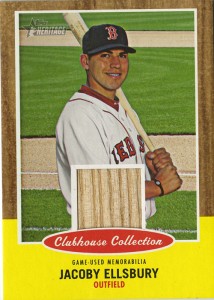 Are you sensing a theme? You should be. 2011 Heritage bat relic for Jacoby Ellsbury. I have no idea why I like Heritage relics and generally dislike Heritage cards. I'm a weird guy, what can I say.
I have no idea why I pulled the trigger on that one. I don't like 2010 UD. I don't like Josh Beckett. This one is a bit of a face-palm. It came with the Ellsbury above. Combined shipping. Can't complain.
This one was actually delivered in person by The Dimwit himself. Hanging out with Sam is always fun. We need to do it more often. He brought this to me along with my set of 2013 Ginter and a couple Red Sox minis. Thanks bud!
Ok, so, these next TWELVE all came from the same seller. I got the whole thing for next to nothing, but there's also a lot of weirdness in here. Most of the non-Sox in here are available for trade…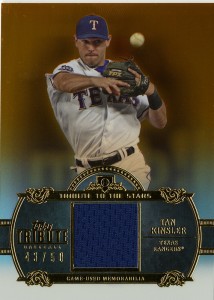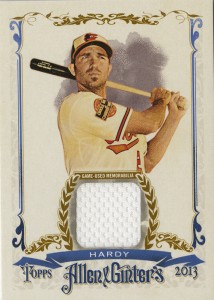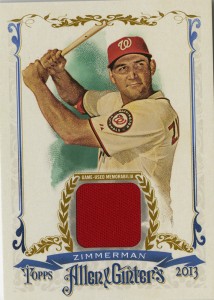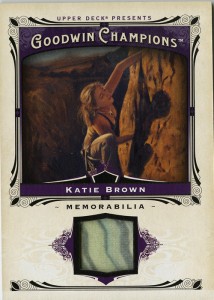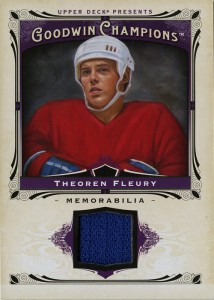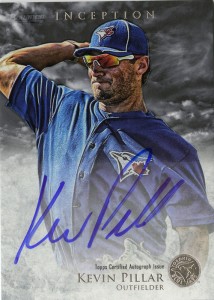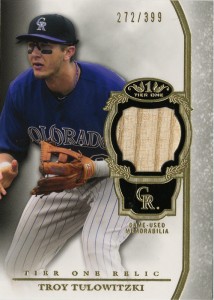 Ian Kinsler 43/50 Gold Parallel from Tribute, Hardy and Zimmerman relics from Ginter, Brown (rock climber) and Fleury relics from Goodwin Champs, Pillar Auto from Inception and Tulo bat relic from Tier 1.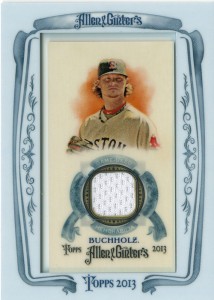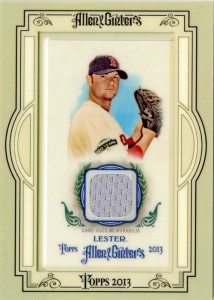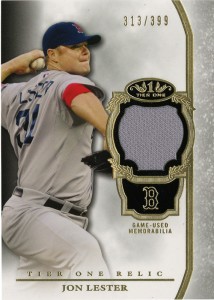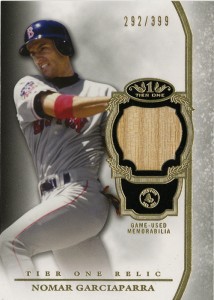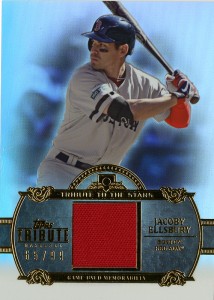 And to wrap up the loot from that seller, my two Sox Ginter relics in Buchholz and Lester, a Lester jersey and a Nomar bat relic from Tier 1, and a nice red Tribute relic for Ellsbury as well. That entire pile cost me more in shipping than it did in card costs. I don't know if the guy was just liquidating some inventory or something, but high-end relics for pennies, yup, I'm sold.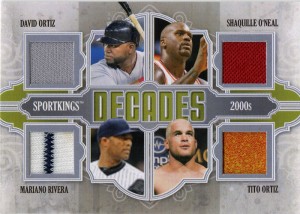 Next up, a slice of crazy. Well, four slices of crazy to be exact. A 2013 Sports Kings "Decades" Quad. The "decade" (2000's) part is the only thing that really links these four together. David Ortiz, Mariano Rivera, Shaq and Tito Ortiz. I picked this one up more as a "look at that!" curiosity piece than an actual part of my Ortiz collection. It's a shame that 4 nice swatches are kinda overshadowed by poor card quality.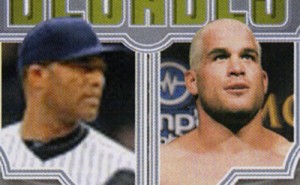 The Rivera part of the card looks like it was photographed with a cell-phone then badly photo-shopped (shirt collar, anyone?). Meh. I won't be buying any more SportsKings stuff, but it was an interesting piece, and I just had to have it for my shop. Sorry. Couldn't resist.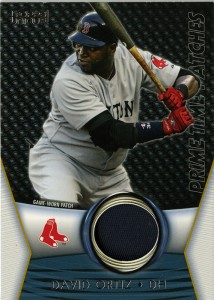 Speaking of my Ortiz collection, one I just had to add to it. 2009 Topps Unique Prime Patch. I had wanted one of these since I pulled that missing patch in a group break last year. I finally found one for just a couple dollars.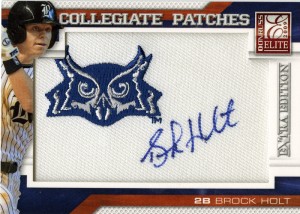 Lastly, we've entered the Brock Holt sponsored part of the post. I have 4 new additions to my ever growing Brock PC. First up is a nice Donruss Elite "Collegiate Patch" from his days at Rice. /100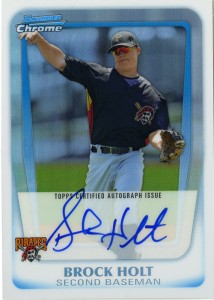 Next, a 2011 Bowman Chrome Auto refractor /500. I already had the regular (non-auto), refractor, base-auto and now this. I also picked it up from the seller to go along with…
The printing plate of it! Well, not of "it", since it would be the auto version, which would mean this would have a blank bottom. Still, it's the printing plate from the base card from the same set. Still neat. Sorry for the pic of it, I forgot to scan it, but wanted to make sure I included it in the post. Yay, 2nd ever plate and first Holt 1/1!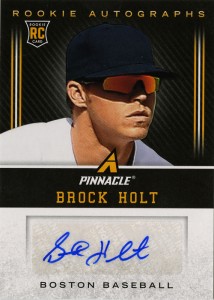 Next up, a 2013 Pinnacle "RC" Auto, with a completely silly photo and over photo-shopped hat. Nice shades.
Finally, the last and final card of the month. Once I found out it existed, I had to have one. I actually have 2, but one of them is still in the mail. I'm the proud owner of 7/10 and 10/10…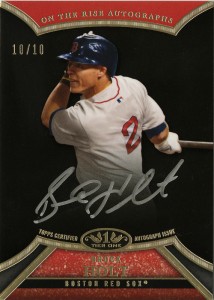 Brock Holt, "On the Rise", silver ink auto. These cards are just crazy cool. The silver on black is just awesome. I have a couple from last year and once I saw that Holt had a silver auto, I had to find one. This little guy was just under $20. It's 7/10 brother was $9.
Phew! So, we've reached the end. If you're still with me, give yourselves a hand, and +20pts for reading comprehension. I kid. Posts like these are what happen when you save up all your goodies for an entire month. I'll try and not do that again for September. Thanks for reading!