Quite frankly it's still being nuts, but at least it's a sort of manageable nuts that has a plan and a light at the end of the tunnel so to speak. I completely missed out on the Ginter-postocolypse that seemed to go around the community. I bought a blaster, it wasn't bad. I really like this years design. I got a full team set from Topher's case break, and I also completely cheated and just bought the rest as a complete set from Sam. I also missed talking about Bowman Platinum, another of my favorite sets. This year it's just middle of the road. Not bad, but not really all that awesome either. I bought 3 blasters of that. I also pulled 3 autos, so, that didn't suck. So, this may be a bit of a "kitchen sink" post, but that's how my month felt anyway, so it seems appropriate.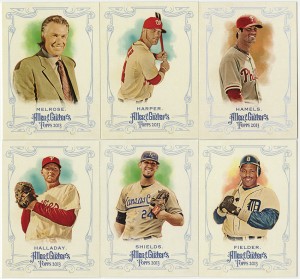 So, Ginter happened. Like I said, I actually really like the design this year. I think it's moved beyond the "tobacco card" era of the 1890's-1910's and into the Art Deco period, and thats something I've always enjoyed, so I'm good with it. I also like the checklist this year, I think it's a strong one. I like the inclusion of Barry Melrose, some of our olympic athletes, including a couple skiers, that sort of thing. I also like that it wasn't overly non-baseball. Last year felt like a 50/50 split and I was slightly annoyed. This year feels more like a 65/35, which is about perfect, to me at least.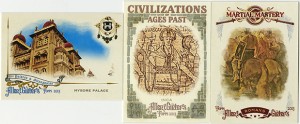 A couple random inserts. This is the one area Ginter didn't really blow me away with this year. The inserts were just "meh". These three in perticular seems like variations on the same theme. Ancient Civilizations, places ancient civilizations lived, fighting styles civilizations had. Meh.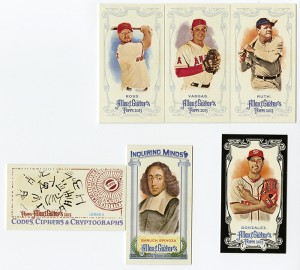 Of course, minis are always nice. I swear there were 8 packs, but I only have six minis here on my desk. I'm not quite sure where the other two went. Oh well.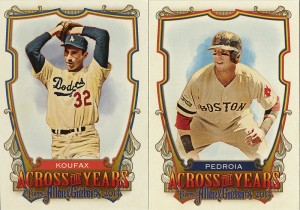 I'll use the "Across the Years" insert as a segway. These were the two from my blaster. You can certainly do worse than Koufax and Pedroia, who is next up in my team set…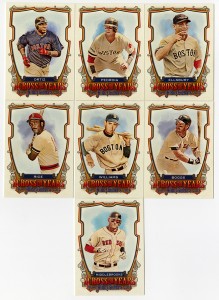 I was in on Topher's Ginter case break and he pulled an entire master team set for me, minus a couple minis. Here's the entire collection of AtY inserts.
And there's the team set, in case you were curious. The Fisk is this years obligatory short print. I find it odd that they used a photo of "old Ted" for the base card, and "young Ted" for the insert. I also find it semi-odd that the horizontal cards have full color/in-game backgrounds behind them, while the vertical cards have a random color. It doesn't bother me, I just wonder why it wasn't consistent.
Last thing of note about this years A&G, I opted to buy a full 1-350 set from Sam this year, so any base dupes I have are completely up for grabs. Let me know if you need one and I'll check and see if I have it. I'm also short just THREE minis. Between both Topher and Sam I'm able to get nearly a team set of minis. I'm missing Ortiz, Pedroia, and Rice. If you have any of those three, please let me know. I'd like to put the set to rest early this year. I'm STILL hunting for last years minis. Yeeesh.
Moving on.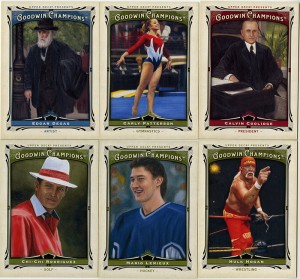 The week BEFORE Ginter came out I was at Wally World looking for Bowman Platinum. I couldn't find any, but a box of 2013 Goodwin Champions caught my eye. I was feeling a little pre-Ginter retro happy, so I splurged for a box. The diversity is, quite frankly, insane. Above was the result of a single pack. A famous French Impressionist painter, a Gold Medalist Olympic Gymnast, a President, a legendary Golfer, Hockey Player, and the most famous Wrestler ever. If that's not variety, I don't know what is. On the whole, I like the set, but it's just over-shadowed by so many other things this time of year. I might be picking more of it up, but next year, once it's in the $11.99 bargain blaster section. Sad but true.

Oh, and it has minis as well. Nick Castellanos (Green Border), Manti'Teo, David Robinson, Hunter Mahan and Bo Jackson. Again, diversity!

Last but not least, Bowman Platinum. Sadly, I'm less enthusiastic about this years set than I was about 2012. It's not bad, it's just a little "middle of the road". The inclusion of additional (impossible to find) insert sets, overly complicated diecuts, and a weaker checklist have me wondering if I'm going to finish the set this year. I counted up the cards I had the other night and I'm 37 shy of the base 1-100, and I'm missing 40 of the "Prospects 1-100". So, I'm roughly 2/3rds on both.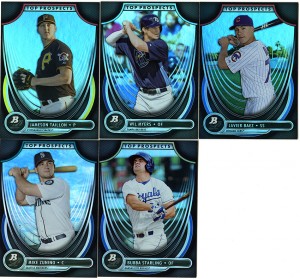 I opened 3 blasters and 3 rack packs. These are all the "Top Prospects" I could find. There's are 50 of them on the checklist. At those pack odds… Pass.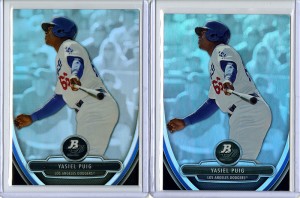 Of course, while I may feel a bit underwhelmed by the checklist, and a bit overwhelmed by the inserts, that doesn't mean I don't like the set. The base cards are quite nice. I still like the designs they're using on the entire product, and, hey, look! Double Puig! I pulled one regular and one chrome. Not bad.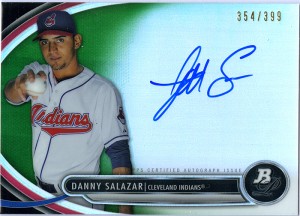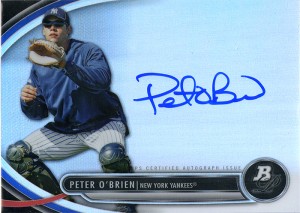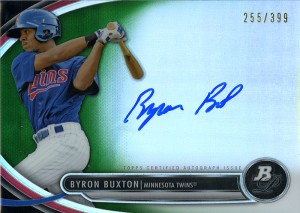 I also can't complain about the autograph distribution this year. While some crummy insert might be 1:75 packs. Autos are like 1:8. I pulled one each from my 3 blasters. I did nearly the same last year. Let no one say that retail BP isn't loaded. I got a nice green /399 Danny Salazar (Indians), a Peter O'Brien (Yankees), and a very hot prospect, Byron Buxton (Twins) green auto /399.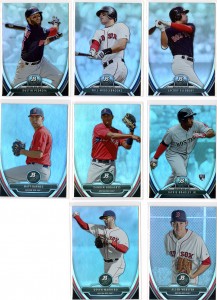 I also managed to finish the Red Sox team set as well. There was only 4 current players and 4 prospects, so it wasn't actually that hard this year. I also picked up a 7-card lot that had all the inserts/chromes in it.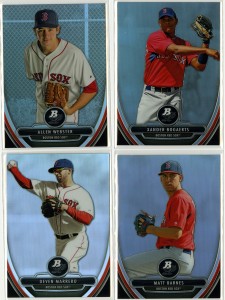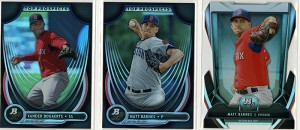 So, that finishes those off. I even found the diecut Matt Barnes. I like how they actually took the effort to use 3 different photos of Barnes for his different cards. I'm still looking for the purple retail/rack-pack parallels of Bogaerts, Marrero and Barnes (found Webster), and Ruby/Gold/Blue parallels of the current players. If anyone has come across those, let me know.
There you have it. Random blasters from all of August, completely jumbled together for no reason other than my abject laziness. Tada!
Tune in next time for the obligatory "random junk from eBay" post! ;P