I've been slowly adding to my Brock Holt collection over the past month or so. I've had a bit of trouble getting my hands on the harder to find cards (Bowman /25 refractors, etc) since he got called up a couple weeks ago. I had several auction bids in for things, ranging from $0.99 to a couple dollars only to have sellers pull the cards and relist them starting at $60+. I guess making it to the big show will probably do that. So, what interesting cards did I add to the collection?
I'm glad you asked.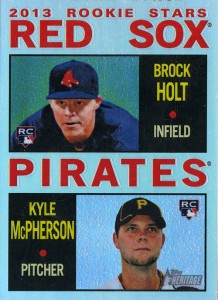 First up, a chromed refractor from 2013 Heritage. Numbered /999. Followed by…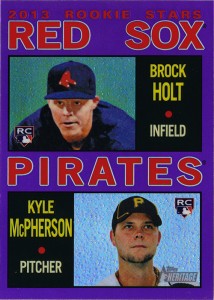 The purple chromed version. Not numbered (which I find very odd). I've got the regular base version (Thanks to Pat!), the black border version, and now the chrome and the purple. All that's missing is the /62 "Black Chrome". I'm actively looking for that one. If anyone spots one in the wild, let me know.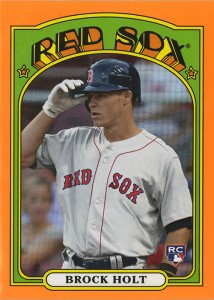 Next up, the "Day Glow Orange" parallel from 2013 Archives. Oh my… that's… umm… That's honestly the ugliest card I've ever seen. It is. I can't lie. That's truly awful. Geez. I was never a fan of the color choices from the 70's, but adding the neon orange on top of it? Wow.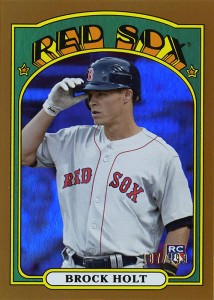 Just a tad bit better, the Gold/refractor-ish version, /199. That's an improvement, but why on earth would they number ON TOP OF the RC symbol? Just number it on the back Topps, come'on!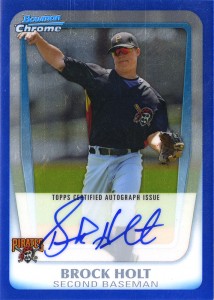 Next, 2011 Bowman Chrome Blue Parallel Auto. Numbered /150. This is about the rarest of his Bowman Chrome autos that I could still pick up on the cheap. And when I say cheap, I mean less than $2. Like I mentioned at the top, I was eying an Orange /50 auto before it jumped up north of $20 for seemingly no reason other than him being called up from AAA. I'll find one eventually.
Last but not least, his first auto in a Red Sox uniform. It seems to be a fairly over-produced auto from Series 2, but I don't mind. Picked this up for next to nothing. I know Sam found one in his Series 2 offerings as well. Maybe we can work it into our next trade (hint, hint). I could always use an extra. One for the player binder, one for the Series 2 team set.
Anyway, that's all for the moment. I tracked down one of the "Silver Slate" blue sparkly cards from Series 1 and that's on it's way. Getting his Series 1 parallels (still in a Pirates uniform) is probably my next goal. Chase the rainbow!