This post is terribly overdue. I've been insanely busy, and I've had the box that Topher sent me sitting next to my scanner for far too long. Anyway, since Ginter got pushed back this year, and because we all just need to bust something every once in a while, he was having a little 10 box mixer, with random products from the past decade or two. These are the goodies I got for my Red Sox slot.
In total there were 10 products, plus some 2013 Series 1 Topher threw in just because he's awesome. I picked out a couple of my favorite products, but I didn't bother scanning a couple of them since everyone knows what Topps flagship looks like at this point.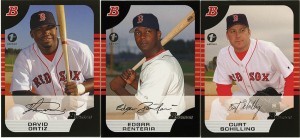 We start with a couple nice 2004 Bowman. There were probably 12 or so cards in my stack from this one, but only 3 of the players ever made it to the bigs, or were there already.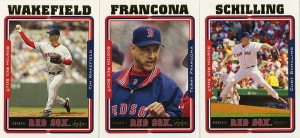 2004 Topps is a set I'm definitely trying hard to build the team set for. I've been going backwards through the years, and haven't quite made it there, but there were quite a few that Topher pulled that should give me a good head start.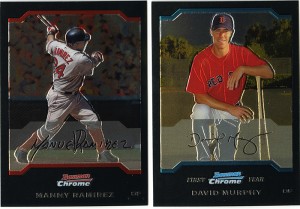 Another couple Bowman Chrome, ManRam and David Murphy.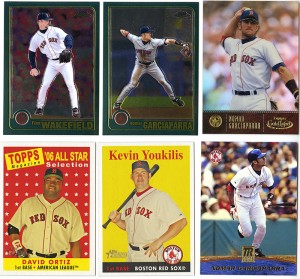 Random loot from a couple of the different products. Two discontinued products, Topps Gold Label and Topps Reserve, plus a couple from Chrome and Heritage.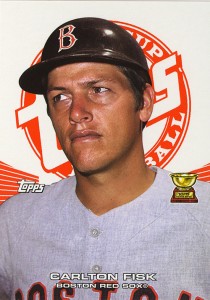 Next, a nice Topps Rookie Cup Carlton Fisk parallel. I didn't realize it until after, but it was numbered /100 on the back. Not too shabby, and I love that "fuck you" stare Fisk has going on.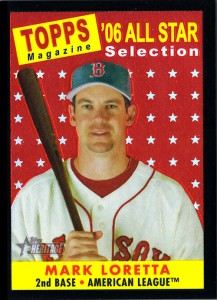 Speaking of numbered cards, I also didn't realize I had one of the rarest heritage parallels either. This black border chrome is /52.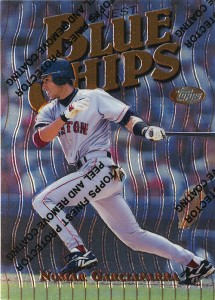 Last but not least, one of my favorite Nomar cards, in perfect condition with the film still on it. I have another, but it's slightly scratched up. This one is a keeper for my PC binder.
Thanks for the fun break Topher, looking forward to Ginter!!