So, surprise, I've got some boxes to bust! I was the winner of Panini's "Find it Friday" contest and they sent me two awesome hobby boxes of cards. I received a box of 2013 Panini Prestige Football and a box of 2013 Panini Golden Age. I busted them seperately, and I'll post the Golden Age box tomorrow, but for today we've got an epic box of Prestige Football.
Disclaimer: I'm probably the least qualifies person to be opening a box of football cards. Baseball is my thing, I make no claims to being knowledgeable about football at all. I'll sit down and watch football on a random Sunday in the fall, but I don't follow any teams, I don't have any football in my personal collection and outside a couple random players, I'm more or less clueless. As you'll see in the video, I even manage to butcher Kevin Kolbs name (I thought this whole time Kolb was spelled Cobb, doh!). Scans after the break of my biggest person pull ever.
[youtube]http://youtube.com/watch?v=9teHzLvPriM[/youtube]
So, you either skipped the video, which at 35+ minutes I don't blame you, or you're just more interested in the good stuff. Well, hold on to your hats, cause here we go.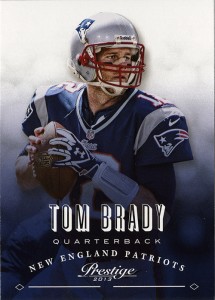 First up, the base card design. Having zero frame a reference to work from concerning football cards, I'd say these look really nice. The card stock is nice and thick, very glossy and has a great feel to it. The design is simple and not overwhelming with a touch of retro classiness in there. If it looked more "painterly" I'd almost call it 5-star or something similar.
Here's a small sampling of the base cards.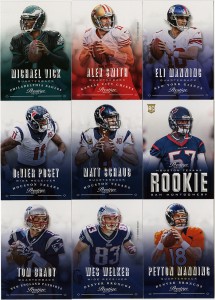 The colors of the faded part of the design parallel the players' team colors. Rookies are fairly blatant.
There's also refractor versions of the rookie cards…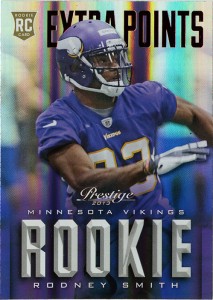 They added the words "Extra Points" across the top, which is actually pretty fitting since it's "extra special" above and beyond the base card. A nice play on words.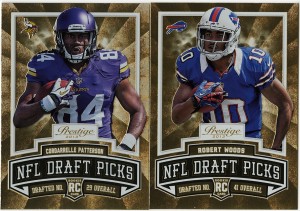 There are also two types of gold foil inserts. These are "NFL Draft Picks", and it even lists what number in the draft the player was taken at.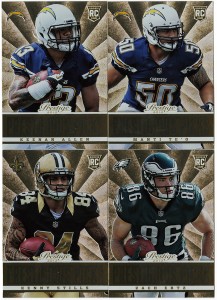 These are "Prestigious Picks" and are a slightly different design and more of a "platinum" color, compared to the "yellow gold" of the previous draft picks.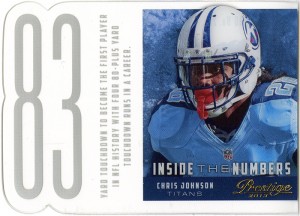 Next up, some of the acetate diecuts. This is an "Inside the Numbers" Chris Johnson. They did a nice job with these, they look really slick.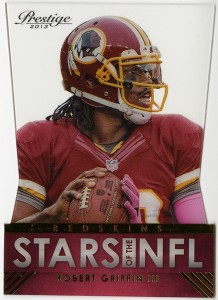 Next, one of the hotter cards in the set, and another acetate diecut, "Stars of the NFL" RG3.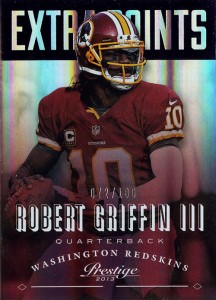 Speaking of RG3, I also pulled a numbered and different colored parallel refractor, 72/100.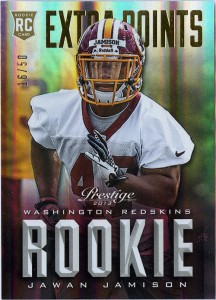 Another serial numbered parallel. This time it's a 16/50 parallel RC for Jawan Jamison.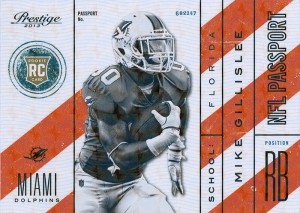 Next, a refractor version of a "NFL Passport" insert. Numbered 56/100 (on the back), RC for Mike Gillislee. It's hard to see the refraction in the scan, you can see it better on the video.
Next up, our first hit. RC auto, not numbered, for Darius Slay for the Lions.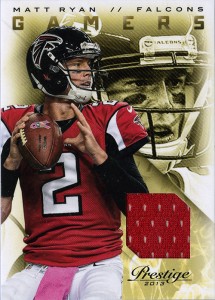 Next, a nice bright red game used relic from Matt Ryan.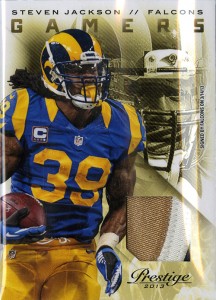 Next up, a super sick 3 color patch for Steven Jackson for the Falcons (wearing Rams gear, and obviously a Rams patch as well). There's a tiny statement on the side there that reads "Signed by Falcons on 3/14/13", which explains the discrepancy between team and photo. A nice touch. Topps, please take note!
Last but not least, the big mojo…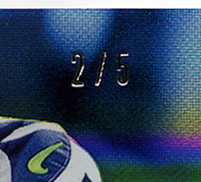 2/5 !!!!!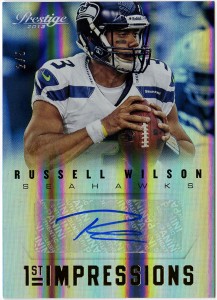 2/5 Russell Wilson "1st Impressions" auto. Wow.
That's crazy. Since Russell Wilson isn't exactly in my wheelhouse of knowledge, it took me a little bit to wrap my head around what I've got here. Short of a printing plate, and some similar 1/1's, or 5/5's from last year, this is about as rare as it gets. Now, it's technically not his RC, but a rare auto for a current active QB is still pretty special.
I'm kind of at a loss as to what to do with it. Selling it is probably the best idea. I don't collect football, and I don't collect the Seahawks, so I guess we'll be seeing what the open market bares. Maybe there are some crazy passionate Wilson fans out there. Fingers crossed!
As I mentioned in the video, if any of you guys also collect football, let me know and we can work out a trade if anything catches your eye. Oh, and come back tomorrow for my 2013 Panini Golden Age box video. It's not quite "2/5" epic, but it was still a ton of fun to open. Thanks again to Panini for being incredible. You guys just made a fan for life.