When I say things like "I'll post about that tomorrow" and then don't deliver it actually ticks me off a bit. Alas, life is busy and things happen. Also, no one probably cares, so, that's an upside. What I have today, and what I should have had 4 days ago, is a box break of 2013 Panini Golden Age Baseball.
Just like calling A&G a "baseball product" is a bit of a stretch, so to is Golden Age Baseball. Yes, there are plenty of baseball players in it. Even one of the sub-sets is about the Bad News Bears. There are also a whole range of other athletes as well as celebrities and actors.
That said, I do love retro products and this one was no exception. The checklist is fun while not being overly crowded. The relics are neat. The card quality is excellent. It has minis. What else could you want? Let's crack this open…
[youtube]http://youtu.be/WGPQjSNSHfA[/youtube]
Now some scans!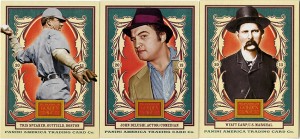 First up, a couple base cards. My three favorite to be exactly. Speaker, Belushi and Earp. How a sheriff and gun-fighter from late 1800's qualifies as "Golden Age" I'll never know, but my deep love of all things western (see: domain name and online pseudonym) means that this card kicks complete ass and I'm not about to question it.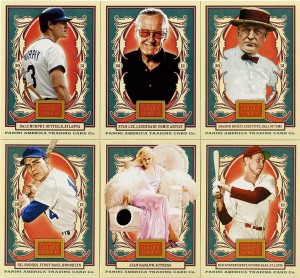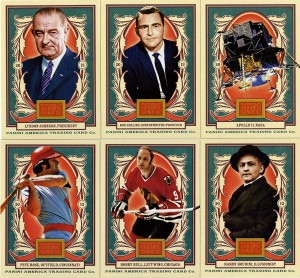 Some more base cards for your enjoyment. Baseball stars, banned baseball stars, entertainers, presidents, and a spaceship. Nice.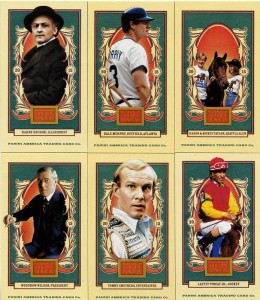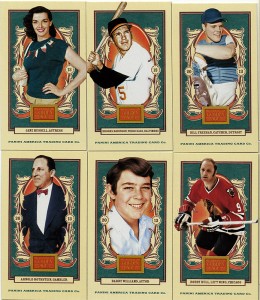 Minis! You can't have a retro product without minis, apparently. I think it's a rule. I didn't scan the backs, but there are quite a few variations of the minis. Most of them are "blue Baseball Caramels" with a couple alternate colors and some "Caroline Brights" thrown in. I can't seem to find any stats on what particular variation is the rarest. I'm going to assume it's the "Nadja Caramels Backs" which I didn't pull any of.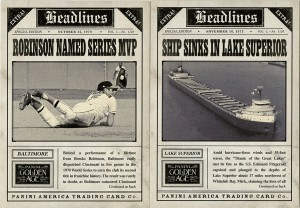 Headlines insert. Kind of like the "Flashback" and "Headlines" from Heritage.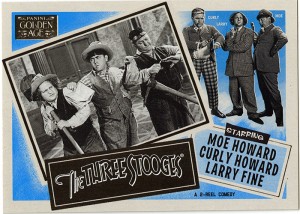 Three Stooges Insert. As far as I know there's only 9 total, and they only show up 1 per box, so we were right on the odds. For something so rare, you'd figure there would be a healthy secondary market on ebay. There is not, these are selling for a couple bucks each. I guess Stooge fever has long since past.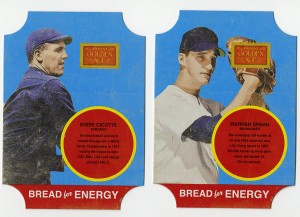 "Bread for Energy" inserts. These are kinda neat. They used thin, old school cardboard for these and they really have an authentic feel. Nicely done Panini.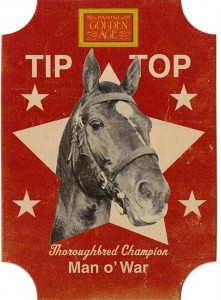 Another insert in the same concept. "Tip Top Bread", this time featuring the famous race horse "Man o'War"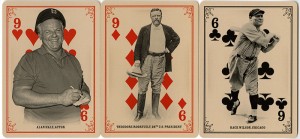 Next, the playing card inserts. There are probably one of my favorite inserts. They look old, the feel like actual playing cards, I like the design. Good stuff all around.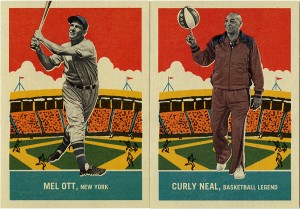 My other favorite insert, the "Delong Gum" cards. These are everything a retro card should be. Slightly off-set printing, old school cardboard feel, retro colors. I would have much rather pulled a Yaz than a Curly Neal though. Oh well, can't complain about a cool card.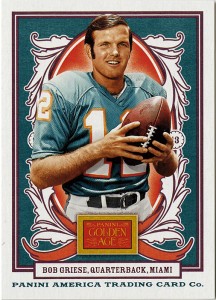 My one and only "White Border" parallel. Most people are listing these as SSPs, but being the only kind of parallel to the base cards, it's hard to imagine them being super shorted. Also, who on earth is Bob Griese?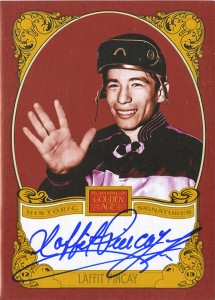 I actually pulled two hits of the the box, and with no odds stated, I can only assume that's average. My autograph was of jockey Laffit Pincay. He has a great signature, but I actually had to google him. Clearly horse racing is not my forte. He was racing's all-time winningest jockey. Now you know. See, you learn something new every day.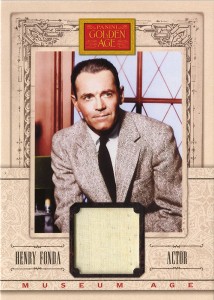 Last but not least, a really nice relic. Henry Fonda, and what I can only assume is a piece of a linen shirt. A great actor and he stared in not one but two of my favorite movies: Once Upon a Time In the West and 12 Angry Men. Very awesome pull.
So, that does it for my two boxes from Panini. They were an absolute blast to open and I love every minute of it. Thanks again Panini.