For someone who gets a huge kick out of Team USA cards, you'd have figured I'd be camped out in front of Walmart waiting for them to arrive. It was nearly a month ago that they were released and only this week did they finally show up at my local brick and mortar. If you'd like to know why I end up ebay/COMC'ing 99% of my collect, there you have it. No LCS, laggy distribution at my local stores. I digress. This isn't a rant about Excell's handywork in my area, it's a post about baseball cards.
I don't know if a blaster of Panini USA Baseball is a thing that exists, or if (again) my local distributor is to blame, but the only way I actually found the product was in single packs. I picked up 4 and actually managed two hits. That's about the luckiest I've ever been in packs, in… ever.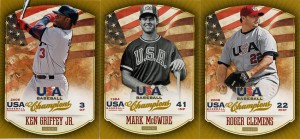 For starters, I love the mix of classic players with new/current players. It adds just that little bit of retro for me. I also like that because of that, the set includes two of my favorite players, Nomar and Varitek. Sadly, I didn't get either. That's ok, I did get this guy…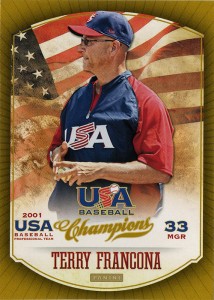 That will do quite nicely.
In addition to classic players, the set features Team USA members from recent teams, and a bunch current draft picks.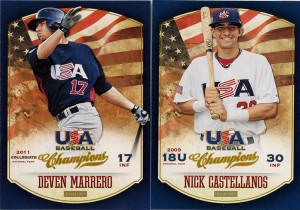 If I can't find more of this in a retail form larger than a pack, I don't think I'll be putting the set together, but it was certainly a product I wouldn't mind buying more of if I could find it. Panini, you listening???
As for the hits, I got two nice "Game Gear" bat relics.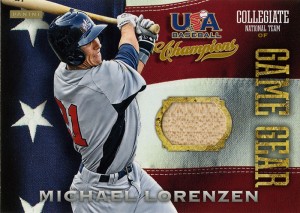 Michael Lorenzen, taken 38th in the Draft this year by the Reds, played as both a center fielder and a pitcher. Solid card.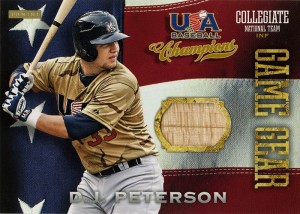 D.J. Peterson, first round pick by the Mariners. Take 12th overall. Named Baseball America's best pure hitter and second-best power hitter among all college players in the 2013 draft. This is a kid to watch.
So, I'm clearly happy with pulling 2 relics out of 4 packs, I just hope Panini can ramp up production and distribution a little. When I went back to the same store two days later, the single loose pack box was cleared out, and there was nothing to replace it. I was also looking into some hockey cards this week, and most of what I wanted was pretty much hobby/LCS only.
At least in my opinion, the only way to compete with Topps is to get into the same distribution chains. Without that, they'll sadly be niche products for hobby only markets. Quality wise, the products are there, but they have significant ground to make up just in basic availability and brand recognition.