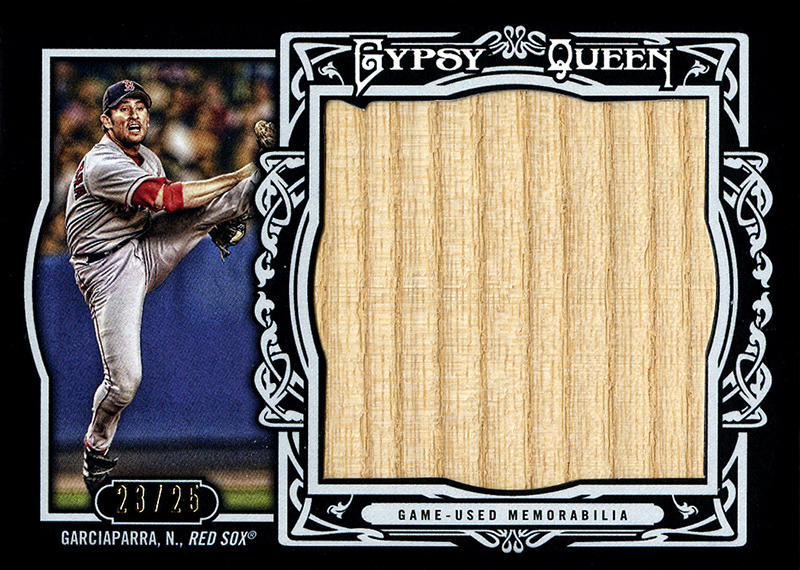 I'm just going to put that beauty right up there on top, so I can talk about it and what it took to get it. 2013 Gypsy Queen Nomar Garciaparra jumbo bat relic, #23/25. The story isn't so much about this card, but the card that was supposed to be.
A week or so after GQ launched this year, some guy on Reddit, my daily (and constant) source of procrastination, posted in /r/baseballcards that he "got lucky" and got 2 jumbo relics in a single hobby pack. Topps is clearly known for their highest quality in regards to collation, so I couldn't help but feel the part about the single pack was full of crap (he said, dripping with sarcasm). That should have been my first red flag but I was blinded by the Nomar and, regardless of how many packs he got them in, he did in fact have 2 jumbo relics. He had #19/25 of the Nomar pictured above, as well as a Cabrera jumbo jersey relic. While most of the posters were falling over themselves to make him offers on the latest Triple Crown winner, I sent him a PM about the Nomar.
He said he was looking to sell it, that he doesn't really open anything other than Flagship and that his GQ packs were just kind of a random purchase. He didn't really collect much, so he didn't want anything in trade (second red flag) but would take Paypal for it.
I thought about it for 0.00002 seconds and made him, what I felt at the time, was an appropriate offer. $35. His card had a small crease just above Nomar's head and I didn't feel comfortable offering more than that. At the time, there was only one other on ebay and was "Buy it Now" at $40. He agreed, thought it was a fair price and we sent messages back and forth with our details. It was a done deal, or so I thought.
This was a Thursday afternoon, and I was getting paid on Friday so I decided to wait until the morning to send him the money. It was a good thing that I did.
Having drooled over the very idea of this card when I first saw it on the checklist, I had an ebay alert set up for anything matching it. The only entry was the aforementioned $40 BiN. That night, after dinner, I got an email from ebay. A new card matched my search criteria. It was #19/25. The seller's username was also identical to the reddit user.
At first I thought it was a fluke. Maybe he was listing it so I could buy it from him and we'd do the transaction within Ebay. Buyers/sellers protection, all that jazz. Then I checked the auction. The starting bid was set at $49.00.
I sent him a message. No reply.
Friday, Saturday, Sunday went by. It was only a 5 day auction. The bidding hit $55, then $59.
Monday morning I got a short reply from him, saying, in a nutshell. "Screws you dood, I gettin more money for it on ebay".
There was still a day or two left. I could seriously mess with his ebay auction. The thought crossed my mind of creating multiple accounts and creating a fictional "bidding war", raising the price of the card into the thousands, then walking away from those accounts, forcing him to re-list it, over and over again.
I won't lie, those thoughts crossed my mind.
I didn't do that though. I took the high road.
I told him I'm glad he got what he could for it, and wished him well in his collecting.
Two days later, I get another email. Another card matches my search criteria. #23/25, starting at $0.99.
EXACTLY $34.99 later, including shipping ($32 + $2.99), and it's mine.
I saved a penny, and still felt good about myself.
Let that be a lesson kids.
Never attempt to buy cards from random internet strangers, and card-karma is a very very real thing.