The way I pick player collections is this: I don't. They pick me. After stacking up an inordinately large number of the same player I start to contemplate adding him to my non-Sox player collection. If I get a hit or an auto from that player later on, then I'm pretty much sold. It's meant to be. You can blame my insane amount of Ryan Zimmerman relics for this policy
What's even weirder is when that person is traded to the Red Sox later.
Enter Brock Holt. Quite honestly, that's the best baseball name I've ever heard. I can't see a "Brock Holt" doing anything other than playing a professional sport. Either that or being a kick-ass space Marine in some sci-fi movie. With a name that badass, you have few options.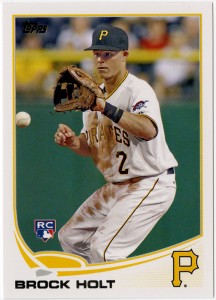 This is from Series 1. Not a big deal, just your average RC. Then I read that Holt was actually traded to the Red Sox in the Hanrahan deal. Knowing he was on the Sox now, I kept the card. Why not right?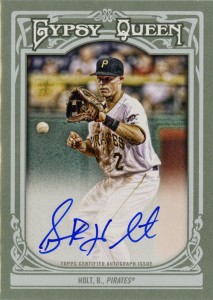 Then this happens. Found it in a random blaster. Not bad, autos are always cool. I'm curious why GQ version doesn't have the RC logos though (a bunch of other notable cards have it missing as well).
Then 2013 Bowman happens. It starts off slow. Just the base card.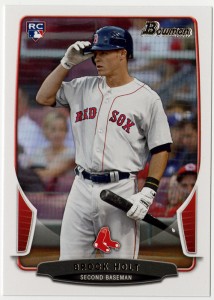 Oh, hey, look! He's in the right uniform now. Nice. Maybe I'll get another one or…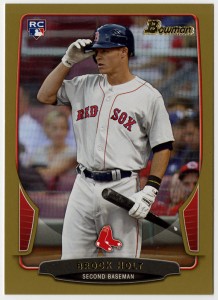 Well, ok. Gold is cool. Just a normal parallel. Surly I won't get a…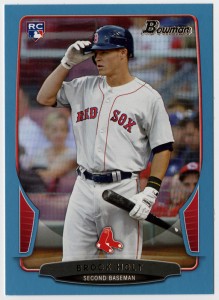 Blue parallel. Numbered 191/500. Not bad. Maybe I can find the…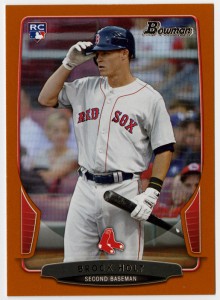 Orange. That was easy. Numbered 066/250.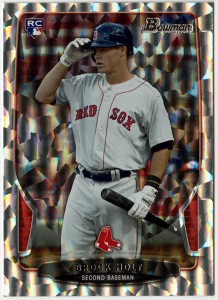 Silver Ice parallel. Pack odds, 1:24. Odds I'd pull it personally to make my player collection a sure bet? 1:1. It only gets better from there.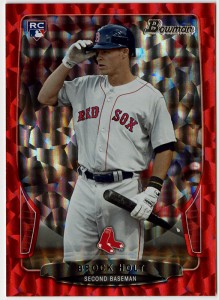 From "Silver Ice" it goes strait to the hard to find stuff. Pack Odds 1:431. Red Ice parallel. Numbered 24/25!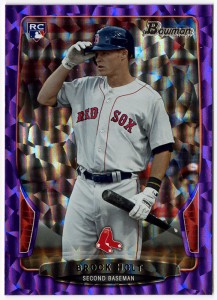 Purple Ice parallel. 4/10!!!
It's official. This is my next player collection. FOUR of TEN! This thing is trippy in person. There's a deeper layer of "ice" beyond what the scanner picked up, and it's really psychedelic looking, almost like a Magic Eye poster or something.
As far as 2013 Bowman parallels go, that's about as awesome as it gets. There's a "White Ice" which is a 1/1, and printing plates, but my odds of finding one of those is pretty slim. Also, because he's on the extended roster, on cards he's considered a "normal player" now and not a "prospect" anymore, so there are no "superfractors" to chase either. There is a magenta printing plate on ebay at the moment, but it's $50. I'll watch it and see if the price goes down, that's just a little out of my price range.
So, after finishing off 99% of the Bowman rainbow (still need the "Texas" flag parallel), I started looking at what other cards Mr. Holt has out there. Not a ton, thankfully for my wallet, which makes starting a definitive player collection just a tad easier.
I'll need his…
2009 Bowman Chrome Draft (and it's variations)
2009 Donruss Elite Extra Edition
2011 Bowman Chrome Prospect (and it's variations)
2013 Topps Series 1 variations
2013 Topps Heritage RC (split with Pirates' Kyle McPherson)
That's about it. About 35 cards total, including autos, if you count up all the variations. Totally doable.
I even have one to start it off with. I picked up the harder to find auto from 2009 Donruss for a couple bucks on ebay.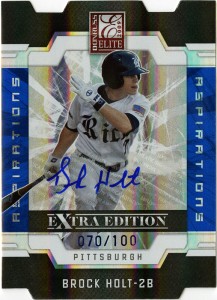 Yup, he went to Rice. He's a local boy, originally from Fort Worth. The more I read about Brock, the more I like him as a player too.
.348 average with the Owls. Team leader in total runs scored and stolen bases. Named both to the All-NCAA Regional Team and the All-Silver Glove Trophy Series team. Drafted in the 9th round by the Pirates and was hitting .432 in the minors before getting the call in Pittsburgh when the roster expanded last September.
The only thing he has going against him is that he plays second base. We all know the Red Sox have Pedroia on second, and he's signed through 2015. That's a long wait for a guy clearly hitting his prime. Unless Peddy gets hurt, and let's hope he doesn't, I can't imagine we see Brock very soon. Unless of course he's trying out different positions and he can fill a slot sooner.
So, if you have any of the 2013 variations (Gold, Green, Blue/Red, etc), or (less likely) one of the older cards, please let me know. I always have more fun trading than simply clicking the "Buy Now" button.
Anyway, I think it'll make for a fun player collection. Maybe he'll even be in Houston some time, signing at a show or something, and I can get a couple cards signed. That would be pretty cool.
Have a great weekend everybody.