I actually had this planned for Monday, but my dumb ass forgot the Napoli card I'm about to show off and I didn't have a chance to get it on the scanner until today. I was also searching to see if I had any cards for Tazawa or Victorino, and I don't, at all. So, yeah. I'm terrible at this. First and last time I do this? Probably.
Basically, I wanted to try and highlight the best card I had for each player, while going over the opening day line up. This year is a bit odd considering Ortiz is on the DL, our Short-Stop may be temporary, and we've got new faces all over the field. Oh well, let's dig in. There's some good cardboard to see.
Starting Pitcher: Jon Lester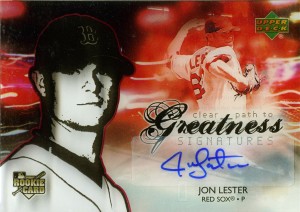 The most interesting cardboard I have for Lester isn't actually cardboard at all. It's an awesome, albeit plastic, "Clear Path to Greatness" Rookie Auto from UD Future Stars.
Catcher: Jarrod Saltalamacchia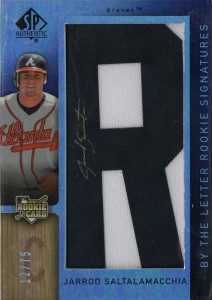 Boom, 12/75, SP Authentic, RC Auto, Letter patch. Love these.
First Base: Mike Napoli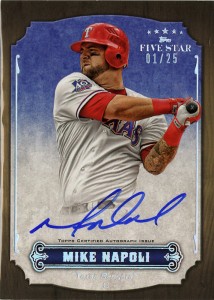 Holy crap, where did that come from? The truth: I've been sitting on this for a while. I bought it before he was signed by the Red Sox. I bought it because, A) I like and respect catchers and B) it was really cheap. How cheap? So cheap I'm not going to tell you, you'd be angry at the universe. Quite honestly I was expecting the ebay seller to cancel it or "lose the card" and have it relisted. They didn't and now it's mine. Yes, it's a 5 Star, yes, it's 1/25. Yes, it's freaking awesome.
Second Base: Dustin Pedroia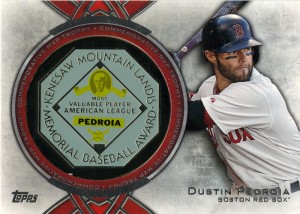 No, this isn't the rarest Pedroia card I have (/15 Triple Threads), but I think it's the most unique. Yeah, yeah, it's a manu-relic. But it's a damn cool one. I like the design, I like the relic, I like the card. Serial numbers aren't everything. (he says having previously shown a 1/25 – what can I say, I have issues)
Short Stop: Jose Iglesias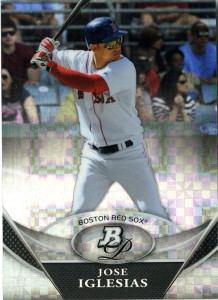 I have an older, RC of Iglesias, but it's a purple refractor from 2010 Bowman and it's actually pretty ugly. Bad photo, bad color for the parallel, just ugly all the way around. This one however, is much better. 2011 Bowman Platinum Prospects X-Fractor.
Third Base: Will Middlebrooks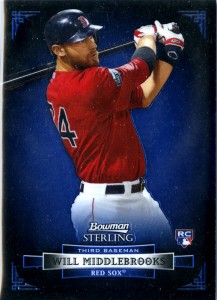 I debated putting up the Donruss Elite collegiate card I have, but I think this has a bit more punch to it. I really like the black of the Bowman Sterling cards this year. This card just screams awesome. I do have, coming via ebay, my first Middlebrooks auto, but it wasn't here in time to scan.
Designated Hitter: Jonny Gomes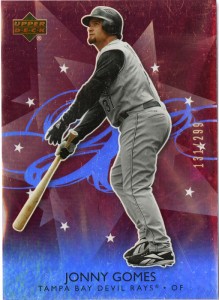 Literally, the only Gomes card I have at the moment. I'm sure that'll change shortly, but for the moment, this numbered Future Stars parallel is all I have. 131/299.
Right Field: Shane Victorino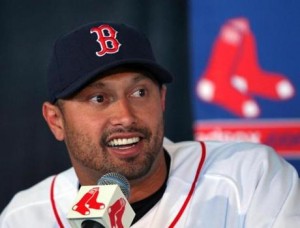 Nothing. Zip. Zilch. Not even a base card. Gotta work on that.
Center Field: Jacoby Ellsbury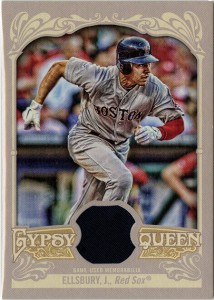 Cardboard tie: That jumbo relic from last week is pretty awesome, then again, so is this 2012 Gypsy Queen patch. I'm convinced it's patch. I've seen dozens of others with plain gray swatches and this is thick, silky and blue. Both awesome cards.
Left Field: Jackie Bradley Jr.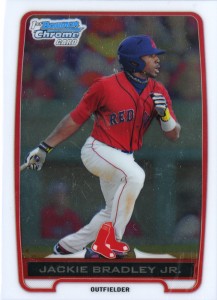 I actually only have two or three JBJr. cards. I've got his Bowman, Bowman 1st card Chrome, and Bowman Chrome. Part of me thinks the Sox front office let the fan frenzy over Jackie convince them to bring him up early. He's never played above AA, and could use some more seasoning. Then again, his Spring Training was pretty good and he made enough of a case that he was ready. Time will tell. I wish him nothing but good luck. Hopefully he can be a great outfield option for us going forward.
Relief Pitchers/Closer: Andrew Miller, Junichi Tazawa, Joel Hanrahan.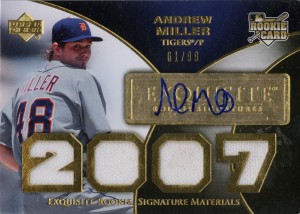 A sweet trifecta for Mr. Miller, pre-beard. 61/99, jersey, rookie, auto from UD Exquisite. Love this card.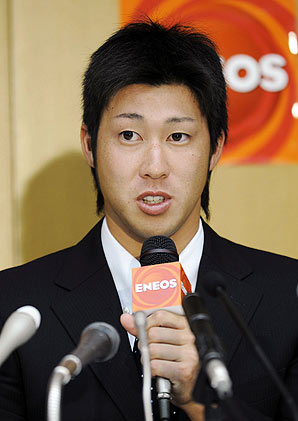 I've got nothing for Tazawa. I'm pretty sure no one else does either. I did a little digging. I think he has 5 or 6 cards total, and 4 of those are minor league and 1 is from that Panini set where they didn't have any photos, it was just autos.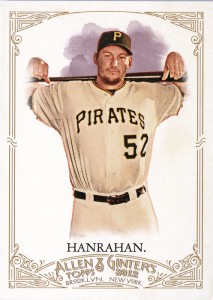 Hanrahan I've got, but nothing but base cards. No parallels, no relics or autos. That's ok, his time in my collection will come. If he remains a dominant closer, I'm sure they're already preparing relics for high-end products towards the end of the year.
Well, that was anticlimactic. I can't let it end like that. So, how about a preview of tonights pitcher?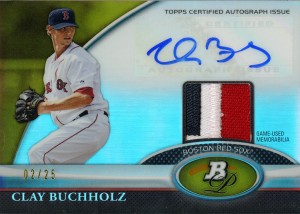 There, that's a much nicer way to end a post.