Continuing on with our theme this week, Day Two is highlighting the awesome package AJ over at The Lost Collector sent my way. It needs to be mentioned that these are just a small sampling of the great stuff AJ sent my way.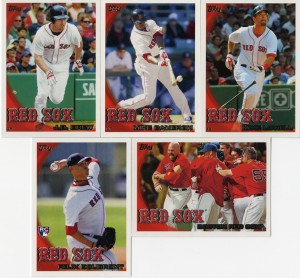 First off, another chipping away at my 2010 checklist, AJ helped knock out quite a few of those. I designated that set, even though it was widely available for purchase, as a "build through trades" set, just to have a bit of fun doing it. You guys are bringin' it big time. I'm well down below half now.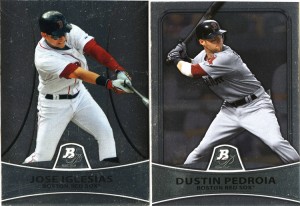 Yay, someone else who buys Bowman Platinum, huzzah. Also, I badly needed that Iglesias!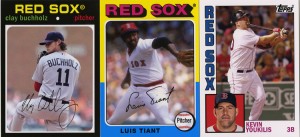 A couple nice cards from last years Archives… wait. Wait a minute. What's that Tiant? AJ snuck a Luis Tiant short-print in on me. That's awesome! I had been looking for that one!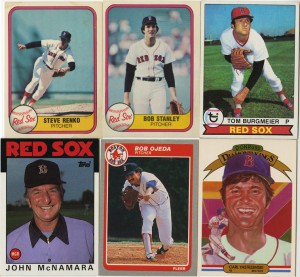 A nice collection of vintage. My 70's and 80's collection continues to build. You guys are just going to force me to go retro, you know that right? This won't end well for anyone, lol.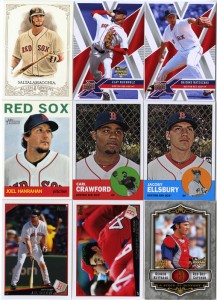 General awesomeness all around on that one. I think I needed that Kottaras for my APoH set. Sweet!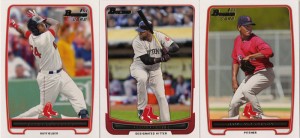 I don't know why I never pick up any plain old Bowman. I end up buying a pack or two of Boman Chrome, but 99% of the time, I completely forget about it's un-Chromed brethren. I need to pay more attention to these.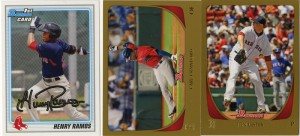 A few more Bowmans, including a couple nice gold parallels.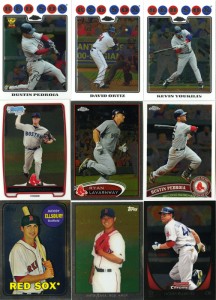 Chromapalooza! Sweet. Now, takes notes one these Topps. See how the 2011 and 2008 cards really pop out on the white? See how dull the 2012 looks in the middle? Yeah, go back to the white. And black bordered cards, why are they even chromed at all? All nit-picking aside, and with the exception of the 2012 set, I am a bit of a Chrome junky. These are awesome. Especially that Ellsbury in the corner. Awesome stuff AJ.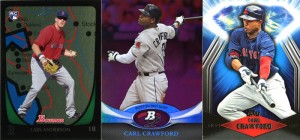 Mmm, parallels. That map parallel on the Lars is really neat, and I didn't have the ruby Crawford, or the insert at all. Great additions to the collection.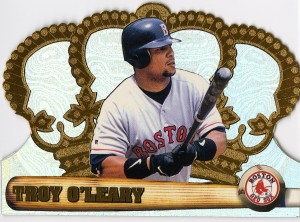 Last but not least. Pacific Crown Royal, Troy O'Leary. I know two things about Pacific at this point. First, I completely missed the boat on them, and never heard of them before last year (having skipped that whole period of card collection) and, second, they're freaking awesome. I mean, damn. That's about as cool as a card from the 90's gets.
AJ, these are all awesome. Thanks for the great trade! Looking forward to many more!