Day three of our epic mail week continues. Today, Dennis from Too Many Verlanders drops a ton of awesomesauce on an already full plate of win. (ok, that last sentence is just insane). Seriously though, Dennis sent some great stuff. As always, this is but a selection from a more than generous package.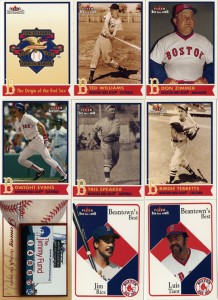 First up, a great selection from Fleer's 2001 "Red Sox 100th set". Honestly, and this is going to sound terrible, I didn't realize this set existed. I didn't. I had picked up those relics (a piece of base) called "Field the Game" and never put two and two together. I thought they were inserts/relics from a different, regular Fleer set. I didn't know it was it's own thing. This may have just jumped up to the top of my chase list. This is going to be a must have.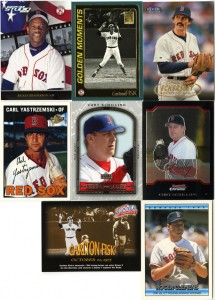 Moving on, if everyone else has been pounding that "team set" aspect of my collection, Dennis went strait for player collection softspot. Love that Yaz reprint.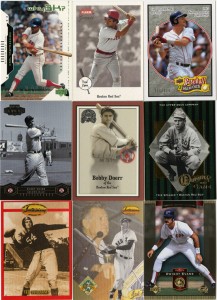 Some more legends for my player collection, including that awesome serial numbered Yaz in the corner. That one almost snuck by me! 81/399 from the Baseball Heroes set. Also, I don't think I actually owned anything from the Ted Williams card company, so those are neat additions as well.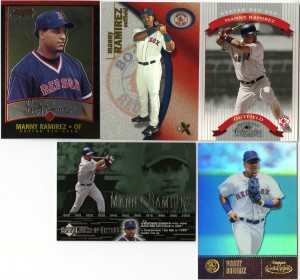 New favorite Manny card. The eX card in the top middle. Love it. Just awesome all the way around. These are all new to the collection.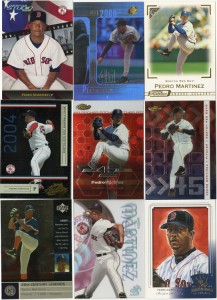 Sweet, new Pedros! That clear eX card down the bottom was the only one I've cross paths with before. I really love those two Topps Finest in the middle. Those are outstanding.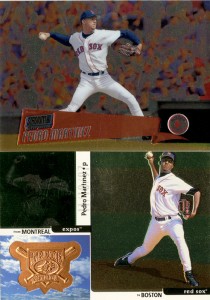 Two more Pedro cards of note. On top, I didn't realize that Stadium Club had been "Chromed" at some point. I like the look of it, and with Topps "backwards" thinking lately (Archives and old style minis, I'm looking at you!), I'm surprised they haven't resurrected Stadium Club. The borrom card is an Upper Deck SpX "Trade Winds" and it's numbered out of 4000. Not incredibly rare, but the bronze thing in the corner is thick and heavy and nicely stamped. Definitely a unique addition to the collection.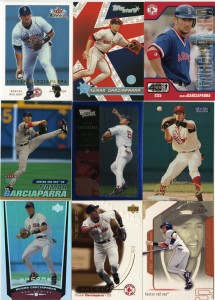 More Nomars you say? Why yes, yes I believe we can. Fantastic new additions to my already huge Nomar collection. With the exception of the middle-right Fleer card, these all all new additions. I'd love to have a Beckett online subscription, just for a day, to look up how many unique Nomar cards (base card) exist, just for checklist purposes. I know the number is probably in the hundreds, if not thousands. (Check that, COMC currently has 2224, but that includes multiples graded copies, plus autos, relics, etc). I've got a long way to go, but I've got an awesome start.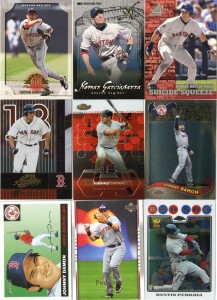 Couple more Nomars, plus a couple really nice Damon and Pedroia cards, including that 2007 "Not a Rookie", kinda rookie card.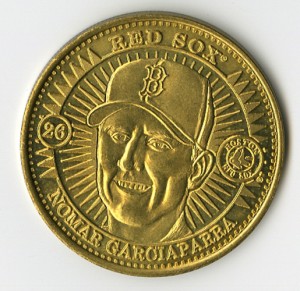 Whhhhhaaaat? Dennis, you sent me a freaking coin… with Nomars head on it???!?! That's awesome. Like, really awesome. I don't even know. I mean, just. Damn.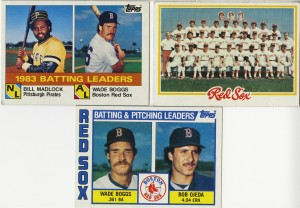 Now, we go from awesome player collection to equally awesome vintage. 83 Batting Leaders, 84 Batting Leaders, 78 Team card.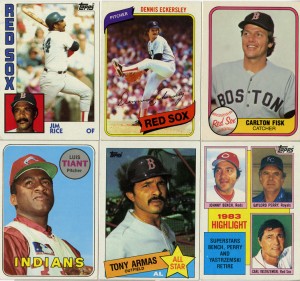 Now we're talking. All original, all gently loved. The Tiant is simply epic…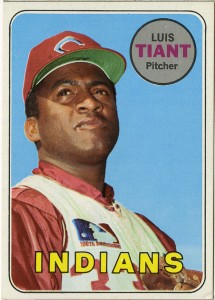 Yeah, I know he's on the Indians on that one, but I don't care. Having an early card from your favorite player, in really great shape, there just isn't anything better is there?
Dennis, these are completely awesome, you knocked this one out of the park. Sincerely, thank you very much, and I can't wait for our next trade.