With the beginning of the season right around the corner, and the "season ticket holders first" bullshit embargo finally over with buying tickets, I took a look at getting some seats to all the Astros vs Red Sox games this year. I had heard on the radio that they had artificially inflated the prices of the Red Sox, Yankees and Rangers games since they figured they would draw larger crowds, and that people were pissed, but I hadn't heard any prices. Sadly (and this isn't a slight against Houston fans, just Houston management), they didn't realize that Astros fans just weren't willing (yet) to shell out that kind of cash for tickets. If you're used to paying less than $30 a ticket for the past decade or so, you're not going to shell out $400 suddenly, just because a particular AL team is in town. Case in point.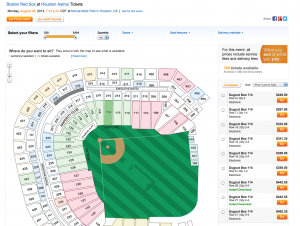 I don't sit in the outfield at Astros games. I don't. There just isn't any reason to. I hate to sound like a snob, but if I'm going to a game, and can get seats along 1st/3rd for under $30, why would I pay $7.50 to sit where I can't see the game? $30 isn't breaking the bank, and for me going to a game is a treat. A treat I'm willing to pay for. Now, that's the direct result of having the Astros as my local team. Back home in Boston, there simply aren't any seats available near the infield, and certainly not for less than $100, it just doesn't happen. Hell, to get season tickets someone has to die. Literally. There's a waiting list. I've sat out in the bleachers at Fenway for most of my life, so, this isn't a slight at the seats either. It's FUN out there. I like it.
Minute Maid park is the complete opposite. I take full advantage of the low ticket prices and I treat myself to a good seat. This move to the American League might bring some more of the "fan favorite" teams to town, but Houston ownership needs to realize people won't pay THOSE prices. Sure, add $20 to a ticket. I get that. A $30 seat becomes $50. I'd still buy it. $450 a ticket? No, no, nope, nupe, noooope. Not going to happen.

That's a MONDAY NIGHT game as well. That's a "leave work early and sit in traffic" game. That's just not going to happen.
I think I might actually wait a bit. I have until August. I'm guessing with the Astros perceived level of play this year, and the Red Sox equally mediocre predictions, that those ticket prices are just high because the season hasn't started yet. It's going to feel damn good to sit next to people in August, knowing that I got a ticket for a tenth of what some sucker is paying this week… if those suckers exist. I doubt too many people are jumping on $400 tickets this year. Please keep is real Astros front office! You might be in the AL now, but you've got a long way to go before we're dropping $462.35 on a ticket. Just saying.