So, I had some errands to run, and after hearing rumors of early Gypsy Queen sightings, I made a trip to both my local Walmart and Target. I stuck out at Target (but did find a $11.99 box of Bowman Platinum – a post for later), but Walmart had 4 boxes and a full rack of hangers. I bought 2 boxes and 2 hanger packs, just to see what the White Border paper cards looked like. I beat the odds, got two hits, a SP mini, and I'm really loving these this year.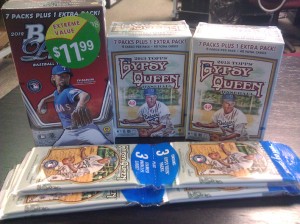 First up, the regular cards. The entire base set is kind of dark minty green with a decorative border. It's a step up from the puke-purple of the 2012 set, that much is sure. The one complaint I have right off the bat is the listing of "Short Prints". Apparently, instead of making a 1-300 set, plus 301-350 being short prints, they made a full 350 card set, with RANDOM numbers short printed. What the heck? That's just mean. It really is. Luckily, at least for me, the pulls on short prints were WAY better than the 1:4 pack odds. I think I pulled 9 out of 20 packs. Also, it's really easy to spot them. During collation, at least for the print run I found, the short print cards are backwards in the packs.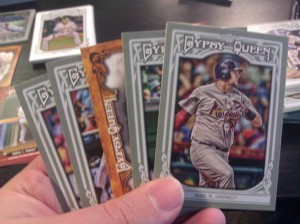 This is a normal pack. Notice the insert in the middle.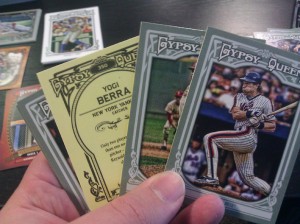 This is a pack that had a short print. Can't make it much more obvious than that!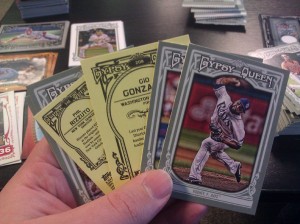 This is a pack in which both the base card and the mini were listed as short prints. Nice.
So, that's a good heads up to the rest of you. If you're busting packs this week, turn the majority of the pack to face you, and whatever is backwards in the middle is probably a short print.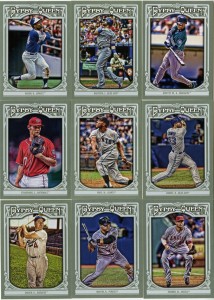 Here's a random sampling from my packs. The collation is pretty solid, I think I notice 1 or 2 dupes out of 20 packs. That's not bad.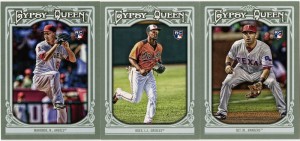 I also didn't notice too many official RC logos. I didn't count up the number of rookies on the checklist, but on the whole there was only a handful. That makes sense from the set being mostly current stars plus legends, but it's shame since these would make perfect autograph hunting cards.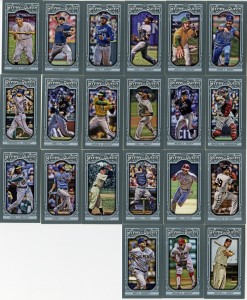 The minis are back and are in fairly good form. I noticed they did away with the terrible "alternative backs" concept, which was my major complaint about last years set. They had colored borders and colored backs and numbered parallels, and hobby only parallels, and photo variations, etc, etc. It was too much. This year, just minis. There are black /199 and green /99 and the rest are hobby only, and much rarer. That's fine, weird hobby stuff is great, I'm just very pleased to see a more uniform concept this year. A vast improvement!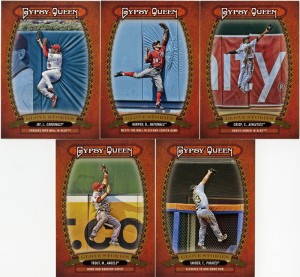 Time for inserts! Here are a couple examples of the "Glove Stories", which returns from last year. The design is nice, a bit simple compared to the other inserts, but not bad. Like looking into the bowels of a ripped apart football… or I suppose in this case, a glove.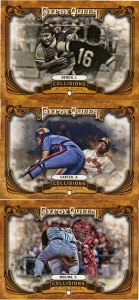 Next up, "Collisions at the Plate". Clearly "dirty" is the influence on this one. I'm pretty sure this set just made Play at the Plate's day.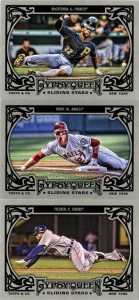 "Sliding Stars" is back and, while I like the overall design, including the slightly textured looking (making them look like Silver Slates) gray and black, I can't help but wonder about some of the choices for subject matter. Prince Fielder, really? He has 16 CAREER stolen bases. Really. That's a stat. Look it up.
Now we're talking. The next two are quite easily my favorites. These "Dealing Aces" are awesome. Red and black playing card designs with dominating pitchers on them. These remind me of the "propaganda" cards from, I think, 2009, but far more interesting. Almost has a little "Legendary Cuts" feel to it.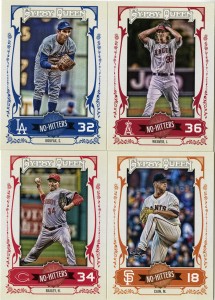 And my new favorite insert is… No Hitters! These are simply awesome. I love the design, the logo, the tagline, and the number at the bottom. I love that they follow the teams colors. Insert of the year? Maybe. It's early, but it's got my vote at the moment.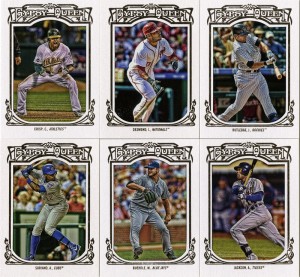 Next up, the white paper bordered parallels. I got two rack packs just to check these out, and I'm really liking them. The white is iridescent, and what appears to be black from the scanner is actually silver foil. These babies really pop. I like the blue from last year just slightly better, but I think these are right up there.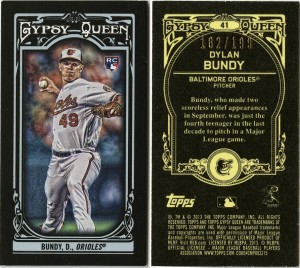 Next up, my mini hit. I pulled a single black border, 162/199 for Dylan Bundy. I like these, I just kind of wish the yellow on the back had been left white. With the silver on the front, the yellow doesn't really make that much sense. Then again, if they entire run has yellow backs (which they do), then maybe it's just the way they ordered the card stock. Also, since it is black all the way around, all the tiny chips and slightly soft corners are really obvious. It's a shame it came out of the pack like that.
Last but not least, I beat even hobby box odds and pulled two relics out of my blasters. Neftali Feliz and a nice red swatch for the Rangers and a bright white swatch for Kid K for the Dodgers. The black borders on these really pops, in much the same way Allen & Ginters from last year. They are a huge improvement over the, again, puke-purple borders from last year.
So, for over-all impressions, the card quality has the same thickness and printing as last year, high quality stock, no major issues I can see. The collation seemed fine, I hardly got any dupes. The minis are vastly improved in concept and are much more chasable. The inserts are actually nicely thought out and really well designed. The parallels are fine, the white is a solid choice to contrast the black borders on the relics, and those are vastly improved as well.
Overall, I like this set a whole lot more, right off the bat, than I did 2012. It doesn't match the original "old school" vibe of the original, but I think it stands on it's own. It's a solid product, despite the odd and often infuriating checklist it brings with it.