After having a huge December I needed to throttle back a little bit. I went through way too much birthday/freelance money and I don't have enough to last all summer. Luckily some more work is around the corner, but the point is that January and February were a little leaner. Combined into a single super-month of winter buying frenzy however, I'm actually quite pleased.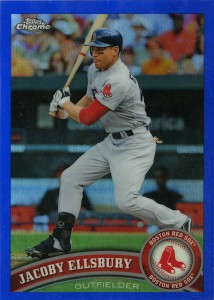 First up, the easy stuff. Yet another blue border towards my rainbow of 2011 Chrome. It's actually going quite well. I've got blue, black, red and gold for quite a number of Sox cards from 2011. I should probably make a list of what I'm needing… note to self.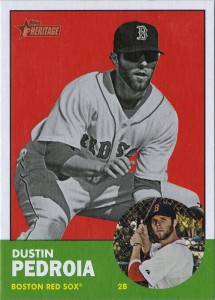 Next, 2012 Heritage "Image Swap". You ever pull the trigger on a purchase and immediately think "Why on Earth did I just do that?" That was this card. It's gimmicky, and not particularly interesting. At least it was only a dollar, that makes me feel a bit better.
Series 1 camo parallel. I like that the camo has a subtle shimmer to it. I thought it was actually just a plain digicam pattern before getting it in hand. I'm still undecided on picking any of the rest of these up, this was just to see what they looked like in person. Not bad, still on the fence though.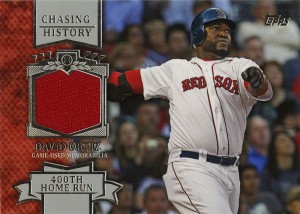 Speaking of Series 1, a simple David Ortiz relic. I like the "Chasing History" concept and I don't mind the inserts in the least, the relics are even cooler.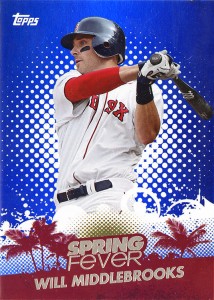 Just got this in today. Will Middlebrooks Spring Fever. It's all foiled and shiny. I really like these. I'm definitely going to chase down the Ted and the Pedroia.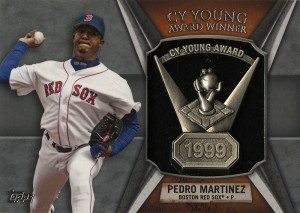 Last Series 1 card, I promise. Pedro Martinez Cy Young Award uber-thick relic. Seriously, these are stupid thick. I can't stop mentioning it. This and the Ortiz I got from Tophers break make a great pair. There's also a Manny and a Jim Rice out there somewhere. Maybe eventually.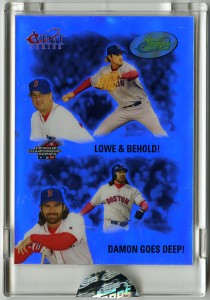 2004 eTopps celebrating the Sox championship run. I picked this one out of the 3 or 4 the seller had since it highlights the ALCS game 7 against the Yankees. It's the most insanely holographic/shiny card I've ever seen. It's pure bling, which is why is scanned solid blue (as a reflection).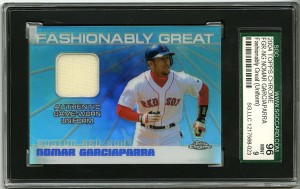 Ok, graded cards, to me, should be reserved for 3 things. Insanely important rookie cards, incredibly old cards that need preserving, and extremely rare cards (1/1's, ultra SP autos, etc). 2004 Chrome relics don't really fit into any of those categories. So, somewhere out there is a guy who spent $25 to have this graded a 96, only to turn around and sell it on ebay, to me, for $2. I don't have any problem buying someone else's investment in grading, I just know there's probably a very tiny handful of cards in my collection I'd bother to have graded myself. So, fairly common card, a normal relic, already graded for me. Win-win.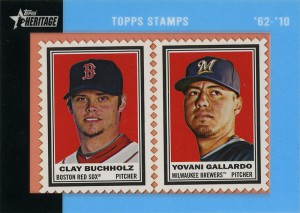 And here's where we talk about timing. It's not like Gallardo's PED using "stock" could be any lower at the moment, making his card prices fall right into the basement. Lucky for me, the other half of this card is a personal favorite, and part of my collection. So, half of this card is completely awesome. The other half has Yovani Gallardo on it 😉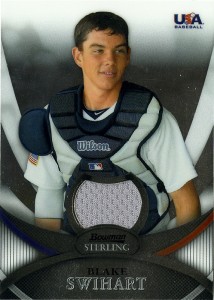 Blake Swihart, Team USA relic. This kid is going to be awesome, and I'm scooping up all the cards I can while he's still working through the system. I really like the Sterling Team USA cards in general too. Good stuff.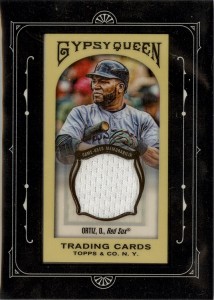 The card that almost never was. I bought this card THREE TIMES off ebay. The first two were lost, no joke. Different sellers, different cards. I was starting to think it was a conspiracy. Third time's the charm and this one actually make it here. I had my doubts though, it was a week and a half late. I was just about to ask for a refund from the seller. I don't know if there are anymore Sox GQ mini relics like this one (Sam, any idea? You probably have them already?) but I know I'll need to find them. I've really liked these since the day GQ came out last year.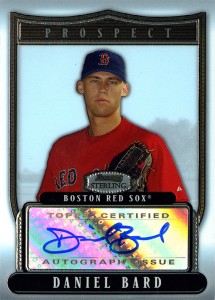 A missing piece from my Danny Bard collection. Bowman Sterling Prospect Auto. I have faith that under Farrell, they'll straiten Bard out, and I'm buying while the prices are low.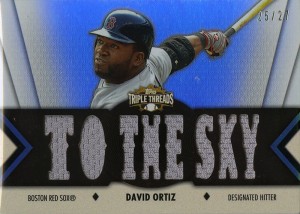 Still buying Triple Threads. Yup. I know, I have issues. 25/27. I think at this point I've only spent a couple dollars on each one. I probably haven't come close, or even half way, to the price of a box, yet I've managed to get nearly every card I've wanted. Triple Threads might be fun to break for the one "super hit" you might find, but the secondary market is simply awesome for people like me. I'll buy cards like these for a couple bucks any day.
Speaking of… I scanned this one twice because it's duel-sided. There's a single piece of cloth in the middle, and two different die-cut designs on either side. 19/27. Come on, that's just cool looking!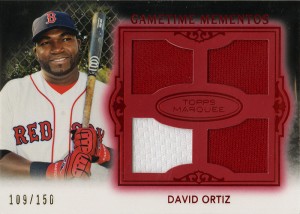 More Papi? Sure, why not. 109/150, Topps Marquee. I'm glad they evolved Marquee into Museum Collection, mostly because the Marquee relics have been all but forgotten. It could be the fact that the swatch selection for the quads made no sense whatsoever. There was another with two pieces of gray, one dirty white, and a red. It just looked weird. This one looks less weird, but the white swatch still sticks out like a sore thumb. Regardless, I like it.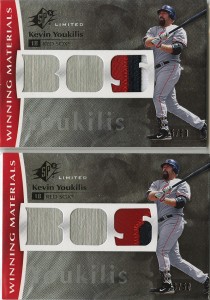 Last but not least, and no, you're not seeing double. Two Youk patches. 16/50 and 25/50. I got them both from the same seller. Huzzah for combined shipping! I'm always looking to expand on my patch collection, and these were too neat to pass up.
So, there it is, January AND February. Just squeaking the post in before the end of the month. Way to procrastinate Matt…