I truly love the baseball card community. You guys are awesome. I offer to send people random cards, asking nothing in return, and you guys just send awesomeness right back. You rule. Seriously.
I've sent out two packages in my Spring Cleaning '13 effort so far, one for the Twins and one for the Angels. I have two more packed up and ready to go out (D'backs and Rangers) and I still need an address for the guy who contacted me about the Pirates.
In return, both Tom from Angels in Order and Dave from the unpronounceable "é rayhahn, rayhahn" (we'll just say "Rhubarb Runner" instead, lol) sent me awesome packages in return.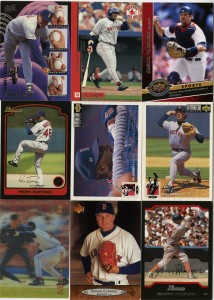 First up, Tom's package was loaded with great stuff for my players collections. Lots of Clemens, Mo, and Pedro.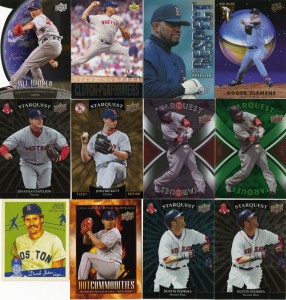 He also threw in a ton of StarQuest inserts, which I was totally lacking, and a Boggs Goudey mini I didn't have. Sweet!
Also, a Sox package wouldn't be complete without some Nomar. Of all the players I have individual collections of, Nomar's binder is probably one of the biggest. I want to draw special attention to two of those actually…
A 1994 minor league (Sarasota Red Sox) "Top Prospect" card and a 1995 Stadium Club Draft Pick. These are awesome. These join my 1992 Team USA and 1994 Stadium Club in the "Oldest Nomar" collection. I just need the 1993 Stadium club, and the 1994 Signature Rookie to have all the early Nomar cards people usually consider his "rookie" cards. I personally consider the '92 Team USA card to be the definitive one, but others disagree. Anyway, these are two I really wanted in my collection but never pulled the trigger on. I'm really happy I finally have them. Let it be known, old school Nomar cards are always a welcome sight.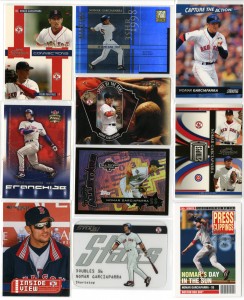 Speaking of awesome Nomar cards, that's where Dave's package starts off! Tons of awesome Nomar cards I didn't have. I'm going to have to go through and revise my binder tonight. I'm especially liking the foil All Star Game insert and the Donruss Stars "credit card" clear card. Those are pretty neat.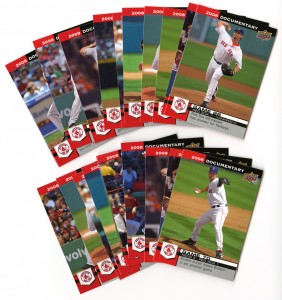 He also included an entire snap case of UD Documentary. I can't even wrap my head around the size of that set, but these will make nice pages all together in the collection. It'll probably never be finished, but they'll look nice just the same.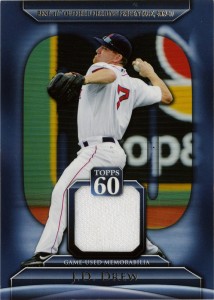 Dave even included a relic. A J.D. Drew Topps 60 relic. I actually had no idea Drew had one of the highest fielding percentages. It's a shame he was hurt so often. Around our house, we always called him "Just Disabled", which, I know, is terrible, but the guy spent more days on the DL list than he did playing. As for the card, I didn't have it and it was one of a few that I needed for that Topps 60 set. Every time I think I have them all, another one pops up.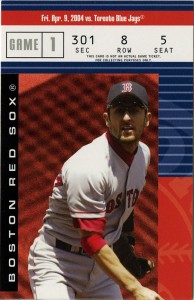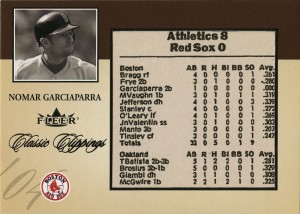 Last but not least, two more Nomar cards I hadn't ever seen. The first is folded and sized to the the same as a actual ticket. A Fleer "Authentix" "Ticket Stud". The next is a Fleer "Classic Clippings" which has a piece of newspaper embedded in it. That's new, hadn't see that before. It doesn't say what paper it's from, but it says it's from the "box score of Nomar Garciaparra's first game". Apparently he was put in late in the game for Jeff Frye, and went 0-1 in a Sox loss to Oakland. Not exactly an earth shattering first game, but it's a really cool piece of history.
Awesome stuff from both of you! Thanks Dave, thanks Tom!
Also, in case you're still wondering, the Spring Cleaning bonanza is still going on, check out the post here to get some random cards from your team!