I teased a couple weeks ago that the haul I was showing off was only part of my epic December. All the cards are finally in, and I can show off the second half. All together, December was a hell of month.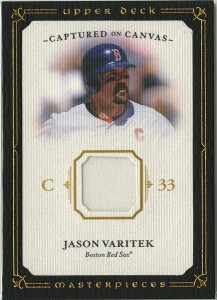 First up, one of my most beloved sets, Upper Deck Masterpieces. Slowly but surly I'm building a relic set, and the Capt' was the next to join the fold.
Next up, a Topps 60 insert relic. I hadn't seen too many Ellsbury Topps 60 relics floating around, so when I saw this on the cheap, I scooped it up.
A very nice Nomar "Splendid Splinter". You can barely see it, but that oval at the bottom does indeed have a bat "splinter" in it. Also /199.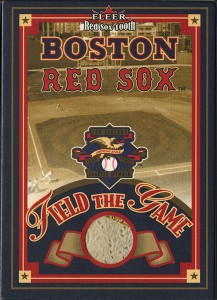 Next, two pieces of "home". A Fenway 100 Years card featuring Infield Dirt! Apparently these were only available if you ordered the specific Red Sox themed 2012 Factory Set Box from Topps. You got the standard 660 cards, and this was the box topper. Why someone would "break" the set and sell the dirt card on ebay I'll never know, but I'm sure glad they did! I wasn't about to shell out another $60 for a set I already had. Second, a 2001 Fleer "Field the Game" card with a base relic. This one is pretty neat since it actually lists the specific game on the back.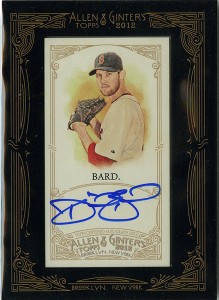 2012 Allen & Ginter Danny Bard auto. The missing auto from my Ginter set. I finally found it for $0.99. I wasn't going to pay much more for it than that.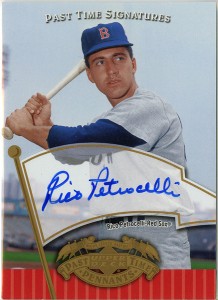 Another neat $0.99 pick up, Upper Deck "Past Time Pennants" auto of Rico Petrocelli. Very neat!
Next, a trio of 2012 Bowman Sterling autos. The Johnson and the Marrero autos were a lot auction, so they came together. The Callahan was separate, but also a cheap pick up. Now I'm just missing the Middlebrooks auto, which I'll never get, and a Pat Light Redemption that I'm not even sure who the guy is. Still, pretty nice to get the whole group of them.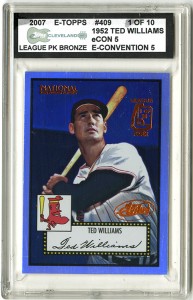 Ok, now we're getting crazy. 1 of 10? E-Topps? Whaa? I'm not familiar at all with the way E-Topps worked, I missed out on the whole thing. It seems like this was a convention exclusive however. 2007 E-Topps #409 is a real thing, but they were numbered out of 1499. This is triple stamped with National convention logos and is #/10. Nice!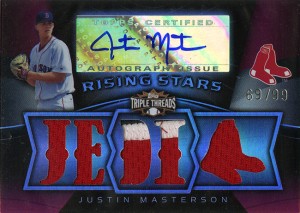 Next, a card that rings ALL the geek bells in my head. Justin Masterson, #'d 69/99 (snicker!), patch, auto, and spells out freakin' JEDI. Yeah, that's a cool card. Period. Kinda wish Masterson was still pitching for us though.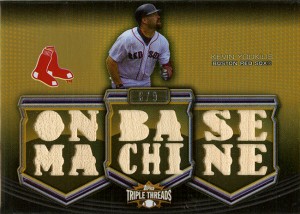 Oh my. Six out of NINE. Kevin Youkilis… On. Base. MACHINE. Ok, thats sick. Sick. But wait, there's more…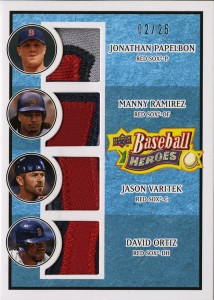 Holy crap. 02/25 QUAD PATCH. Paps, Manny, Tek, Papi. I don't have the words to explain how geeked out I am about that one. Believe it or not, this was less than a blaster. Wow, just wow. This makes me one happy camper.
I'm not really sure how January could possibly top a December like that. The birthday money went to good use I'd say.