I had a bunch of late November/early December purchases and the first ones started to arrive in the ol'mailbox. I figured I'd post them now since the end of December will probably have it's fair share of stuff, plus I'm hoping to bust at least a box of something for my birthday. So, here's "December: Part1 – The Decembering" lol…
I can't remember if this makes 2 or 3 Pedroia Triple Thread Unity Relics I've picked up, but /27 certainly isn't too shabby. I think I have at least one more, but it's out of 75.  Also, call me crazy, but don't you guys think these have decidedly less "unity" than last years? Last year you could get 3 and put together your own "Unity Triple Relic" because there was a left, right and center design. These just don't scream "put me together like a puzzle" to me. Who cares. 22/27, I'm a happy camper.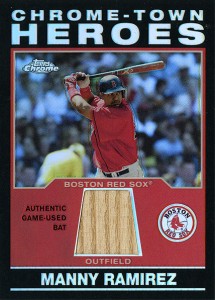 Now, here's a unique card. Quite honestly, it's the first Chrome + Relic I've personally seen. I also, admittedly, have never busted any early 2000's Chrome. I know they're all about the colored borders these days, but these insert relics look really really nice. A very nice addition to my collection.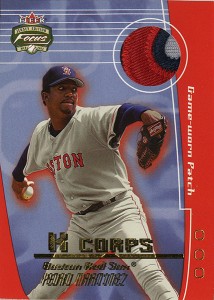 Oh, now we're talkin'! Numbered out of 100, a 2002 Fleer Focus "K Corps" patch for Pedro Martinez. My first Pedro relic, and obviously, my first Pedro patch as well. So nice!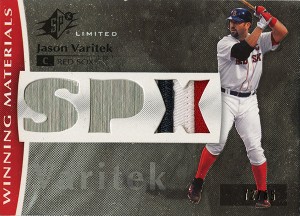 I was super excited to pull the trigger on this one. Varitek patch from SPX, numbered out of 85. There's a level higher than this, out of 10, where S, P and X are all patches, but I just saw that going for $200 on ebay. I will most certainly take the single patch for under $8 any day of the week. Permanent collection, all the way.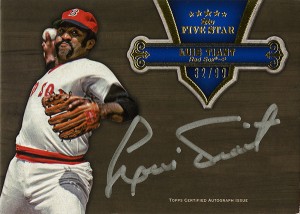 Lastly, another one of my personal player collections, and my first Topps 5 star. At $500 a pack, ebay is the only way to go on there. This beauty was cheaper than the Varitek above, believe it or not. 32/99 Five Star auto for El Tiante', Luis Tiant himself. This card is THICK, crazy thick. Honestly, that's probably 99% of Topps "chipping" problem right there. "Ultra Premium" doesn't nessisarily need to be ultra thick. A card 1/2 as thick could have looked just as nice and have been completely pristine. I have a sinking suspicion that a lot of these are never going to grade higher than a 5 or 6, which, for the money you're paying, is completely ridiculous. I'm not a big condition guy, but the bottom right corner of this one is pretty bad. Still, I'm glad people are busting it. Otherwise I'd never be able to get my hands on something like this.
Well, that wraps up the individual card pick ups, at least for this first half of the month. I also busted some retail, just out of shear boredom. I might post that next week, but don't get your hopes up, nothing good in there except a redemption and some more parallels for tradebait. Have a good weekend everybody!