Ryan over at "O" No!!! Another Orioles Blog had posted up some tradebait before Thanksgiving and I couldn't help but jump on a couple awesome relics he had. I sent him a bunch of Orioles and he sent these beauties my way.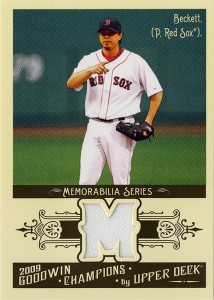 My unabashed love for all things quasi-retro looking continues. I only have a handful of Goodwin Champions relics, but I love them. They're seriously awesome looking.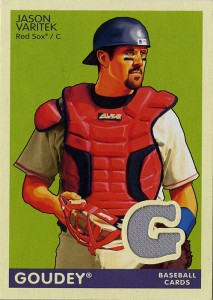 I've also been on a quest for Varitek relics as of late. I didn't have any other Goudey relics, let alone one for the Capt'. Awesome card.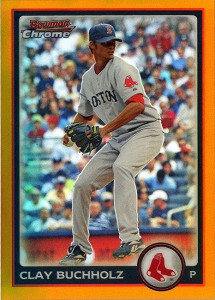 Last but not least, a super nice Bowman Chrome orange refractor for Clay Buchholz. I actually have to admit ignorance on this one. When I saw it in Ryan's tradebait, I completely forgot that the orange Bowman cards are some of the rarest ones. This one is #23/25. I honestly thought it was like Topps Chrome and the orange is either common, or just basic retail filler. I had no idea. Ryan, thanks for sending this even though, clearly, it was worth way more that you were asking for in return! The next time I find something neat for the Orioles, it's headed your way, pro-bono.
Thanks for the great trade!