Derek over at Tomahawk Chopping is doing some spring summer cleaning and reducing down his collection. He knows I'm also up for some Red Sox randomness and he sent a little care package my way. He doesn't realize it yet, but I sent him a little something in return. That's card karma people! Pay it forward 🙂
So much awesome in there. Buchholz RC, Ortiz blue border, Brentz Extra Edition, a sweet Iglesias purple refractor, Ortiz Starquest, Green Pedrioa and Purple Jacobs from this years Platinum, Lester RC and a sweet Diasuke diecut! Woah.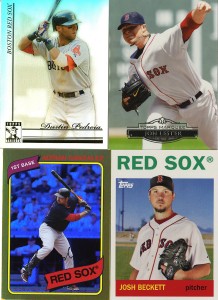 A couple more really nice high-end cards, Tribute Pedroia and the short lived Topps Marquee of Lester. That Gonzalez is also the gold refractor parallel from Archives, it looks really nice in hand.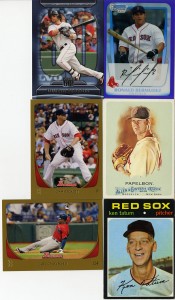 Couple more awesome cards, Topps 60 Pedroia, a nice purple refractor Ronald Bermudez from Bowman Chrome, a couple gold parallels from regular Bowman and even a little vintage Ken Tatum.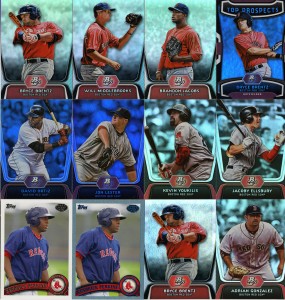 These were absolutely perfect timing wise, I was about to overpay on a team set of Platinum. I needed 3 out of there and now I'm just 2 shy of the set. There's also a really nice Topps Pro Debut Kendrick Perkins in the corner, the blue one is numbered as well.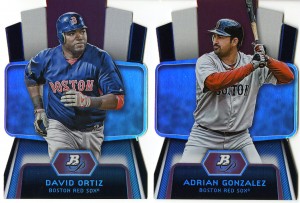 The real cherry on top are these two beauties. Gorgeous diecuts for Ortiz and Gonzalez from Platinum. These are absolutely awesome.
Thank you so much Derek, you've outdone yourself again. Thank you my friend!