So, as I mentioned before, I split a box of Chrome with Sam. It sucked. We got the absolute bare minimum for the box: Two rookie autographs. We got 1 black border (/100) and 1 blue border (/199). That's it. No diecut (1:24 – 24 packs per box, we didn't make the odds), no other colored borders. A handful of refractors, 2 or 3 xfractors, and that was it. In anger and spite I turned to ebay the next night and bought the team set for $3,99, which I obviously should have done in the first place. I pulled TWO friggin Red Sox. Unfortunately for Sam, there aren't even any Astros on the checklist. That's the an abomination Topps! Seriously. If if the All-Star game has at least 1 representative from each team, you should be able to find 1 card in your 100 for each team. That's just sad.
The flip side to all that crappiness, the two rack packs and one blaster of Bowman Platinum I got were 1000% better. Scans after the break.
First up, the Chrome, just so we can get it over with.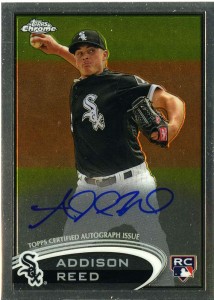 Addison Reed auto. Meh.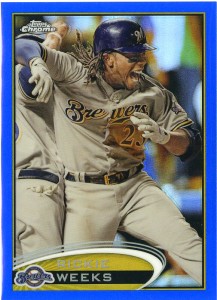 Rickie Weeks blue border /199. Meh.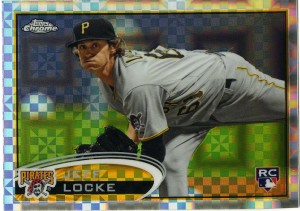 Jeff Locke xfractor. One of the measly three we got in the box total. I sent the other two to Sam.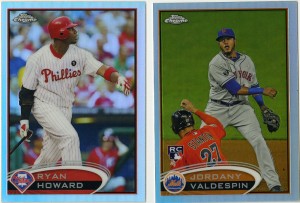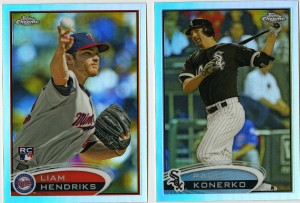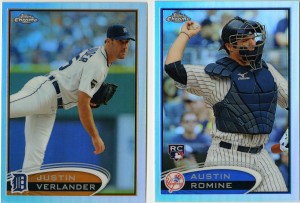 Regular refractors. Verlander, Howard and Konerko aren't bad. The rookies are kinda mediocre though.
There you go. I didn't bother to scan any of the base cards because there just wasn't anything worth scanning. No big name rookies. No Harper, Darvish, Cepedes, etc. If Chrome wasn't the addictive crack of baseball cards, this box would have turned me off completely. It did successfully discourage me from buying any more hobby boxes of it, that's for sure.
Now, for the much are interesting stuff. Bowman Platinum. These are the contents of one rack page last week, one this week, and a blaster this morning.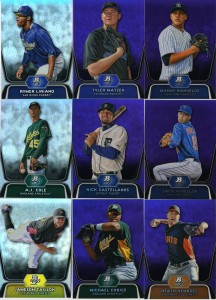 First up, the purple retail versions from the rack packs, plus the random chrome-ish refractors.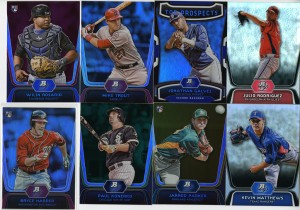 Random stuff from this morning (which is why they weren't scanned with the rest of it). Rosario ruby, Konerko emerald, Parker gold, plus Harper and Trout.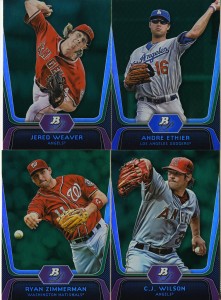 The emerald parallels. Weaver, Either, Zimmerman and Wilson.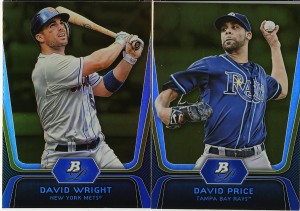 Gold parallels, Wright and Price.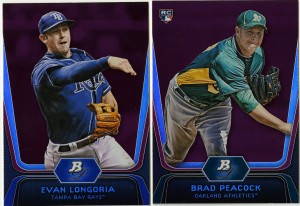 Ruby parallels, Longoria and Peacock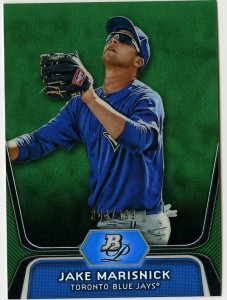 Green chrome refractor 344/399 for Jake Marisnick.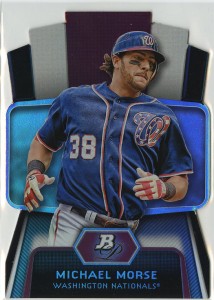 Michael Morse diecut.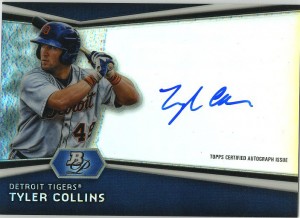 Tyler Collins auto.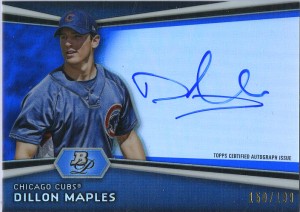 Blue parallel auto, Dillon Maples 150/199.
The blue Maples auto actually came out of one of the rack packs. I was pretty surprised by that. The pack searching scum at my local Walmart must not like Bowman or something. So, for $40 (over 2 weeks) I got two autos, and a giant pile of other stuff, compared to my $75 box of nothing from Chrome. Yeah. I think I know what's my favorite product of the year so far. Talk about bang for your buck.