We're catching sharks baby! Not quite "white whales" of card collecting, but we're getting pretty close. It was a very good month to be fishing the waters of the Bay of E. I pulled in some whoppers.
Ok, enough with the fishing metaphors and Jaws references. Time for cards!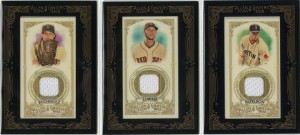 A couple of this years Ginter relics to start us off. Love the black frames, I really do. Anyone else find it odd the both Lowrie and Paplebon both have Sox cards as relics? Left over jerseys I'm assuming.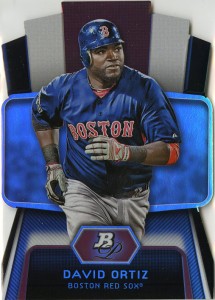 I was in two breaks with Platinum this month and both of them failed to net me any Sox diecuts, so, for $0.99, Papi is now mine. I've actually failed to make much headway with Sox cards in Bowman Platinum in general, which I find odd since it's one of my favorites of the year, and I usually buy a bunch, which I have. I've got a couple trades pending that should bring in some more.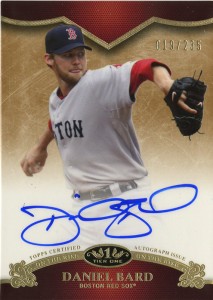 Wait? Matt, don't you already have one of those? Yeah, I do, but it was pretty high numbered and for another cheap pick up, #019/235 is much lower. You can get much lower than #19… or… can you…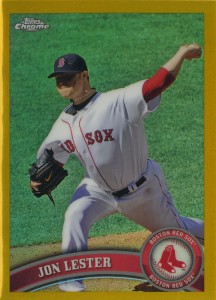 Why yes, yes you can. 17/50 Topps Chrome, gold parallel. Ok, it's a full on addiction now. Chrome is awesome, there's really no other way of saying it. This is one of TWO gold parallels I bough this month, the other is on the way (Ortiz for the record). I wonder, can we do better than that?. Oh yes…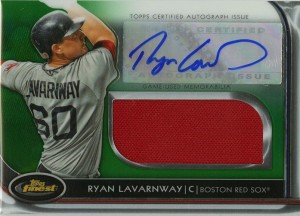 Green parallel refractor, 116/199, Ryan Lavarnway jumbo relic auto. Awesome. Just awesome. I had to fight for this one. The orange /99 versions are going for way more than I wanted to spend, but the green are right in my wheelhouse. I'm not sure about a lot of the Red Sox lineup at the moment, but I do know this: Lavarnway is going to be their full-time catcher in the very near future. I like Salty, I do, but Lavarnway has a real natural swing and power to spare. One to watch, and buy up while it's still cheap.
But… I thought we were talking "rare"? These are nice and all, but where is this big hit you've teased…
…
…
Well…
…
If you insist.
…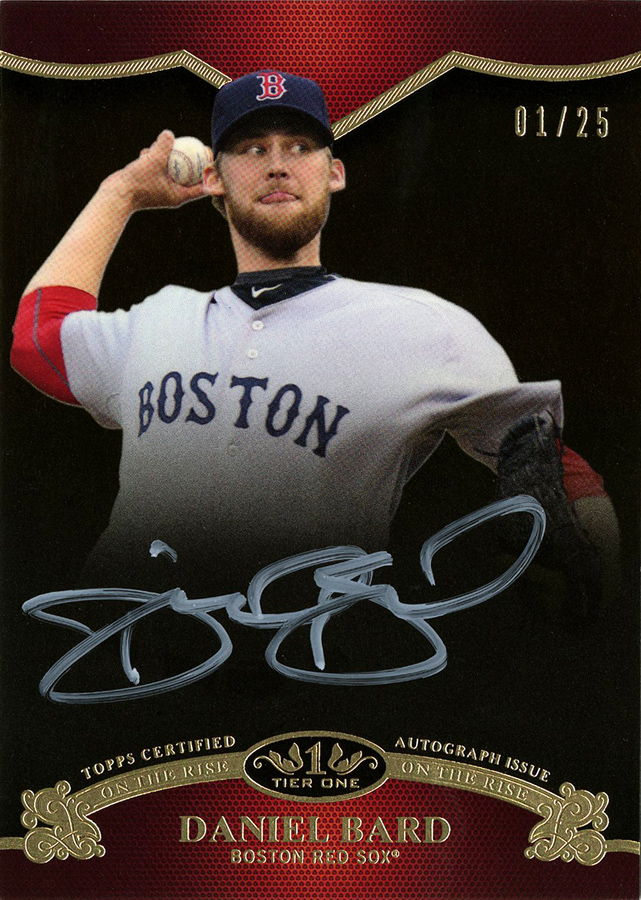 Yeah. That just happened. One of freaking twenty-five! ONE. I know the "stock" on Danny Bard is a little down right now. I know he really struggled this year, but I have little doubt that was the "conversion" to being a starter. He's going to bounce back, he's going to be just fine. And when he does, this will be a legendary piece of cardboard. Heck, it's already a legendary piece of cardboard. Just look at that thing! I'm completely geeked out at landing a 1/anything, in case you were wondering.
Permanent. Collection.
PS: Since "White Whale" is a term thrown around when you're chasing a 1/1 or something so elusive it's nearly impossible to find, I think we should make "Shark" a thing. It's a thing now. You're welcome. Whenever you get something rare, that's really cool, but it's just shy of that "ultimate" hit, that's a Shark.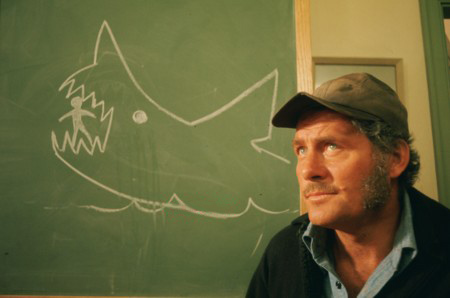 Matt out.