I'm still working on scanning things purchased over the last month or two, but work has been crazy busy lately and I just can't find the time. I did manage to scan the contents of a package from Greg over at Plaschke Thy Sweater is Argyle, from a Trade Bait Draft he held a while back. I've had the cards for a while, and I'm terrible for not posting them sooner. The whole point of a Trade Bait Draft is to get things that might interest other folks, and not posting them pretty much defeats the purpose. There were a wide range of cards that were my results of the draft, but a couple for my personal collection and a couple more were "common" cards I'd probably throw into a package in the event of a trade for something else, and that leaves us with just the highlights. These have also been added to my Trade Bait page in case you're interested. Scans after the break.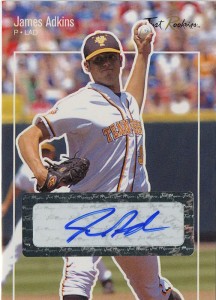 James Adkins Just Minors Auto. Pitcher for UTenn, drafted by the Dodgers, played AAA for the Isotopes.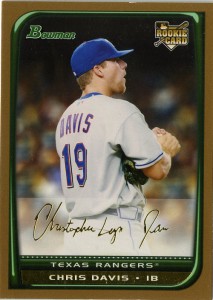 Chris Davis – Bowman RC – Gold Parallel. Current 1st Baseman for the Baltimore Orioles.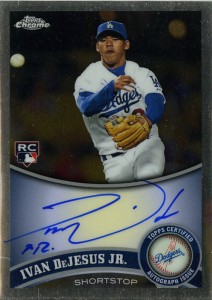 Ivan DeJesus Jr – 2011 Topps Chrome RC auto. Currently sitting in AAA rehabilitating an injury, pitching prospect for the Dodgers.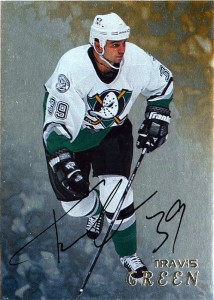 Travis Green auto – Currently retired, played for the Bruins for a couple seasons which is why his name rang a bell. On card auto, no sticker on that one.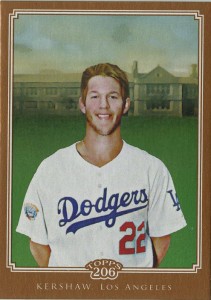 Clayton Kershaw Topps 206 Gold Parallel. Quite possibly the ugliest card…ever. Ever. But it was a Kershaw, so, that helps make up for it.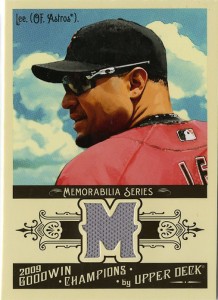 Carlos Lee – 2009 Goodwin Champs relic. I like the look of the GC relics, those are neat cards. Knowing Sam's disdain for Lee, I'll have to find another Astro's collector for this one, lol.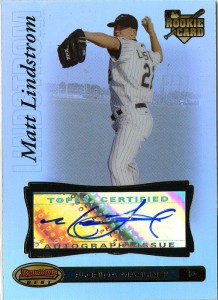 Matt Lindstrom – Bowman's Best RC auto. Current Orioles pitcher, but the card is from his rookie year with the Fish.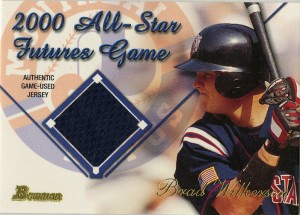 Brad Wilkerson – 2000 Futures Game relic. Retired in '09 after playing for just about everyone. Most notably the Expo's/Nationals.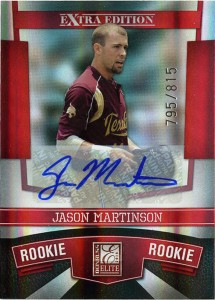 Jason Martinson – Donruss Extra Edition auto. Drafted by the Nationals out of TSU, currently working his way up the system. Playing for Potomac in the Carolina league at the moment.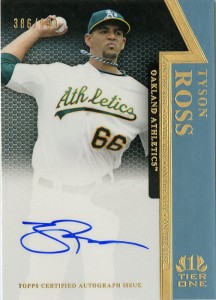 Tyson Ross – Topps Tier 1 auto. Currently playing for Triple-A Sacramento, made his debut in 2010 and has been back and forth between the majors and Triple-A.
There we go. Nothing extremely earth shattering in there. DeJesus and Ross probably have the best chances at making it big and staying in the majors.
The Trade Bait Draft was good fun and I had a blast. Thanks for sending these my way Greg!