Small yellow envelopes are now officially my favorite thing to see in the mailbox. Not that I had a previous favorite thing in the mailbox, because my electric bill certainly doesn't qualify, but you know what I mean.
Last week I worked out my first trade with NightOwl. I actually received the cards before the 4th, but I took some time with the family over the weekend so I'm just now getting back to posting. For my part, I sent some Dodger goodness his way and he repaid me in Red Sox.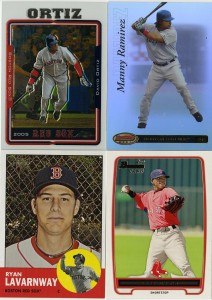 First up, another 2012 Bowman towards my team set, a very nice Ortiz chrome and a nice shiny Manny Bowman's Best.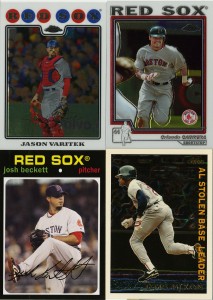 Next up, a couple more chromes for my older sets, a retro looking Beckett from Archives and an actual semi-retro Otis Nixon.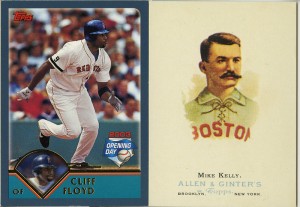 A nice blue parallel (numbered to 2003) Cliff Floyd and a A&G Mike Kelly from the "Boston Beaneaters".

Next, the Boggs insert from Series 2 and a very nice Canseco Fleer Flair I didn't have.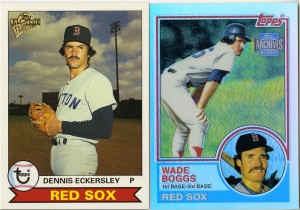 And, for the real meat of the trade, my two favorites. Eck "Topps Fan Favorites" from (I think) 2004 and a reprint refractor Boggs from 2012 Archives. I didn't even know I wanted that card, but it's really awesome. Love'em! I wasn't paying attention to the Archives checklist, so I didn't even know they were doing refractors of some of them.
Awesome trade good sir. Looking forward to another! Thanks Greg!